| | |
| --- | --- |
| Date/Location: | August 13, 2011 – Folsom, CA |
| Distances: | Swim 1m – Bike 56m – Run 9m |
| Time: | 4:07:45(28:32-00:57-2:31:05-00:52-1:06:19) |
| Place: | 4th |
| Teammates: | Dale & Tana Jackson |
My last triathlon of the season. It's longer, but less than a 1/2 Ironman fortunately as I haven't been putting in the distance lately. We just got back from a family camping trip where I squeezed in something like a 9mi run just to make sure I can still do it. Although I'm a little tired from the trip, I'm looking forward to this new course and, again, will try to improve my bike by improving my seat position.
Race director, Ryan Coelho, has again expanded the venue at a well-established race site. First, he added a long course to the San Jose Triathlon which toured some of the best cycling routes in the South Bay. Then he boosted the Pleasanton Shadow Cliffs triathlon course into an official International Distance with a great bike route over the Sunol Grade. And now the Folsom Triathlon has a Long Course with 1 big loop to Elk Grove and back. It covers some of the same roads the Amgen Tour of California raced on. I love big loops. They are harder to support and harder to stay motivated on, compared to the multi-loops, but it's true time-trialing.. the race-of-truth, just you and the bike, touring rural areas, wondering where your competitors are… sometimes wondering where the finish is. Lake Natomas is perfect for swimming and the American River Bike Trail is a great out-and-back run course.
Race morning. Robin and the girls are arranging the FCA Endurance booth while I adjust my bike seat and test it out. Ahh, feels good.. feels comfortable and powerful. The 56mi bike dwarfs the 1mi swim and 9mi run so it's important for me to stay strong all the way.
Dale and Tana Jackson are in the house! Love racing with this legendary couple. Tana, the Energizer Bunny, will rock the course, with a smile, like usual, and Dale is going to make me hurt with his punishing-fast swim-bike-combo. He's one of my best friends, but he knows I want to beat him badly.
I rush to the FCA Endurance pre-race prayer where Robin, the girls and some other folks are already beginning. It's always great hearing other's stories, concerns, and blessings coming into the race. There's so much more going on beneath the surface of each athlete out here, but when you see them all racing in a group, it easy to just think "triathletes" instead of real, average people trying to break barriers.
My wave is starting soon but we have to move the booth location a bit. I don't hear the race getting underway so figure it's running a little late. I run down to the water, see Tana and Dale, and then see the start, 100yds away, with a bunch of green caps lined up. That's my wave! Then I see the first wave already underway. The loudspeaker had malfunctioned. They were on time, there just wasn't an announcement. Dale quickly zips my suit for me and I jump in as the horn blows.
By the time I get to the starting line, a minute later, I can't see the main pack anymore. It's my fault but I can still have my best race today! I'll make it up on the bike. One of the advantages of starting late is clear sailing ahead - no bumping and crowding around the buoys. The disadvantage is no draft - easily a minute to gain - although I haven't been good at catching the drafts this year anyway. The other dilemma was not being able to fill my suit with water. It's restricting my arms. But on the other hand, it's warmer.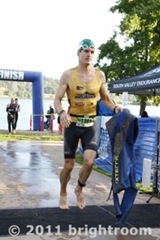 Rounding the buoys for the long stretch back, there are cold-pockets out here in the deeper sections. I hope not get too cold. If I can come out before the pre-shivers, I can ride without my jacket and save a minute in transition. I get to the somewhat-rocky shore and stumble out before getting too cold. Perfect! My wetsuit comes off pretty quickly, I high-5 Anna and Ariel. 28min isn't too bad for missing the start.Our good friend, Dave Campbell (racing tomorrow's International distance) is volunteering as transition coordinator. "Come on, Troy, get out there, let's go!" I always go faster with encouragement. Too fast. I jump on my bike. "Whoa, off the bike, not till the mount line!" Oops.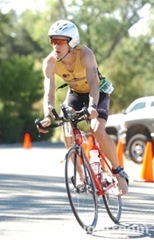 Ok, ready to rock and roll. Perfect temperature. No wind. Feeling comfortable. 2 bottles of Sustained Energy. And a whole new bike course ahead. At 3mi I see they're holding up the light rail. They time it just right to drop the gates, let it pass, and open them up for me to go through. "Good timing, guys!" Heading out of town I'm looking forward to the flats and gentle rollers. My previous position was better for climbing. The nose-up position is better for flats.
The one turn-around is at 8mi. It's good because it gives one last chance to see where the competition is. And there's Dale! Only a minute back after starting 4min back in the next wave. We turn towards Elk Grove and I finally get my average up to 20mph. I'm going to have to do better than that to stay ahead of Dale. My speed continues to creep up slowly. I feel like I'm riding better than my last few races. Meanwhile, I'm loving the roads…smooth pavement, rolling fields and no lights. But this is also Dale's perfect course - long sustained power.
Earlier than expected, Dales catches me! "Man, bridging a 4min gap, and I'm having a good bike! You're riding great, Dale!" He's a great sport, all smiles and looking relaxed and efficient.. and strong. I pick it up. Match his pace. And make the pass. I yell, "You're fast but I can't let you win!" We're going 23 / 24mph. If I can get a gap maybe he won't challenge. But after a while he goes by again.. looking the same.
Ah, this is good racing.. painful.. but good racing. I keep within a few hundred yards. Staying fueled with Sustained Energy. I make another big effort…exaggerating it with a yell, "AHHHHH!" as I muscle my way past him. It's friendly competition at it's meanest. But as we enter the outskirts of Elk Grove, he mimics me with an "AHHHHH!" of his own as he hammers by.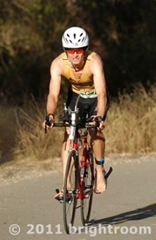 This would be our own version of "Iron War" if it wasn't for the fact that he's actually 4min ahead of me. I need to finish with him and then somehow get back 4min on the run. However, at 30mi, he's pulling farther ahead. We're on Grant Line Rd.. straight and long. He's smaller and smaller in the distance. My average is 22.3mph but I'm feeling the fatigue. Maybe we're climbing. No. Maybe it's a head wind. No, actually it's very still today.
I can still see Dale in the distance. He passed another guy who is now on his tail. Now the guy passes Dale and takes off, as if Dale said something to really light a fire under him. Finally we're getting closer to town. A guy passes me telling me he made a wrong turn back there. Later I heard a number of athletes went the wrong way. I don't know how, it was a pretty simple course. On the final overpass back to transition I think I see Dale ahead. That's strange. He's slowing down.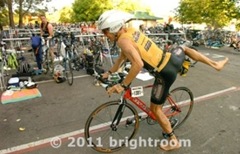 I finish my drinks, coast into transition, and make my best dismount yet.. full stride. My transition is very fast - again with Dave nearby encouraging me - but I forgot my Garmin watch and I was also without my Hammer Gels which I knew I had forgotten that morning. My plan was to get whatever was on the course.
Starting the run, it hurts. Of course the 1st mile always does. Mentally it seems easy.. just run up the trail to Old Town Folsom, turn-around, and it's all downhill home. I'm optimistic my legs will loosen up and the Lord will give me strength to overcome fatigue. Ahead is Tom Murphey (currently 2nd place in my age group). Looks more like a biker than a runner so I think I can take him. I don't see Dale ahead, he must be running fast.
Mile 1: 7:04. Mile 2: 7:04. After a couple miles, another 40yr-old is ahead, nursing calf cramps. He picks it back up and I encourage him. He surges ahead, but slows at the aid stations, where I re-pass him.
My legs aren't feeling better and the heat and fatigue are getting to me. I'm drinking Heed and water at each aid station and pouring water on me as well.
Mile 3: 7:06 The calf-cramp guy is back with a vengeance. I hear him matching my steps behind. I focus on the Lord to help calm me and run my own race. With footsteps so close, it can increase heart rate and shorten breathing. I stay relaxed as possible. I make a plan. At 4mi, surge to the turn-around, make a gap to break him.
Mile 4: 7:22. I do it. I get a gap. Turn. And then see it was Tom Murphey, not the calf-cramp guy, that was behind me. I also never saw Dale. He must have done the Aqua-Bike (swim-bike only) (later I found out that he got a strange cramp and had to pull out of the race suddenly. He was in 1st place in his age but maintained a good attitude despite not being able to finish)
Mile 5: 6:46.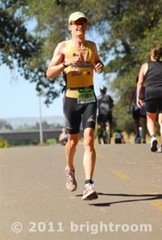 Tom is back with me and my fatigue is building. Pace slowing. Tom goes by (I'm in 3rd now) and I can't match him. It's hot. The miles are getting longer.
Mile 7: 7:41. I'm reduced to a jog. Another 40yr old goes flying by (I'm in 4th). I'm really struggling. New plan - use this as a warm-up mile before the final mile at the track workout. When I see the "8 Mile" marker, I'll pretend I'm at our Tuesday night track workout with just a final mile to go. My body says, "No, just make it 2 cool-down miles and be done", but I feel God wants me to make the effort. That this is always a practice for real life. I know when this difficulty will end so it should be easy to step it up when needed. In real life, trials don't have definite endings, but we have to step it up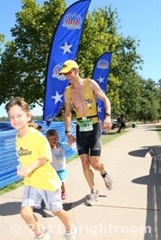 anyway. Use this as practice.
Mile 8. 8:04. Ok, go! It hurts but I'm going. I'm making the effort and feel God may reward it with a clear opening at the end so that I can run in with the girls. Over the bridge. Onto the road. One last section onto the trails.. and there's the finish line! Anna grabs my hand. Ariel is already running ahead. Anna is running so fast I have the sudden desire to let her pull me to the finish. But that would be cheating so I keep pushing. Finally all 3 of us cross.
Mile 9: 7:19. Thank you, Lord! That was hard. The extra effort on the bike does make the run harder but it was worth it. Great day. Now I have to lay down for a while…
Go Dale & Tana!
| | | | | | | |
| --- | --- | --- | --- | --- | --- | --- |
| Name | Age Group | Place | Swim | Bike | Run | Time |
| Troy Soares | M40-44 | 4 | 28:32 | 2:31:05 | 1:06:19 | 4:07:45 |
| Tana Jackson | W40-44 | 1 | 30:52 | 2:43:22 | 1:09:58 | 4:27:48 |
| Dale Jackson | M50-54 | (AquaBike) | 25:41 | 2:29:05 | | |