Date/Location:

January 1, 2013 – Auburn, CA

Distances:

Hill Climb 1 – 3m Old Foresthill Rd
Hill Climb 2 - 1.2m Raley's Hill
Resolution Run - 10m Trails

Time:

Hill Climb 18:14 (PR 17:02, 2012)
Run 1:26:54 (PR 1:16:04, 2011)



Place:

Hill Climb – 2nd woman (non-age graded)
Run – 3rd W30-39

Teammates:

Hill Climb: Dave Malicoat, Eric, Flor Hodges, Jesse Warda, Jessica Bonner, Karen Nickel, Lance Loveday,Troy Soares
10Mile: Bryan Hacker, Dave Campbell, Lesley Hackett, Mo Bartley
10K: Lance Loveday, Scott Eckardt, Tom Barrett
5K: Anna & Troy Soares, Desiree Swift, Karen Nickel, Mason & Christine Kelly
Foresthill Climb
This year we have three women competing with us: Flor Hodges, Jessica Bonner and Karen Nickel. These girls are fast too! Flor is an elite triathlete and mother of a 5 year old. Jessica is an awesome triathlete, defending Auburn Marathon champ and amazing swimmer. Karen is a stellar runner and duathlon champ. I have my work cut out for me. I haven't been on the bike much but I feel pretty good. At least it's not terribly cold like it was for Troy's Birthday ride.
After a warm-up in Newcastle, we head down Hwy 49 to the start. Troy's got us doing a staggered start as always. But like last year, it's age graded so we really won't know who has won until we get it up on the computer. My ride was just over 17 minutes last year. I'm not sure I can do that again.
Ready, set, go! I'm the first to go since I'm an "old lady" according to Troy. I've got everyone chasing me so it's good pressure to push it. I just want to stay ahead at the halfway point. I look back on my way there…something I try to resist doing but today I don't. At the halfway point it looks clear! I think I had a pretty good head start. At the flat part of the ride, I try to get moving fast but my cadence isn't over 80. I look back again and the coast still looks clear.
The stop sign is around the corner! I push hard to the finish where Rob, Flor's husband, is getting our splits. Flor comes soon after me. She definitely closed the gap and went faster.
Everyone finishes strong! We get a few minutes to catch our breath then it's on to the last short, steep climb…up from the Foresthill Bridge to Lincoln Way! Since there is only one side of the bridge open to both directions of traffic, we go single file across. Rob is also behind us in his car blocking any cars. It's nice to be escorted! Once we all roll off the bridge it's on! Lance, Jesse and Eric take off. Flor pulls ahead. I pass Troy. Dig, legs, dig! It's so hard to go but I try to hang in there.
Halfway up I pass Flor. "Good job!" Two-thirds of the way up Troy pulls ahead and I try to stay with him. Finally I make it to the top not too far behind Troy. Thanks Lord for protecting us and helping us through!
We head back home. Time for leg #2!
RIDE RESULTS
Resolution Run
I'm back in the 10 miler this year and Troy is running the 5K with Anna. This year we are better fueled for this race. Last year we had very little food between the ride and the race and when Troy didn't make it to the finish line when expected, I thought he was stuck somewhere with some injury. He was just bonking and trying to get to the finish line. Today I'll be fueled but this holiday season I've probably been my least trained. I hope to get in some good faster running than what I've been getting.
As usual things get hectic before the race. Troy runs back to the car while Anna waits with me…and the race director says they are starting. But as usual, I have no need to worry because the Lord makes it work out just right. Ready, set, go!
The 10 milers are running an extra little loop in the parking lot to separate us from the 10Kers and 5kers. It seems like a great idea until our group runs into the back of the 10k and 5k runners. The road is wide and we get around and down to our own out and back section. Lesley Hackett from our church pulls up alongside. It's great to see her and she's looking strong for the Spartan race coming up this spring. We run together for a bit.
Mile 1 is 7:18. This should feel pretty easy on a downhill like this but it's an effort…not a good sign but not something to dwell on.
Mile 2 is 7:36. Still feeling hard but keeping my focus on Christ. We get to the lower parking lot of China Bar and turn up Cardiac Bypass (great name btw!). I get into a good grove and am able to catch up to a few guys. I don't see any women but I know a bunch are up there like Mo Bartley. You never know what can happen I tell myself…always need to keep hoping!
Mile 3 is 8:39. I'm happy with that. It's still tough but I just keep looking ahead!
Mile 4 is 8:25. Now we are running the 5K/10K course. Down, down, down the Dam Road we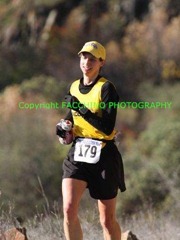 go! I'm trying to get the legs spinning. A guy that I past goes flying by. I watch what he is doing to get some pointers. He looks like he's taking quick little steps. I try that and it seems to work. I get some good momentum getting off the road and heading UP the trail.
Mile 5 is 7:49. Alright! Now it's really time to climb! Up, up, up we go! I make it to the 5K/10K split. I hope to see folks I know.
Mile 6 is 9:27. Ugh! Come on legs! We can do it! Pretty soon I'll get to the other side of Robie Point and I hope to see Dave Campbell coming back from the out and back. I see a young girl who looks great. Here comes Mo! "Go Mo!" I see a few more girls now which helps motivate me to go. There is no Dave and that means he's having a phenomenal day once again!
Mile 7 is 9:01. I make the turn and head to Robie Point. There is a girl just ahead of me and I hope to catch up to her on the climb up to Robie. It's pretty muddy on this end of the course. The white shoes are getting the treatment!
I catch up to that girl. Yeah! Thanks Lord! I tell her good job. On the way down the other side I remember to take small, quick steps. I also try to use my friend Courtney Loveday's tricks, she's awesome at downhills!
Mile 8 is 9:04. I'm almost done! I see another lady on the other side of the mountain. I might catch her but I'm going to have to push hard. The last miles of this course are steep. Lord, thanks for keeping me going…we can do this! The 10Kers are so nice in sharing the narrow trail!
Mile 9 is 8:55. I see that girl! I might be able to catch her! I push as hard as my legs can go up out of the canyon. I pass her and tell her good job. Up ahead is Anna and Kayden's son Mason. "Come on guys, help me to the finish". They run ahead of me and I just try to keep up. We finish together! That was tough but so glad I did it! Thank you Lord for getting me through that!
GO DESIREE, KAREN & LANCE!
GO SCOTT, TOM, BRYAN!
GO DAVE, MO & LESLEY!
RESOLUTION RUN RESULTS
| | | | |
| --- | --- | --- | --- |
| Name | Race | Place | Time |
| Anna & Troy Soares | 5K | 7th | 40:03 |
| Mason & Christine Kelly | 5K | 10th | 43:36 |
| Karen Nickel | 5K | 1st | 28:15 |
| Desiree Swift | 5K | 4th | 35:57 |
| Tom Barrett | 10K | 1st | 45:58 |
| Lance Loveday | 10K | 6th | 56:16 |
| Scott Eckardt | 10K | 3rd | 1:02:39 |
| Bryan Hacker | 10M | 2nd | 1:10:01 |
| Dave Campbell | 10M | 1st | 1:15:05 |
| Mo Bartley | 10M | 1st | 1:21:27 |
| Robin Soares | 10M | 3rd | 1:26:54 |
| Lesley Hackett | 10M | 2nd | 1:30:14 |