| | |
| --- | --- |
| Date/Location: | February 3, 2013 – Davis, CA |
| Distances: | 1/2 Marathon |
| Time: | 41:57 |
| Place: | 6th |
| Teammates: | Carrie & Steve Chavez, Troy Soares |
It's Super Bowl Sunday and 5 of us are racing. Robin's mom, Jan, is visiting and doing the 5k with Anna. Ariel is doing the 1/2mi. Robin & I are doing the 1/2 Marathon.
Unfortunately I haven't training like I should. The mileage has been low. I've set a new goal for 1:30 (instead of 1:25 like last year). We arrive very early, get a warm-up in and try to stretch extra good as we've both felt so tight lately. We hand Ariel off to a friend to watch her while 4 of us run first. After praying together, we're off to the start.
Robin and I line up together near the 1:30 pace sign. It's going to be a perfect day, about 60 deg at the end. Our friend Steve Chavez is up near the front. We wave good-bye to Jan and Anna. Go!!! And we're off.
Mile 1: 6:48. The first mile my hands are a little cold but the light gloves are soon perfect. It's a big crowd as we run straight East along the train tracks. I'm far from the front but know this 6:45-6:50 pace is good for me.
Mile 2: 6:43. After another long, straight mile, the 10k'ers turn off, leaving a smaller field. The course changes directions many times going from path to path. It's a good route, keeping you interested in what comes next. I see a family running, the dad pushing the stroller. Good, hard family fun.
Mile 3: 6:48. My pace is good as we wind through the neighborhoods and around a park. I'm trying to go 6:45 to leave a minute at the end to work with. I feel good now but imagine it getting hard towards the end.
Mile 4: 6:36. I'm going a little faster. It feels good. I don't think I'll burn out. I drink water. This mile is another straight shot before we head onto the paths again.
Mile 5: 6:43. Another good mile. On the paths I find myself in a small group. I'm feeling good so push ahead. I catch up to a tall woman running well with seemingly little effort. Even though there is a chill in the air, she says this is like summer compared to the freezing temperatures in Reno.
Mile 6: 6:42. Glad to get past the 10k mark. Looking forward to the 1/2 way point. Wondering if I'll need to stop for a bathroom. Think I can hold it. We hit the gravel path around the golf course. It's great mixing it up. I'm still feeling strong. I catch up to the woman again and try to maintain her pace. It's not easy but I have extra energy to push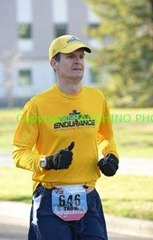 Mile 7: 6:45. Now we turn and head back South towards the neighborhoods. Our conversation helps the mile go by, but before I know it, I'm near the aid station and it's time for a gel. Grabbing it from under my hat, the other one drops. I should let it go but I go back to pick it up.. right when the group, that was now behind me, runs by. I have to wait for them to pass to get my gel. Bending to get it, I suddenly feel the sore leg muscles. I eat, drink, and now am determined to make up the lost time and catch up to my pacer.
Mile 8: 6:49. I catch up to the pack, and slowly work my way past, conscience to not push too hard.. plenty of time. We're on some great paths again. At one turn a few runners, including my pacer, go the wrong way because a volunteer was on her phone. They quickly correct. Can't wait to catch up so I can ease off this pace, it's starting to hurt.
Mile 9: 6:24. I took off 20 secs trying to catch up. But I'm not thinking that will hurt me. I'm glad to settle back in. We climb the pedestrian bridge over Hwy 80 which is pretty cool. I eat my 2nd gel. I'm trying to stay with my pacer. She gets a little ahead on a little out-n-back. My legs are getting sore but I still feel like I have plenty of energy to finish easily under 1:30
Mile 10: 6:36. We hit 10mi and pow! My left hamstring suddenly has a pain right in the center. I immediately slow it down a little, letting my pacer leave me behind. I'll just run at the pace that works for me. Hopefully it will not get worse
Mile 11: 6:48. I guess I didn't slow down very much. The pain is getting a little worse. After a bit, the 1:30 pacer guy comes by and tells me, "don't worry, we've got 1:30. We're a little under". But I have to let him go, too, as I stop and stretch quickly. I think that helped. But, no, the pain is back. I try to shorten my stride, doesn't help. I know a hamstring injury is one of the longest to recover from and this race is mainly for training. So 1:30 isn't that important.. but I'd sure like to meet my goal if it happens. I try to lean forward more and that helps a little bit.
Mile 12: 6:59. Even though things are going downhill, the Garmin still says I can make 1:30. I guess the pacer was way under. But now the hamstring is really hurting and my run becomes a jog… becomes a limp… becomes a walk. I won't give up, but I know now that running is going to hurt it more. A mile is a long walk. But maybe I'll see Robin come by and be able to run with her a little. I see the 1:35 pacer go by. That was Robin's goal but I don't see her. Bummer. I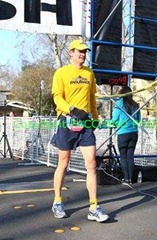 was so hoping she'd reach her goal today.
Mile 13: 11:30. Yep, it's hurting just walking. I try walking backwards, too. I've missed 1:30 but I'm excited to maybe run the final stretch with Robin. Also discover that my Garmin is off… there's another 1/3rd of a mile left. I sad not to see Robin as I hobble across in 1:36:41. But quickly excited to hear that Anna set a PR in her 5K and Jan got 3rd in her age!
I quickly stretch the hamstring and realize that it isn't just tightness, but a pulled hamstring. I'll have to start the rehab… but God is good, it was a great day for family racing. Ariel ran a fast race and we all had fun times. Thanks, God.
| | | | | |
| --- | --- | --- | --- | --- |
| Name | Race | Age Group | Place | Time |
| Steve Chavez | 1/2 Marathon | M 55-59 | 1st | 1:24:14 |
| Troy Soares | 1/2 Marathon | M 40-44 | 15th | 1:36:39 |
| Robin Soares | 1/2 Marathon | W 35-39 | 6th | 1:39:19 |
| Carrie Chavez (pacing friend) | 1/2 Marathon | W 40-44 | 62nd | 2:22:11 |
| Madison Chavez | 5K | W 1-9 | 1st | 29:08 |
| Anna Soares | 5K | W 1-9 | 5th | 35:18 |
| Jan Heidt | 5K | W 70-74 | 3rd | 44:53 |