Date/Location:

September 6-8, 2013 – Folsom, CA

Distances:

OMNIUM
Fri – South Canal Time Trial –11.5mi
Sat – Challenge Criterium – 35 min
Sun – Road Bike Circuit Race - 40min

Place:

TT (Fri) – 3rd
Crit (Sat) – 12th*
C.R. (Sun) – 12th
Overall (Omnium) - 5th*
*unofficial results
Time-Trial 11.5mi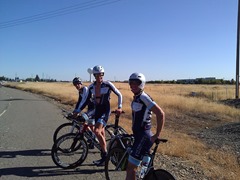 Last year I remember this 11mi effort sucking everything out of me before the finish. I hadn't even taken a water bottle thinking it would be over quickly. This year I have a new respect for the 11mi. I'll focus on being calm and efficient, not pushing too hard going out, in order to have something for coming back into the wind. I see Victory Velo teammates, Lance Loveday and Todd Allington finishing their efforts. Todd says, "It's a 10mph difference coming back, no kidding". I get a short warm-up in. I get all my stretching done. I'm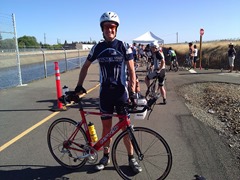 in line for the start on time, unlike how I missed my start last year. I'm focusing on God and hoping to be an encouragement to others. If I keep my eyes on Him, I know whatever happens today, I'll be happy with the effort.
It's warm. Slight wind. The start is on the South Canal near International St. I have Heed on board. Aero helmet. And my longtime goal of 25mph (which I've never achieved).
Go! Good start out of the gates (with someone holding my bike for me). I'm off and soon up to 30mph. That's really exciting but I know I've got a tail wind and there's a long 10mi left to go… so take it easy! I'm trying to keep my legs light, the cadence up, and always thinking, "forward, forward.." It's a beautiful day along the canal and the this course is good.
There are 3 or 4 inclines to go over. I try not to exert much more energy on them.. just loose a little speed and then ramp it back up on the descent. I'm drinking at a rate to finish a large bottle by the time I'm done. I'm happy with my average of 27mph, but I remember being really happy last year, too, on the way out. I'm optimistic that I won't lose much coming back (just like I was last year). I see my 30sec guy ahead coming back slowly.
Before I know it we're already approaching the 180 turn. My 1min guy, 30sec guy and myself all hit the turn at the same time. One goes wide while I pass on the inside hugging the cone, and the next one I pass 100yds later. Ok, 1/2 way done, been riding well, thank you, Lord, now it's time to ignore the headwind and keep the efficient, light turn-over.
I'm happy to see I'm still maintaining 22 – 22.5 mph coming back. I'm very happy with this. Soon the tall guy in black with white compression socks flies by me. I pick it up a little and use him as a goal.. to stay in sight. I keep my head low and make sure my helmet shadow remains flat. The guy in black gets far ahead and passes another guy. That's my 1:30 guy and I now use him as a goal. The cool thing is that I'm at 25.2mph average! I really think I can hold this. But now the inclines approach.
The inclines seem harder coming back. I stop looking at my average and increase the effort more and more. I realize the wind may get even stronger towards the end. But I feel optimistic, in control, and still comfortable enough. I don't know how my speed compares to last year but I feel I've paced much better.
Ok, 1 mi to go, it's been a great effort and now I have to finish strong. I'm not going to catch the 1:30 guy but still going to be a good time. On the final bend, now able to see the finish tent, I ramp up the speed significantly. My legs are spinning fast. It's working.. It doesn't feel so bad.. just 200 more meters.. but now the muscles start screaming.. ow!.. with 100m to go I have to settle back down to the previous speed.. dying a little too soon. I still stand and sprint the 50m for a good finish.
That last standing sprint took everything out of me. Coasting down the path I can't get enough air.. which is a flashback from last year. It's never that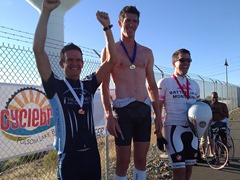 way at the end of a triathlon. Fortunately I finally recover and slowly start making my lungs and legs happy. Now I can smile big as it's SO good to be done. I stop and pray. Thanks, Lord, for letting it go so well and allowing me the feeling that I gave all I had.
My time was 27:53 (24.7mph average) and I placed 3rd! It was the first time for me getting a bike race medal. I got to talk to the tall guy in black, Lee Piercy, for a while. He is a British triathlete and duathlon champion.
I've done this course on Lake Forest Loop many times now. But today they are going the opposite direction, counter-clockwise. It took me about 3 times before I figured out the corners the previous direction, hopefully I'll get them faster this time. I got a good 5mi warm-up in riding to the start. I rush to the start and realize I forgot to call Robin. I borrow a spectator's phone and get to connect with my loving wife before we start.
We're off. My strategy today is to sit in, now cover any attacks, because I know none of it amounts to anything until half way through. Then I will look for them and also try to stay in the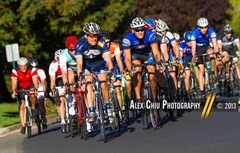 top 5 for the final turn to the finish. A couple guys do go off the front but I hold myself back and the pack does, too. It doesn't amount to anything. In fact, after that, there's not much excitement at all. Everyone is really hanging back. I try to get the tempo going a little at the front, but this guy, James, who looks like a good rider keeps coming to the front and talking. I can tell he's trying to distract anyone from working hard so that he can keep it together for a sprint at the end.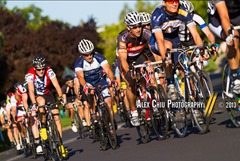 After a few laps they announce a prime. This will get the group going. By 1/2 way around, I'm in good position at the front but it appears no one knows about the prime. Suddenly a guy goes and I match him and then it's all out. Around the final turn and I'm actually gaining on him. Wow! I won a prime, another first, but now I'm hoping I can hang on to the pack that just flew by me… I'm gassed.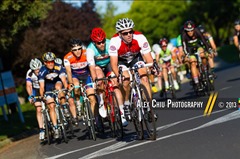 Ok, back together now and recovering. But I keep finding myself outside of the pack pushing wind. And not utilizing the corners well. And just not knowing who to follow. It's just not feeling like a really smart race.. but I am really optimistic still about the finish. After that prime sprint and remembering the Winters sprint, I feel if I can get into that 5th position, I'll do well and finish in the top 7 maybe!
They announce another prime! This is now exciting Cat 5 racing.. never had primes offered before. This time I'm midpack coming around and don't have a change. But I note the guy that wins and plan to stay behind him until the finish. I try to stay near him but still keep losing my position. Starting 1 lap to go, it's really going fast and I'm stuck in the middle of the group. I can't seem to find my way around. Heading towards the last corner I know I'm too far back but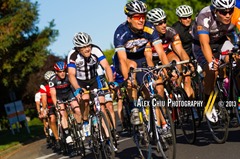 still am looking for every path around. I head for the inside but get caught behind another rider in the turn. About 15 back I jump an dig down deep… gotta give it everything I've got.. I know that even when it seems you're not moving up.. if I keep pushing a lot can happen right before the line. I catch a couple guys and finish about 12th.
I'm glad it was a safe race.. especially since there were some tight bunches in some corners. But I didn't get the strategy right and felt like I was out of position too many times. Especially that last lap. The prime was a great gift, though.. feeling what it's like to cross the line first. God is good. Tomorrow I get a chance to refine my strategy.
Circuit Race, Cat 5, 40min
Robin and the girls are here to cheer me on :) It's a 2.5mi course with some tight corners and small undulations. It all adds up to a more exciting race. I thought a lot about strategy last night in bed. This morning I've come to the conclusion that there is only so much I can do, especially without teammates, and that it is ultimately God's will if I end up behind the right guys going into that final turn. It's a relief to be able to give it all to God. I will try my best to study the top 5 and somehow to get near the front with them so that I can start the sprint with them. I feel confident I can hold my place in the sprint. If I can get a 5th place finish, it will really help my Omnium pts (overall placing for the 3 days). But all I can do is try, the rest of up to God.
We pray before-hand and now we're off! Quickly the group settles into an easy pace. James, the guy that talks to everyone at the front in an effort to slow the pace down, is at it again. He's a great sprinter and finished 2nd yesterday. It's funny, as soon as a couple guys push the pace, he works his way to the front and starts chatting, "So, where you guys from? That last corner is a tough one isn't it?" And the pace slows back down :)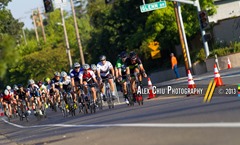 On the backside there are 2 hard rights, followed by a left-turn round-about and then 2 more hard rights. Usually the pace slows right before as we dip down across the railroad tracks. This is where I move up, dive into the first corner and lead out through all the turns. Coming out of them I see the group is strung out and there's about 5 guys that catch me quick. On the next lap, they announce a prime for Omnium points! Oh, I really want those! I take the lead through the corners again, which forces the pack to spread out and sprint back up, while I'm able to get in with the top 5 guys going into the final corner. I'm in 2nd, I take the corner tight while the lead guy clips a pedal and moves out wide. It's just me and I try to go for it at 200m. I make it 1/2 way before 4 guys come sprinting up. It's close but one-by-one they pass until I cross in 4th, missing any prime points. I'm exhausted from that but maybe we can get a group out front now.. nope, we all get back together.
That sprint for the prime was a confidence booster. If I can get into the top 5 again at that last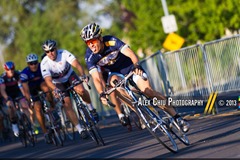 corner and this time follow someone until 100m to go, I can place well. The next couple laps I continue to lead through the tight corners. The guys at the front appreciate it and let me back into position each time where I rest the rest of the loop.
1 lap to go. On the backside nothing is casual anymore. A lot of changing positions. I find myself getting swallowed up. But I remember yesterday and am determined to work for the right position. I rub someone's wheel ahead of me. That's the most dangerous thing to do, but I'm ok. I find an opening and go down the right side, near the road edge. This sets me up for the first tight corner and I dive into the gutter and take the lead. But my rear wheel slipped in the process. Strange. With my small gap I go back and forth across the road to disrupt the chase and then hit the next corner hard. Again my wheel slips worse! It's going flat! Heading into the hard-left round-about I quickly way the alternatives: lean hard and possibly slide out, or go wide and loose my position. I go wide. But I'm not giving up. I'm about 10 back with another hard corner. I go wide again because the last thing I want to do is slide out and take everyone down around me.
I'm breathing hard catching up to the group. They going fast but it's straight and I can still ride my soft tire. I'm out of position, about 15 back. If I can make the final turn without falling, I think I can still sprint. Carefully around the corner.. and go, go, go! It's a long 200m sprint with no one's wheel to get on. Just like yesterday I start too far back and move up only a couple guys to about 12th. But it was a MUCH better race for me. I felt like I made my positions this time and was never stuck out in the wind without a purpose. This time I'm completely happy with my effort and I know that it just wasn't God's will for the finish I imagined. His will is always best so I'm excited for next time.
Thinking back to that last lap, when I took a desperate line to the front down the edge of the road, that was probably where I picked up the goat-head in my tire. Another lesson to learn for next year :)
This was my last Cat 5 race. Next year, I'll try some races as Cat 4. But the main focus will be Ironman training! Lord willing.