Date/Location:
Jan 1, 2015 / Auburn, CA
Distance:
Hill Climb 1: 3mi Old Foresthill Rd
Hill Climb 2: 1.2mi Raley's Hill
Resolution Run: 10mi
Time/Place:
Hill Climb 1 (Adj): 5th
Hill Climb 2 (Adj): 7th
Run: 1:17:36*, 2nd (PR 1:11:20, 2012) *longer course
Combined: 5th
Teammates:
Hill Climbs: Lance Loveday, Jesse Warda, Jeff Landauer, Flor Hodges, Kayden Kelly, Robin Soares, Karen Nickel
10Mile: Bryan Hacker, Melissa Penwell, Bailey Shykowski, Karen Nickel, Robin Soares, Flor Hodges, Jason Shykowski, Gary Carpenter, Jesse Warda, Kayden Kelly, Manouch Shirvanioun, Randall Harris, Carolyn Goulding, Lupita Cox
10K: Mo Bartley, Lance Loveday, Tamara Diederichs, Kim McCool
5K: Leah Booth, Hal Tacker, Emerson Booth, Deborah Booth, Stephanie Ganzenhuber, Laurn Langhofer, Anna Soares, Ariel Soares.
Bike
I wish I got a few more practice climbs in, but gotta do with what I've got. We meet at the Overlook in Auburn for our annual New Year's Day Challenge. A bike ride with multiple hill climbs followed by the Resolution Run on the tough canyon trails.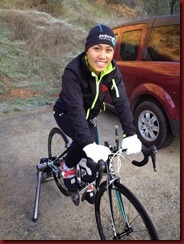 I start out from the house and realize my brakes don't work on the road bike. I ride the tri-bike instead. It's a great
group (Flor, Robin, Lance, Karen, Jeff, Kayden and Jesse). The sun's out, but still a bit chilly. After a warm-up around Powerhouse Rd & up Glenview Dr, we descend to the Confluence and prepare for the first climb.
We do the usual staggered starts with the women first. Then Jeff & I go with Kayden, Jesse and Lance chasing. The first part of the climb is the toughest. I'm breathing hard, as usual, but doing my best to be efficient and give God my full effort. I catch Karen. Jeff & I battle back 'n forth but I pull slightly ahead at the end.
After a quick group photo, we coast down to the Foresthill Bridge for the next effort. Lance had the fastest 1st climb so he has to lead us out across the bridge. Because of a mis-communication, Kayden, who usually thrives on this sprint climb, thought he had to stay in formation and missed the action at the front. Jeff, Jesse, and Lance battled for the lead, but I couldn't catch them and watched from about 7 secs back.
My total time was 21:29, off from my best of 20:37. I made 3rd place just by a couple seconds.
Run
The day is warming up fast. I make sure to fuel well. We line up with about 200 others for the 5k, 10k, or 10mi race. It's great to see the many other friends that are here. Ariel & Anna are both doing the 5k. Jeff will pace Ariel as he has another runner running a relay for him. Before the start, Robin, Karen, myself and some others pray together. It's a tough run which means more opportunities to represent Christ, even when it gets hard.
Go! Robin and I start together. It's a big group. Friends of ours from Tuesday Night Track pull ahead including Melissa, Bailey and Robin's training partner, Karen. Behind us the 10k group gets ready and finally the 5k'ers last.
On the long run to the bottom I can see Melissa & Bailey up ahead. Karen and Robin are behind me. My calves have been bothering me and feel a little tight. Up the first climb. I really focus on form and staying relaxed. I want to record a fast climb without straining my calves. I feel that I do (3:38, just 3 secs off my PR from last year!).
Across the top and then the steep drop down the Dam Rd. I try to make up some time, but then the calves get tighter. Up the steep switch-backs I have to really be careful. Around Robie Pt (5:36, 15 secs off my PR). Now it's out to the far gate at Hwy 49. On the way I see Melissa, then Bailey, coming back. I run well to the turn-around at Hwy 49 (previously the race always turned earlier). I make the turn and then see Karen. "You're almost up to them Karen, you can do it!" Then I see Robin. I love being able to see her in a race. She encourages me so much and I try to do the same for her. I ask about her hamstrings and she says they're hanging in there.
Up and over Robie. The calves hold me back (was 20 secs off my best). The final mile up to the finish is brutal. I'm exhausted and the calves are really shot. I finish 1:17:36, 6:16 off from my best last year, but a 100% effort. And turns out to be 2nd in my age.
I cheer for Karen, Robin, Flor, Jason, Gary, Jesse, and Kayden coming in soon after. We all have a good time hanging out. So thankful that the Lord healed my foot 6 years ago so I can experience all this fun running with friends!