| | |
| --- | --- |
| Date/Location: | March 14th, 2015 – Sacramento |
| Distances: | 40min |
| Place: | 35+ Cat 4, 25th of 50 |
Going into this race I'd been sick for a couple weeks with a chest infection. I practiced my cornering the week before in my neighborhood. Robin and the girls monitored a couple corners so I could try them at high speed. Last year I crashed on a high speed left turn so that was the main focus. The test went good. But the next few days I was coughing worse. So in today's race I will be careful not to push too hard and hope the next day I feel better, not worse.
My other concern is the chicane - a tight left-right turn that causes many crashes on this course. Last year with 2-to-go I led through this corner on the outside, but was then crowded by 2 riders on the inside that almost pushed me over the curb. I hit the brakes and stopped in the gutter, but 2 others not far back went down. I'm determined not to let that happen again.
The announcer talks about how this race has been around for decades. Wow, I imagine how many crashes there have been over those years. Right before my race there is a bad crash in the Cat 5 Elite. This is a video shot by one of the guys in the crash.
https://onedrive.live.com/redir?resid=40cd2571f276b080!5837&authkey=!AHsF14n0ohy9YTA&ithint=video%2cmp4
There remains a rider that is being mobalized for the ambulance coming. Therefore the Cat 5 race is cut short. I pray that he'll recover well from this and that the condition isn't too bad.
Before our start of 50 riders, I notice a guy on a pink bike and think he must be pretty good to be confident on that color. Robin and the girls are at home, but we pray over the phone. My Victory Velo teammates, Chris DeMattei, Dan Brown, and Jeff Sawyer are racing with me. We're off. I'm #239.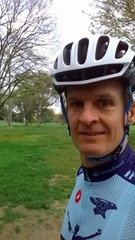 Right off the start, the guy on the pink bike attacks and gets a gap. 1/2 mile later, in the first left-turn of the chicane, we see him crashed on the grass 50ft off the road. Wow, that's embarrassing to crash with the whole road to yourself. Although my crash at Montserrat was embarrassing, too.
The video attached is from another rider's camera.
https://onedrive.live.com/redir?resid=40cd2571f276b080!5836&authkey=!ADZe5XtXpiQhelw&ithint=video%2cmp4.
You can see me in Victory Velo blue.
I ride near teammate, Chris, most of the ride and the corners all go well. I thank the Lord for helping create good space around me each time. There's only 1 close call the whole race. Michael O'Rourke was riding with us as an instructor and at times would coach us through the corners. I was happy with my cornering and was able to use it to my advantage at times.
Now almost every other lap had a prime. I would come around the last turn in good position, but always get passed by everyone's great sprinting abilities. It wasn't helped by my skipping chain at high efforts. I just had the shifters and derailleur replaced but something is really wrong. But I understood it to be God's way of keeping me to my promise of not going 100%. If I was able to sprint my hardest, I'd probably make my chest infection worse.
I finished 25th. Chris finished the highest at 15th. I was really happy to finish safely and not see any bad wrecks. The guy on the pink bike never re-joined the race but I'm sure he wasn't too hurt since he landed on the soft grass. The next day I was feeling a little worse so didn't do the Bariani Race, but my wife, Robin, did so you can read about it in her story