| | |
| --- | --- |
| | June 12, 2016 – Folsom, CA |
| | Swim 1.5km – Bike 40km – Run 10km |
| | 2:17:50 (24:58 – 2:01 – 1:08:24 – 0:52 – 41:34) |
| | 1st (20th Overall) |
| | Flor Hodges (FCA), Elise Winter, Dave Campbell, Trudi Hughes |
After doing the difficult Olympic distance Auburn Triathlon, I'm looking forward to a flatter, faster Folsom Triathlon. But more than that, I'm preoccupied with thinking about Robin's Rock-n-Roll Marathon which she will be starting about the same time! After the girls and I jump in the car at 5am we get to talk with Robin on the phone as she is being dropped off at her start by her parents. We get to pray for her race. I wish I was there to support her. But she has the Lord and hopefully I can help some athletes at my triathlon this morning remember that they, too, have the Lord with them. Racing under FCA Endurance has been so rewarding, being encouraged and being able to encourage others through Christ.
Our girls are so helpful in moving FCA gear when we arrive. Also, they are volunteering at the athlete's food tent today. Very proud of them. I set up my transition, get a little run in and we make our way to the start for the FCA pre-race prayer. Race announcer Nick Tuttle lets everybody know. About 8 of us join together in prayer. Some have concerns about the swim. Some just want to give God their appreciation and their race before the huge effort before them. I want to be focused on Him throughout the race because I realize the risks of injury, frustration or self-centeredness and I want to be on guard against them. A few people pray, including my daughter Anna. There's so much to do before a triathlon, but this always feels the most beneficial.
TeamMate, Flor Hodges, is here and will be exciting to watch. Her husband, coach, and my good friend, Rob Hodges, is here volunteering. He tells me there's a pastor here doing his first triathlon and that he knows Pastor Lincoln Murdoch. I'm hoping to meet him and also think about how much I've learned from Lincoln. He is an exciting pastor and triathlete from Omaha, Nebraska. If you ever get a chance to hear him, you'll never forget it! Here's a
recent interview
he did.
Swim
I jump in without much warm-up. The water is cold in Lake Natomas. The sun is directly at us for the 1st 500 yds. By mistake, I have clear goggles. It's so bright it hurts to look. But, as long as there is sun shining at me, I should be going the right direction. I start a few rows back this time which is more my speed. Go!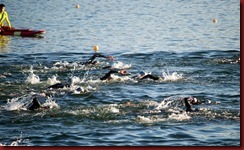 As we go, I notice an underwater cable stretched the length of the course for the rowing races they have here. That's great! But does it go the same direction as the course.. as the sun? I'm hesitant to rely on it even though it sure is comfortable to just swim with my head down. I imagine swimming right past the turn bouy. But I do see the buoy and boy is it great to swim a different direction. The water is clear and brisk.. actually very cold in spots. It's a great day for a race!
Coming back I find a guy slightly faster to draft behind. Even though he swims off course a few times I set myself to go wherever he goes. (Later I see my Garmin path shows the zig-zags of this section).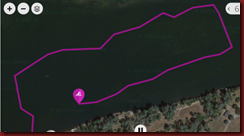 The last stretch I try to push my arms and kick more. Don't know what my pace is but I know in a race every second can count. I never want to see that I missed a place by a seond or 2. 24:58. (I'm in 4th place, 4 secs behind 3rd. And a few more secs behind Elise Winter. A minute behind Sena.)
Bike
My swim was good. But my transition isn't. I get hung up on my wetsuit. Need to start using the spray slick again so I don't give up time. Despite the hang-up, I actually get out before the guy ahead of me (and am in 3rd). Being on the bike always feels good when you start. Over the highway, down Folsom Blvd, and up into the more rural roads.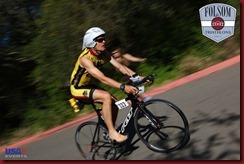 I'm pushing hard, breathing hard, drinking a lot, trying to be smart and give my best effort to the Lord. I encourage others.
After 8 miles I see a familiar bike.. it's Sena Minshew on her green machine. She's always smiling. Then I see a familiar kit. it's Elise Winter from the Freeplay team. She's a good rider so I'm glad to have caught her. We encourage each other as I go by.
There's not much wind. About 13 miles I pass a guy in my age group (and move into 2nd). We're on an out-n-back which is great to see other racers. I see Flor coming back and cheer for her. I turn and then see Elise behind me. We go onto the canal bike trail. A guy in a different age passes me. I try to pick it up to keep him in sight. I'm staying with him and really working hard. We go through the tunnel with the bump and then onto familiar American River Bike Trail. I pass a rider while coming into the park. At that moment I think, "This might be a no-passing zone.." Next thing I realize I'm going the wrong way and have to turn-around. As the guy I passed moves back ahead I have a feeling that's the way it's supposed to be. (Later found out it was a no passing zone). I come in with a good dismount into running and rack my bike quickly.
Run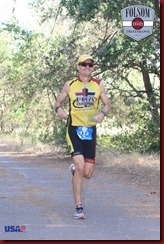 Heading out, our friend, Dave Campbell, who has finished his Aquathlon race, yells to me to try to match his time of 40 min on the run. It's great to get a challenge like that. Even though I don't think I can beat him, I'm going to try my best now to get close to 40min! Rob Hodges is working the run course and cheers me on.
My achilles is feeling good.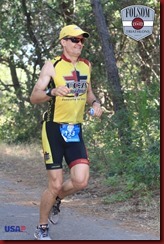 Thank you, Lord! My legs are stiff but should loosen up soon. I try to run really smart, anticipating the turns and inclines of the trail. The wooden bridge.. can't wait to get back to it. It's warming up. I drink water at each aid station. I eat 2 Hammer Gels along the way. I pass a guy in my age group at about 2 miles (and move into 1st).
I start seeing the Every Man Jack racers already coming back. Wow, they are so fast! I don't know what place I'm in and just figure with those guys I probably won't place at all but that it doesn't matter because I feel like I've really raced well today for the Lord and am just excited about performing well.
Finally, the turn-around. I'm tired but know it's slightly down hill and I've got to keep the speed up.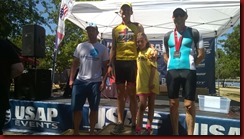 My pace is good, hopefully will be under 42 min. I cheer for Elise again. With a couple miles to go I think about our track workout where we practiced Surging and Settling. I better try it out. At the wooden bridge, despite being pooped, I surge all the way across and then settle back into pace. It hurt but felt rewarding. I chase down another guy before the main finish area and finish very happy with my race. Thank you, Lord. Run was 41:34. Was surprised to finish 1st in my age.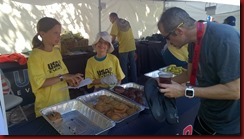 Anna and Ariel did so well in the food tent, kindly preparing plates of post-race nourishment for the athletes. Ryan Coehlo puts on a great race, and creates a great atmosphere. You can tell it is a passon of his. Announcer Rick Tuttle is awesome and seems to know everyone. I loved talking with some athletes at the FCA Endurance tent.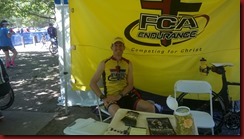 So many people are trying out the challenge of triathlon. Some have to borrow bikes. It doesn't matter what gear you have or how much you know. It seems to be a race against oneself in many instances. It's great to see people challenging themselves. I think it's the biggest challenge we face. I know I couldn't do it without the Lord Jesus in my life.
| | | |
| --- | --- | --- |
| Name | Place | Time |
| Flor Hodges | 1st | 2:18:33 |
| Troy Soares | 1st | 2:17:50 |
| Elise Winter | 1st | 2:26:38 |
| Jesse Moore | 1st | 2:02:18 |
| Trudi Hughes (sprint) | 5th | 1:58:05 |
| Dave Campbell (Aquathon) | 1st | 1:05:30 |
| | | |