Date/Location
2/17/19 Auburn to Loomis
Distance
13.1 mi
Time
1:38:14
Place
3rd (9th o/a)
Teammates
Friends from Tuesday Night Track: Elizabeth Katzura, Christine, Holly, Mike, Liz, Claire.
Other friends: Dana Haldeman, Eddie Schmidt
This race was postponed from Nov due to the smoke from the NoCal Camp Fire. Today, Feb 17, I wake up in Auburn to the rare sight of snow falling. As I drive through the dark with the large glowing flakes coming down, I pray this morning works out well. To get my "20 miler", I'm going to run 5mi before, and 3mi after, the 1/2 marathon. This long run got pushed out due to sickness and injury last month. But I'm thankful the Lord has healed me and I've felt strong lately. However, my big weakness is the cold. I've tried lots of experiments on how to stay warm in different situations and one thing I've learned… stay dry!
I park in Penryn at 6:10am. It's a steady rain here, and dark. I start my 5mi run with all-weather socks, thick tights, jacket, rain jacket, waterproof hat, and my best cold-weather gloves. The rain-drops pour down through the beam of my headlamp while my cold breath rises up through it. It's peaceful on these quiet backroads. Brooks are flowing high and frogs obviously happy.
I run down Taylor Rd to the Loomis train station to catch the shuttle for the race. I feel good, even warm in my jackets, but I can feel the wetness on my legs and feet. I see the busses lining up. I register and stretch. I'm glad to see Elizabeth Katzsura from track. The buses are covered with snow and there are many comments about "this is crazy".
My main concern is STAY WARM. On the bus ride up to Auburn I can feel my body cooling, the wetness soaking in, and realize my gloves are wet. I had another pair notice that 1 glove must have fallen out. On the bus I see 2 more friends, Eddie Schmidt and Claire Walker.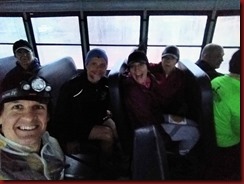 We all comment on the snowy scene in Auburn. I'm amazing the buses can make it up the snowy roads to Placer High School.
It's a strange scene at the start. Our track is under snow and the road covered with thick slush. Everyone is taking pictures.
Some wonder what they will wear. I'm wearing EVERYTHING I've got. My friend, Eddie, is in shorts and telling me he's going to bag-check his jacket because he doesn't want it flapping during the race. I think he's crazy because I'm already shivering.
The race starts! Everyone is trying not to slip. I notice a woman taking the lead and then 5 other guys ahead of me. We go by the Auburn Courthouse. Our friend, Dana Haldman goes by me. I think maybe I can catch her as I warm up, but she looks really comfortable at 7:30 pace and isn't slowing down. Up Nevada St. which is a steep climb. I welcome the oportunity to push harder and try to warm up - my fingers are wet & freezing. My feet surprisingly are fine.
Mile 1. 7:42. Good, maybe I can stay under 8min pace today. There are volunteers watching busy intersections, they are bundled up and must be cold but they bubble with cheers and encouragement. Up Mt Vernon Rd, I push it knowing this is the last chance to get warmth from climbing – the rest is all downhill. There's a few guys around I'm going back n forth with. As we start down, one asks me if I'm good on the descents. Normally I try to take advantage of downhills, but I'm a little tentative today, also because my legs already have miles on them.
Mile 2. 8:23. Sharp turn onto Millertown. Beautiful snowy fields. I see Dan & Dawn Tebbs along the bottom of their property with their dogs cheering us on. Fingers still cold.
Mile 3. 7:11. Suddenly Eddie Schmidt goes flying by! He does not look like he just did the toughest 50K yesterday in the mud. I wonder if I'll ever catch him later, but the speed difference is significant. A creek flows next to us and vapor rises from the water. The water must be warmer than the freezing temps. It's a beautiful scene.
Mile 4. 7:24. After dropping down the steep section, we continue to Wise Rd… and there's Robin and the girls! Yay. I point to Eddie way ahead and give them high 5's. Along Wise I'm feeling some fatigue but push past a couple guys.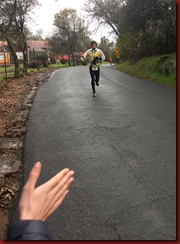 Mile 5. 7:34. Nearing Ophir Rd I can see Eddie already heading down. The skies are blue now, a few white clouds, and my hands are finally warm. Thank you, Lord! And my legs are holding up, I think I'll get through this ok. Pace is good. I eat a Hammer Gel. Drink a lot at the aid station. I can still make out Eddie in the distance as he's one of the few wearing shorts.
Mile 6. 7:42. I stop at a porta potty. Now the 2 guys are ahead. This Ophir Rd is where we did our FCA bike intervals last Friday. Robin and the girls are at the park-n-ride. Anna throws a snowball at me (that's supposed to be encouragement I think). I guess she has a bucket of snow for this purpose because there isn't any at this elevation. It's beautiful out. My hands are fine and I throw my gloves to Ariel.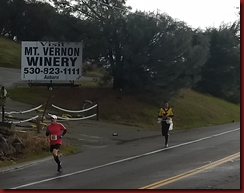 Mile 7. 7:47. Through the Newcastle tunnel. By the Portuguese Hall which reminds me of my heritage. I pick up the pace some. But if I go too fast I start to feel calf or foot pain.
Mile 8. 7:12. I eventually pass both of the guys again and figure I'm in 8th or 9th. I pass Callison Rd and am now running the part I ran this morning. I did it without problem this morning.. I can do it again! I'm thankful that the Lord blessed my plans, alowed me to be warm now, and has given me strength. Once I get to Penryn, it's only 3 mi, I can do this!
Mile 9. 7:19. Taylor is a smooth, wide road. Easy running. My car is parked ahead at Penryn and I see Robin and the girls out ready to cheer for me. Up a slight climb that feels harder than expected. I drop off 1 jacket at my car and wrap the other around me. Anna throws another snowball and misses. I'm always so glad to see them!
Mile 10. 7:42. Through Penryn, more great volunteers, more water, chocolate Hammer Gel (mmm!), and onto Rippey Rd which is new to me. It's a great rural road. The sun is bright. My legs are starting to hurt with each step but I'm so close now.
Mile 11. 7:20. We head out of the countryside, back towards Taylor Rd for a moment, and then back into the peaceful rolling lane. I'm eating Cliff Blocks now. I see the 5k turn-around and quite a few folks are walking/jogging it.
Mile 12. 7:14. This is it! Push a little longer. I'm so sore now, and will have some warm-down miles to do after, but I know I have to push… always have to push in a race. I've heard people cheering for someone behind me so I try to pick it up to keep him from passing me in the last bit. I don't look back though. I focus on the Lord and try to give Him an honest effort I can be proud of.
Mile 13. 7:12. Yes! the finish is near. I was here 3 hrs ago and didn't know how the day would go. God is good! Anna tags me with one last snowball. I finished 9th in 1:38:14. 3rd in my age. The guy I heard behind me finished 2 secs after. The overall winner was a woman at 1:28. Then a man at 1:31, then Dana Haldeman at 1:33, and Eddie at 1:34. I was really happy with my time.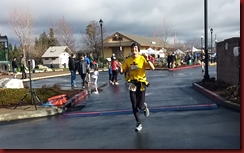 After re-connecting with everyone.. I headed on my 3mi run along the course to my car. It was hard and 10:30 pace was all I could do. But it was neat cheering for other runners.. I saw Claire, Elizabeth, Mike, and Liz, all Tuesday Night Track runners. Sometimes I tried to push harder but something would start to hurt so I held back. I'm so happy to make it to my car after 21.5 mi total and change into other clothes and head to church.. Thank you, Lord! I didn't know it would work and I thank God it did. It helps me feel more confident for Napa Marathon in 2 weeks.