| | |
| --- | --- |
| Date/Location: | 6/9/19, Rancho Seco Park, Herald, CA |
| Distances: | 1.5km S – 40km B – 10km R |
| Time: | 2:29:38 (27:59 – 1:23 – 1:09:29 – 1:08 – 49:38) |
| Place: | 5th, M 50-54 |
| Teammates: | TeamMates/Friends: Troy Outman (Aquabike), Ariel (Kids Tri), Anna (Aquathlon), Dave Campbell, Keith Hansen, Tony Marengo, David Slothower (Aquabike), Tiana Rockwell |
The TBF Tri-for-Real at Rancho Seco Park is a good venue for the Olympic Distance. Warm water; flat, straight bike that can be windy, and a mixed-terrain run that can be hot! I'm really run-down coming into this race. There's been a lot going on with the remodel at home and my last training ride I felt very fatigued. Even though I'll have to go slower to get through the race, it doesn't mean the attitude or appreciation has to be less. I know if I focus on God, every race has a purpose.
Anna and Ariel are also racing. Robin is supporting all 3 of us – I appreciate her support so much! It's good to see familiar faces: Troy & Sarah Outman, Dave & Francie Campbell – as well as their grand-daughter, Bella, who is racing the kids tri, Keith Hansen, Tony Marengo – a nice 17yr old kid in our neighborhood who is also a top triathlete, Tiana Rockwell, and Dave Slothower – who I've been racing with since 1995!
I warm up a little bit on the bike, a little in the water, but the only prior run I do is a barefoot sprint back-n-forth to transition watching Ariel's performance. She started a 1/2 hr before my race and had a great swim! I got to see her transition from bike to run before I had to go to the start.
At the start, 4 of us gather to pray: Troy & Sarah Outman, Anna & I. I'm reminded how good it is to have the Lord's leading into any competitive event. There are so many opportunities in a race, but without God I'm sure I would see only the competitiveness. Instead of the depressing focus on the fact there is always someone faster, I can have the inspiring focus that there is always someone needing encouragement. If I let Him, God can do that through me.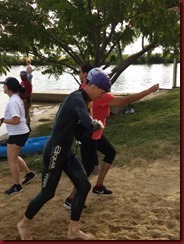 Swim
The start here is great – it's a wide, clear, straight shot to the buoy. I feel smooth, but quickly I'm losing touch with the group. Right away I can tell I don't have a higher gear to latch on to faster swimmers. Around the first buoy and I can't see too many in my wave. I'm swimming straight and calm and having no issues. I like seeing seaweed below at times because it shows I'm moving forward. My pace feels good and I imagine I could still get a good time. It takes a LONG time to get to the 2nd buoy. I check my Garmin but the distance looks accurate. It just feels long. Around the buoy finally and towards shore. It's hard to see where the finish is but I try to trust my guess.
I come out to the wonderful support of Robin and Ariel (who had now finished her race) telling me I'm 1-1/2 min behind Dave Campbell. It's fun competition and I'll give it my best. [Keith Hansen is 4 min ahead, the lead woman in the next wave is 1-1/2 min behind, and Troy Outman, 2 waves behind is 3-1/2 min behind.]
Bike
I have a good transition, jump on my bike and it feels good to start biking. But I can feel that my legs don't have power. Leaving the park I fumble my water bottle and drop it on the side of the road. It will cost me some time but I'll pick it up on the way back to comply with the no-littering rule.
There are plenty of bikes to try to keep up with. A guy in just a speedo is ahead and I try to work on my pedal form to improve power and catch him. Some positions seem good and I speed up, but at the cost of fatigue or comfort. Other positions are not fast and he pulls away. For all of us, it's a perfect day out here without wind.
Last year I had all kinds of shifting problems. This time the bike is working well.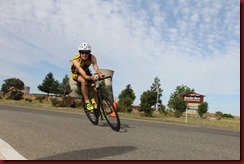 1/2 way to the turn-around, the lead woman goes flying by me. Pretty impressive. A while later, the 5th place 50 yr old goes by me just as fast. Before the turn-around, I see Dave Campbell going back already 3min ahead of me. I yell, "Great job, Dave!"
At the turn-around I make an efficient fast turn and start pushing more with "compressed quads" (another pedal form I try sometimes). Troy Outman is 1-1/2 min back. I pass the guy in the Speedo again for the 5th time and he jokes as I appear, "Stop following me!". 1/2 way back I see a gal on the opposite side of the road with her bike upside down. I ask if she needs help and she says, "if you see sag support, tell them I'm here". That could be a long time for a small race like this, but not much later I see sag support heading towards her. Thank you, Lord, for helping her.
The twin cooling towers of the old nuclear power plant are getting larger which thankfully means I'm almost done with the bike. As I turn into the park, I hear Troy Outman, "Come on, Soares!", moments before overtaking me. I'm glad he's having a good ride, especially because he has a running injury forcing him to do the Aquabike instead.
I pull of the road, jump down into the ditch and retrieve my water bottle. Rookie move dropping it. The guy in the speedo passes me during the manuever. Finally, I come into T2, great dismount, slow transition tying my shoes, and now to see how much energy I have to run. Anna should be finishing the run about now.
[1st place 50 yr old is 12 min ahead, Keith is 8-1/2 min ahead, 5th place 50 yr old is 5min ahead, Dave Campbell is 4-1/2 min ahead]
Run
I high-five Troy Outman, who is now done, and head out with a smile. I've got to drink a lot. I start out slow, the body is tight, but the right achilles isn't bothering me much. 1/2 mi out I see Anna running back, with Robin next to her. "She threw up five times," Robin says. Poor Anna. I wonder what happened and wish I was there to help, but I also feel the Lord's comfort that, as painful an experience she had, it's good for her to learn how to get through it and keep going. [Anna most likely got dehydrated/heat exhaustion. Robin overheard radio conversations to race officials at the finish about a young girl who was sick and ran out on the course to meet her for the last mile. Anna persevered and still got 2nd place].
I'm reminded of a race where Anna got terrible cramps and I chose not to stop and help, instead encouraging her to pray. And I prayed that she would see his hand at work helping her finish. That proved to be an important experience and I pray today will, too.
Mile 1, 7:57. I take a Hammer Gel and plenty of water. I'm really feeling the fatigue and the heat, but gotta keep moving and remain positive – it might feel better, I might catch someone.
Mile 2, 8:01. I drink a water, pour a water on my head, try to look forward to the downhill to the turn-around. I expect to see Dave coming back onto the dirt road from the street [actually Dave was 7min ahead so had just turned back off into the trails] On the street now, with runners coming and going, and some struggling with the heat, I notice the sag van with multiple riders inside including the woman I saw on the side of the road. I make the turn-around and push up the hill.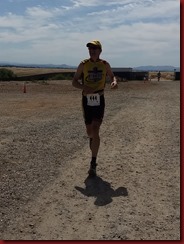 Mile 3, 7:47. This hill seems harder and hotter than usual. Turn left onto the fireroad, onto heavy gravel. A guy passes me running farther to the side on the flat road. I follow his idea to avoid the big rocks. Onto the single-track, which is usually fun and I was hoping Anna would enjoy it but, under the circumstances with her feeling sick, probably not. A quick stop. Then an aid station - another Hammer Gel and a lot of water. I'm beat but try to stay motivated to push. I start counting the cool, curved, wooden bridges on this trail. I pass a couple runners and try to encourage them by pointing out the bridges.
Mile 4, 8:24. [Tony has finished] After 7 bridges, and almost back to the road, I see the 5th place 50yr old walking. I ask him if he's allright and he says, "No, I'm overheating", but he's walking fine and doesn't appear serious. I remind him there is water in 1/2 a mile. I continue on and say a prayer for him, that he might be able to run the last mile. [Dave Campbell has finished]
Mile 5, 8:05. 1 more mile! [Keith Hansen has finished] Sports drink and water on my head. Thank you Lord for getting me to here. Help me smile and press on. I do smile. I pass a couple more runners.
Mile 6, 7:55. I see Robin up ahead. And Troy Outman. And Anna. I point to God and smile with much appreciation for Him getting me through a hot struggle amidst much fatigue.
Mile 6.2, 1:28. Done. Thank you, Lord. I talk with Dave, Keith and Troy. I'm glad to see them excited about their bike times getting faster. I'm usually a little bit faster than them and I know how exciting it is to finally catch someone you've been working hard to beat. Some days you get caught, and sometimes you pull ahead, it's fun sport if you can remember that, and a worthwhile sport if you can encourage others to race their best despite what others do. Now to recover, sleep, and be better prepared, Lord willing, for the next race