| | |
| --- | --- |
| Date/Location: | June 5, 2011 - San Diego, CA |
| Distance: | 26.2mi |
| Time: | 3:17:49 |
| Place: | 30th |
| Teammates: | Ben Rosenau, Daniel Patterson, Marilyn Watson |
Jan & Jerry dropped me off up ahead of the starting line which worked well as the other roads were jammed with the 26,000 athletes trying to get to the corrals. We took some pictures. Then I jogged to 5th ave. Down the street were masses of athletes, but here were unused porta-potties and a nice street along the San Diego Zoo where I could warm up. Some Kenyans were warming up here as well. We could hear lions and jungle birds somewhere in the distance. I knew I was in good running company.
I double-tied my shoes, paused for the National Anthem, dropped off my gear at the UPS trucks, stretched, prayed and now it was 5mins to start. I forgoe another trip to the secret potties and wiggle my way into my Corral #2. 1000 runners in each. They sent off the wheelchair racers, and then Corral #1. Here we go. Wow, it's pretty exciting. I can tell everything about this race has been thought out and will be well-run. Orderly, we move to the starting line.
Go! A smooth start. Different from my nightmare last night about doing this race and having everything go wrong (running with my sweats on; carrying a blanket, phone, and a stopwatch not started). I do a quick check of myself.. Garmin, stopwatch, MyAthlete tracker, knotted laces, right clothes for the perfect weather and goal: 7:15 pace.
5 min into it we start getting overrun by Corral #3 released behind us. But I find open road and just stay focused on being efficient and relaxed. The course is great - lot's of San Diego highlights. Bands are great. Many runners dressed as Elvis - the king of rock'n'roll. We descend to downtown and trying to maintain a steady heart rate, I pick up the pace and take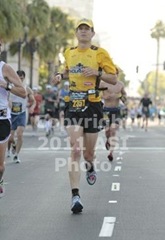 advantage of it. We run along the bay, next to the aircraft carrier, The Midway, up through the gas-lamp district and everyone is cheering and helping us along.
At 10k (6.2mi) I think I'm a couple minutes ahead of schedule, but I'm going to need this for the climb ahead. We veer onto Hwy 163, a 6-lane freeway open just to runners. Pretty cool. The 1/2 marathoners, which had veered off earlier, enter the freeway in the other Northbound lanes. Good course planning - keeping us separated. Overhead, amazingly, I still see the long line of runners who are just starting the race - 50 min into it! The hill goes forever. The off-camber is uncomfortable but I endure it as I run the tangents - where the steepest angle happens to be.
At the top, 11mi, my Garmin says I'm ahead, at 7:11 average, but my stop watch says I'm closer to 7:15. Strange. Now I pick up the pace with a steep descent. The camber is difficult. My right foot is holding up fine with the pounding. This should feel easier than it is. My heart rate is all over the place but I'm pretty sure it's the Garmin acting up. It's showing 125% of max ?? At one point it says I've been averaging 200bpm. Impossible, unless I was my friend, Kevin Sutton.
We pass through a large freeway interchange. The 1/2 marathoners to our right take the looping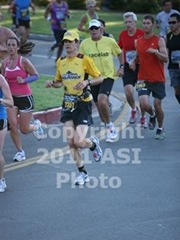 off-ramp, cross overhead and then merge back in on our side. It's spectacular seeing the throng of people moving along the freeway like Monday morning rush-hour. By now the marathoners around me have diminished to only a dozen anywhere near me. Whereas the 1/2 marathoners, who have separate lanes, are spread across the road. I imagine in another hour it will be the same on our side. But for now, we have the whole road to ourselves.
I'm looking forward to seeing Jan and Jerry at the 13.5mi checkpoint. I'm really working hard and not able to pick up the pace much if I wanted to. It's good to have something to rewarding to run towards. I cross 13.1mi just seconds under the 1:35 I need to get 3:15 at the finish. I'm right on 7:15 pace but my Garmin says 7:09 average. I know it's wrong now. I will start clocking splits on my watch. I'm looking for Jan and Jerry. It's hard just to look around which isn't a good sign. My inclination is to go "tunnel-vision" but I know Christ gives me strength to interact and give Him glory where possible.
"Troy, Troy!" There they are. In a perfect location. So great to see them. High-fives and then the reunion is over too quickly. At 14 and start taking splits and trying to push the pace. I down a Hammer Gel. But the extra effort has been slowly upsetting my stomach. I know I need nutrition but I'm starting to feel bad. Body check: my left shoulder is sore. My legs are getting stiff and sore. And I'm having some GI issues.
15mi. With the extra effort I'm still maintaining only 7:15 pace. I start to think that there will come a time when I can't hold it. But "you never know what can happen". I cold start feeling great and boy would I love that. We're on a long out-n-back. I'm trying to relax to calm the stomach, but push to keep 7:15. Down below to our left we can see beautiful Mission Bay. It's nice to know we still have some elevation drop.
17mi. Finally we turn around and I'm hoping for some tailwind to help. For a couple miles I go under 7:15 pace and then latch onto a Cancer Support runner who looks comfortable. Gotta try to stay with him. Up a little climb I fall behind and lose the seconds I was gaining previously. I'm giving it a lot of effort so the slightest grade slows me down. Don't give up. We go through a clever Pac-Man aid station - everyone dressed as those colorful goblins. I smile but can't do much more. I take advantage of each descent, trying to catch up. At 19mi I'm side-by-side with him, thinking I can go even faster. But then the legs tighten up more and my left calf is cramping. I use my right leg more.
20mi. Someone announces we're on 3:10 pace but I'm just a little behind. I pull off to a porta-potty to help the stomach and the calf needs to be stretched or it could bring me to a later stop. I stretch while sitting and get some relief from both problems. Now I gotta get moving and try to make up time. I think about 1994, running with Dick and Clint in the California Int'l Marathon trying to qualify with a 3:10. Our agreement was that at 22mi you could forget pace and go as fast as you want if you had it in you. This is motivating and I imagine taking off at the 22mi sign.
22mi. There's no taking off. I've got nothing more in me. Little turns or changes in the path stab at my legs. I pray and trust in the Lord and ask for strength. Even though I'm only 1-2 minutes behind, I'm not going to be able to get back to 3:10 pace. And if I don't continually give it my all, I won't finish under the qualifying standard of 3:20 either. It's tough realizing that this 1-2 minute deficent right now equates to waiting an extra 1 week to register for Boston. That's the goal Robin & I have for our 10th Anniversary. She's qualified with a 2 week registration advantage. I just have to do all that I can.
24mi. I'm really slowing down. I imagine track workouts and try to go 1 lap at a time. We're on a loop around an island in Mission Bay. It's desolate except for some boats and water skiing nearby and, of course, the always helpful bands and aid stations every 1mi. I stop at 24mi and try to stretch. Whoa, the legs are worse then I realized. Ok, pump it up, 1 more mile and then all-out. Looking at the time, I can do it under 3:20 as long as something bad doesn't happen. I try to recite Ps 23, about "The Lord is my shepherd, I shall not want". I'll be content with whatever time I get. "He leads me beside still waters". I look at the calm bay water and smile. I can do it. There are reminders all around me of what can happen. One guy suddenly starts hobbling as his legs lock up. Around the next corner is a guy on the ground getting medical attention.
25mi. I'm going to do it. I've got 12 min left. It's hurts like crazy but at 1/2 mi to go I do manage to pick it up just a bit. There's the finish chute. Yes! I can't wait to lie down. I'm so thankful that God has kept me together to complete the task. I finish in 3:17:49, pray and then try to walk, realizing my legs may be more punished then ever before. I find some grass and ever-so-gingerly lie down. The pain reverberates up and down my body but it is good to rest. "He lays me down in green pastures" Indeed He gives me rest.
Normally I would re-fuel and eat but the stomach is nauseous. Through the throngs of athletes and families, I make my way out of Sea World San Diego and onto a peaceful bike path where I walk slowly to my rendezvous point with Jan and Jerry. Every street coming and going is jammed with cars and buses. I'm glad to be away from that. Jan comes up and gives me a hug which feels so good I'm about to cry. I'm done. It was a hard effort. I wasn't trained enough with the deep down fitness but it's a great comeback from not doing a fast marathon in 5 years. Wow, through Christ all things are possible. But ultimately His will be done. I'm fine the results and Jan and Jerry made it all go smoothly and took care of me, including getting me a coke which tasted so good and helped my stomach.
Go Marilyn!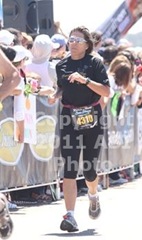 Way to go Daniel (left) & Ben (right)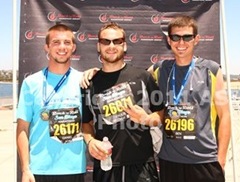 | | | |
| --- | --- | --- |
| Name | Age Place | Run Time |
| Troy | 30 | 3:17:49 |
| Daniel Patterson | 163 | 4:32:22 |
| Ben Rosenau | 192 | 4:45:02 |
| Marilyn Watson | 132 | 4:57:01 |