| | |
| --- | --- |
| Date/Location: | August 18, 2012 – Lake Natoma, Folsom, CA |
| Distances: | 1.2mSwim - 56m Bike – 13.1m Run |
| Time: | 5:10:41 (34:27-00:58-2:48:32-?-1:46:44) |
| Place: | 1st, W35-39 |
| Teammates: | Dale Jackson |
Today will be interesting for sure! This is an "A" race for me. But I haven't had the chance to train consistently with the girls home this summer and recent activities (Troy's Ironman, the girl's birthday, the start of school, etc.). I don't regret a moment of the fun we've had. This race is in the Lord's hands and I'm excited to see what He's going to do!
We get out the door late and I'm trying not to stress out. I ask the Lord for His help to be at peace and content with any outcome today. Troy drops me off a few miles before on the American River bike path and I bike right to Lake Natomas. I don't have a headlamp but there's just enough light to see. At the transition area I find a spot next to a very nice guy who is doing his 2nd long course triathlon. I run over and wait in line at registration. I see Anna guarding our FCA tent and gear and wave her over. I give her a big hug and she runs back to her post.
Once I have my gear I head back to my spot and realize that the nice guy is a challenged athlete. He's missing his right leg below the knee. I never even noticed. I have so much respect for him and all other challenged athletes. I'm hoping that he's going to have a great day out there!
Time is running short as I wrap up getting my spot set and body marked. I run to the bathroom quickly in my torn shoes. As I head back, I take a picture of my shoes and post it on Facebook: "Yeah, wearing these babies for the Folsom LC…it's been such a busy summer…but God is in control".
I find Troy and new friends, Mike and Donna, at the pre-race prayer. I squeeze one leg into my wetsuit before we start. We pray for the racers, protection, and opportunities to be the Lord's hands and feet out there today. We thank Jesus for our health and bodies that are able to do something so long…especially Mike who competed in the Full Vineman with Troy 3 weeks ago. We also pray that Mike stay on course after biking 12 extra miles last year!
I give the family love and hugs and then jump in the water for a warm-up. Burr, it's cold! This is so weird because just yesterday I swam upstream at Rattlesnake Bar (which flows into this lake) in just a swimsuit and was very comfortable! I'm so glad that I have my new wetsuit from
www.WetsuitRentals.com
! Thanks Patty!
I line up with my group and get ready to go! I hope to find a draft and have a good swim time. Go! I get out quick and watch the girls that forge ahead. I see two girls speed away and a third girl to the right of me and slightly ahead. I decide not to draft because she's too far out there and I'm not sure if she's worth drafting yet. I am thankful I can swim really straight and I hope it works to my advantage. I catch the 3rd girl at the 1st swim buoy and stay near her till the next buoy a short distance away.
After the turn she goes far right again so I opt to swim straight instead. I can see she's pulling ahead but I remain hopeful. As I look up at the last buoy ahead, it's almost as if it's getting further away. Eventually I'm there and the girl is already around it and on her finish kick. I dig down and push hard to the end. As I approach the shore, I see the girl running up to T1. I get out, kick off my wetsuit and run to my bike. I'm out of transition my fastest ever this season…yeah, thanks God!
I'm off! I cross over the Hwy 50 bike bridge and head towards Prairie City. I pass one girl and wonder if she is the one I was chasing. This is a two loop course with a series of out and backs…3 to be exact.
On the first out and back I see just a few guys and then I see a girl and she's way up there! She must have had a super fast swim! I don't think I'll catch her but I'll keep my eyes out for her. I pass another girl going out. This must mean I'm in 2nd! Wow Lord! I wonder if this is a place I can hold!
As I head out to the next out and back I don't see any new women. On the way back I see Dale Jackson, he's looking great! I know he'll be passing soon! My pace started around 18.5mph and is getting faster…yeah! Soon there's a significant hill and I slow down but am still able to pass some guys without pressing too hard. I'm thankful for all the hard riding I've done with the Victory Velo riders! It's up and down to the turn-around and the moment of truth…who is hunting me down?
Coming back I see two women, one in white and one in red. They both look strong! I set a goal to stay ahead through Mile 28 (halfway). I see a few more women that look strong as I turn on the last out and back…oh boy! I'm feeling good myself and can see my average approaching the mid-19's. I'm really surprised at how well it's going and can only thank the Lord. Dale goes by and I cheer for him.
I make the turn and start watching. Yep, girl in white and girl in red…and closing the gap! And not too far behind.. some more ladies. I turn on the main road and head back to finish the first loop. I keep watching the miles click off and hope I can make it to 28!
Mile 27. The turn around is coming. I might make it…no, I get passed by the girl in white like I'm standing still. It was a good effort. I look down at my average speed of 19.5, I cannot be upset…I'm going faster than expected! The turn around looks a bit dicey with the sprint riders going right and us doing a u-turn to the left. I just about make it around when another cyclist takes it sharp, passes me on the inside and makes me wobble a bit. He apologizes, I accept and he heads out in front of me.
I am able to keep the girl in white in my sights. As we head out to the Prairie City area, I start to pass her and at the same moment another guy impatiently passes both of us on the other side of the double line. That's a big no-no.. an instant DQ in this sport. I look at her as I'm passing and say "I guess that was worth it?". She smiles in agreement.
I'm certain she will pass me again but I still make a run at staying ahead. On the first out and back, the girl in white passes again. We both tell each other good job. As she pulls ahead, the guy who passed me at the end of the first loop goes by and gets right on her wheel. Hmm, I hope he'll pass her or drop back because he can only stay on her wheel for 15 sec. He doesn't and clearly is now drafting. I keep watch as we make a series of sharp right hand turns. I feel bad for all the hard work that he is benefitting from. I want to catch up and tell him to leave her alone but I will leave it to the race officials. At the Silicon Valley Tri I yelled at a cyclist for doing the same thing and that didn't help the situation. All I can do is hope an official catches him.
Soon I hear the race official's motorcycle come along. I hope they catch him! They pull up and watch him for several moments. From my point of view it seems like a clear cut penalty. The official continues on and the guy continues drafting the girl. Within a few minutes another race official motorcycle comes along and also observes him. Wow, I think he's going to have several minutes added to his time. At the turn around I see the officials talking intently…maybe about that guy?
On the way back, I see the drafting continue and hope that she can get away. I also see some new faces chasing me too…and they look fast. My new goal: finish behind the girl in white.
On the next out and back, I see the girl in white is able to pull away from that guy…yeah! My average is close to 19.7. Wow, Lord, awesome! I cannot believe it! I climb up the big hill again and try to scream down the other. On the way back, I see 2 fast girls have moved ahead of the girl in red that has been chasing me. One is from the Olympic Club and the other from Forward Motion…I have my work cut out for me!
One more out and back and then I can head home. I'm catching the drafter. He's been all alone for a long while now. I know I need to pass convincingly to keep him off my wheel. I ride by as fast as I can and it looks like it's worked. The Olympic Club girl and Forward Motion girls are getting closer but I think I might be able to hold them off until the run.
I keep looking back to check if that guy is trying to draft me. He is still back there and I realize I'm stressing out too much about him. I decide to not look back and focus on getting home. Lord, with you , I don't need to worry!
My average is 19.8. Wow, can I bring it up to 20? I don't have much left to ride so maybe 19.9 is possible. Lord, I'm amazed at what you've helped me to do!
I hit 19.9 right before I turn off the road to head back to T2! I hear the volunteers trying to get someone's attention. Maybe it's a car. As I turn on the bike path another guy jumps on the trail from my left. Wow, where did he come from? I look and realize that he had just come from the freeway offramp! The volunteers were yelling at him. I'm so glad he's okay, that is so dangerous!
As I come in to T2, I can see Francie and Dave Campbell who are volunteering cheering for me. I make it to my spot and get ready to run. I hear the girls and Troy cheering and I wave. I make another quick transition and hit the road. Dale is right there on the way out. I hope his AquaBike was a good one! I drop my hat on the way and have to run back and get it…oops!
I know that today the run will be my weak link. I cannot complain though, this is a gift! The course is a double out and back. I set my pace to be between 7:30 and 8min pace. I feel pretty stiff going out but am able to manage a 7:40 average…thanks God! I pass the girl in white and tell her good job. I realize that I'm the 2nd woman on the course. Wow!
At the turn around, I can see that the Forward Motion gal is coming up quick. It's not long before she passes. I tell her good job and then try to stay with her.
Mile 4 is 7:36. I'm still with the FM girl and around the corner comes the drafting guy. He says to us, "that's the race right there". The FM girl says back to him that it's too early to tell.
Mile 5 is 7:41. The FM girl asks me if there is a restroom and I tell her I don't think so but there is plenty of cover out here. At the next aid station she stops to walk through and I'm alone again. Well I better not slack off now…especially since I've seen the Olympic Club girl and another FM girl, Sharley, running fast behind us!
Mile 6 is 7:29. Alright! I know that I'll be finishing the first loop and I hope to see Troy and the girls. The course goes right over to the finish and then continues to the next loop. Troy is there smiling and cheering me on. "It's survival on this one" I tell him. "Maybe you'll get your second wind"…ha, ha just what I told him at Vineman. I smile and tell him I'll see him soon.
Mile 7 is 7:41. Well maybe I will get a second wind. I know there are still women behind me so I'd like to be able to pick it up.
Over the next few miles I go from a 7:58 to an 8:17 pace…oh brother! I get down and think that under 8 min. pace is not going to happen. I realize that my average pace is still under 8 minutes even though the pace per mile has slowed. Wow, God thanks again! You are sneaky!
At the out and back, it looks like I just might hold off the girls. The FM that dropped off is back on track but doesn't seem to be running any faster than me. Sharley is sure looking fast but I think I have enough distance on her.
Mile 12 is 8:20. Ugh! Come on legs! Knowing the finish is less than a mile away I pick it up.
Mile 13 is 8:02. Yes! I see Dale and he tells me I'm the second woman coming in. That first girl ahead of me on the bike stayed ahead on the run too. I see Anna ready to run in with me at the finish. She grabs my hand and literally pulls me across the finish line. Wow, that was great! Thank you Lord!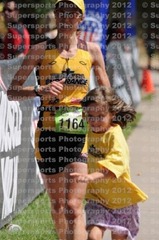 | | | | | | | | |
| --- | --- | --- | --- | --- | --- | --- | --- |
| Name | Race | Time | Age Group | Place | Swim | Bike | Run |
| DALE JACKSON | AquaBike | 3:08:25 | MEN | 2ND | 33:05 | 2:33:30 | NA |
| ROBIN SOARES | 1/2 IM | 5:10:41 | W35-39 | 1st | 34:27 | 2:48:32 | 1:46:44 |