Date/Location:

August 25, 2012 – Winters, CA

Distances:

2 laps = 48 miles

Place:

26th out of 39

Victory Velo Teammates:

Aron Yevuta (3rd); Dan Garcia (5th);
Curtis Smith (18th)
A Great Race Ahead
I'm glad the kids are being watched so Robin and I can do this race together. It's only our 3rd, and last, bike racing event of the season. I felt so comfortable on the bike, thanks to God, at the Vineman Triathlon that afterwards I was already thinking about a strategy for doing well at Winters. Dreaming about being the first one up the 2nd climb, pulling ahead on the descent and then catching a break-away to finish with, or even time-trialing all the way to the end using my new aero position. But then, even though I thankfully recovered well from the Ironman, I continued skipping rides until, "Wow, it's this weekend!?" Still, I felt good on a ride yesterday (a flat ride) so we'll give it all I've got.
I line up with the Cat 5 Elite (a funny category, meaning the "best" (Elite) of the "worst" (Cat 5 beginners)). A full 50 rider field. I meet my 3 other Victory Velo teammates, Aron Yevuta, Dan Garcia, and Curtis Smith. Robin & I pray and she sees us off (her race is 30 min later).
Smooth Start
Rolling out of Winters, onto the rural, flat roads, it's enjoyable and I feel comfortable. Last year I was a little anxious, answering every surge at the front of the group. But breakaways never lasted and only the hill was able to whittle the group down to 1/2 the size. So this time I'll just sit-in and focus my energy on the hill and the last 9 miles.
Mile 8. Aron and another guy, go off the front. The nice thing about having a teammate in a break is that the remaining 3 of us are to "block" and not work to catch them. So when the peloton tries to catch them, we just relax and disrupt the pack. However, Curtis does surge and ends up in no-man's land between the pack and Aron. He comes back and then works well with Dan at the front to block.
Preparing for the Climb
Mile 10. Into the hills. Every thing is working out great for me. But then I drop my bottle of Heed.. right in the middle of the pack! "Bottle! Look out." Thank you, Lord, that no one was hurt! I'm working my way to the front nicely. But then I pass up the neutral water bottles even though I only have 1. I didn't want to take it from someone else who may need it. I'm struggling more than expected on the little climbs. But I get behind a great lead that pulls us all the way to the big climb. The perfect position I wanted going into it.
Over the Top, Just as Planned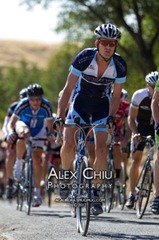 Mile 15. The climb gets steep at the switchback and multiple guys pass me, including Curtis, but, huffing and puffing, I continue standing, with a goal to get over the top first… this way I'll have the technical descent to myself. Curtis tells me, "ok, take it easy now", but I continue on and pushing over the top, get to the other side first. I take the first hairpin great and have a good gap. The next two corners take me a little by surprise but overall I get about 30 secs on the pack by the bottom! On the flat I see Aron far ahead and make a big effort to try catching him. But without the pack, I just can't build up much speed. I'm really winded. Aron is pulling away and now the pack is approaching. Finally I get swallowed up and go back to sitting-in and recovering well for the 2nd loop.
2nd Loop
Mile 30. It's going well. I have high hopes for doing the same thing on the hill this time. But I am starting to feel some fatigue in my neck and shoulders while we're just spinning. That's a sign of wearing down. But the group also shows signs of fatigue on the little rollers. I can do it. It's going to hurt but it will feel great over the top.
Surprise Discovery
Mile 37. Getting steeper. Approaching the feed zone again. Pace is a little faster this time. I'm closer to the back of the pack, planning to move up in the "stair-step" sections ahead. I'm pushing hard. I maneuver over and grab a bottle. A quick sip and put it away. The pack is 20m ahead of me now! I'll catch back up. I go to accelerate… but I can't! My legs are already at their limit. It's a shocking moment of awareness. Although I gave hard efforts before this point, even some that hurt, I always could go a little faster if needed. But not now.
Dropped!
I'm at the limit. I can only huff & puff at the same pace and hope the pack slows down. But they're not. I don't give up hope, but now they're pulling away on small descents. I face reality… I've been dropped. Instead of being the moment I dreamed of - gradually moving past the riders up the hill, cresting ahead of the pack, flying down the backside and bridging up to a breakaway - I'm in a whole different race now. A race against the others getting dropped. A race to see who can handle the suffering the best, who can continue pushing all the way to the end, resisting the temptation to give up hope.
Race of the Stragglers
Mile 39. I catch a Berkeley Triathlete guy that got dropped. I follow a bit to the big hill and then push past. I get to the top in front of the other stragglers and start my screaming descent, my only hope of catching some part of the pack. But in the 3rd corner a rider is down and being cared for by paramedics. I'm sorry to see that and pray he's all right. I slow through that corner but then pick up. At the bottom I see 2 riders way ahead. I've got to catch them. "Go, go, go! Find something! You gotta go!" I push with my best aero effort for about a mile and finally do catch them! Oh...they're 2 women! They're a different group, I'm not allowed to draft them, I have to continue on. I was so ready to get a rest but instead press on. A couple more miles and still no one ahead.
Follow the Rules
Mile 43. A women's pack passes me and behind them are 3 stragglers from my group! The Berkeley Tri guy is one of them. Great!! But now they're drafting the women, just sitting in. I tell them to separate but they don't seem to care. I know we can pass the ladies if we work together. "Come on, let's go, let's move ahead". I lead the effort and pull through. I'm surprised the women are yelling at me to stay out of their way when I'm trying to do just that. But then looking behind my guys have deserted me, content to just "suck wheels". I can't stay ahead on my own so have to drop back and let all of them go ahead. That's the rules. They may get disqualified and drafting women is sure not a way you want to get DQ'd.
The Finish - A Great Workout and God's Gift of Safety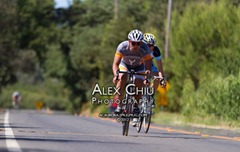 I continue pushing and eventually hook up with another guy. We go into the finish and I give my best 200m sprint but still can't seem to accelerate. I'm 26th. Which is almost 1/2 the field so a nice consolation for not giving up. My legs are really taxed and wobbly. It's nice that even though a race doesn't go as planned, there's still a lot to get out of it… perseverance practice, a great workout, and vital experience.. next time I'll know not to give such a big effort on the first climb… got to save it for the 2nd. What I'm most thankful for is the safety that the Lord has given both Robin & I. We've been protected well this season. Some of our Victory Velo friends in the higher categories have had crashes. They are recoverable and we know Christ has a plan even for crashes in our life, but we're also thankful for the times that crashes aren't a part of the higher plan.