| | |
| --- | --- |
| Date/Location: | July 4, 2013 – Coronado, CA |
| Distances: | 15K |
| Time: | 1:06:28 (Previous Best – 1:06:30) |
| Place: | 4th/77 |
| Teammates: | Troy – 7th/78 – 1:00:18 |
For the last several years we've been spending the 4th in San Diego with my parents and my brother's family. This race has become a fun tradition that started 3 years ago. It's hard to wake up early on the 4th but totally worth it. This morning, my dad joins us which is a fun treat! He drops us off at the start and heads off to find parking. We check in and do a warm up over to the car. Once we get my dad in a good spot to watch at about Mile 1, we head back to start.
We are at the start just 5 minutes out but are informed the race is postponed for 10 minutes until the Coronado Police give the okay. What to do…stretch. As I scan the crowd, I see a familiar face that appears to be an
ICTN Tri Camp Alumni
, Dan Cadriel. I do a double take because he lives in Arizona. He recognizes us, too. What a crazy, but fun, reunion!
After 20 minutes past the start time, it's time to go. Wow, I've never had a big delay like this before in any race! My legs feel flat and I've lost some motivation but I'm sure I'm not the only one feeling like that. Lord, I don't know what will happen today but may I still smile and give you the glory! I'm not expecting anything great but with the Lord, I need to remember anything is possible.
Ready, set, go! We are off! I feel tired from the start and discouraged. Why even try to push hard, it's just too hard and there is no way I'll PR today. I know my dad is up ahead and I want to show him a good attitude. I smile as I pass and say hi.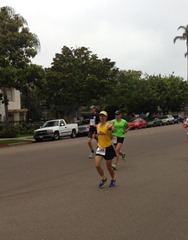 Mile 1 is 7:13. Okay, well sub 7 pace is probably not an option. Gotta keep trying!
Mile 2 is 7:04. I'm feeling pretty good and I've noticed a blond gal way in the distance. Hum, I think I'll try to catch her. Lord, you know I needed some motivation to snap me out of this dull-drum pace.
Mile 3 is 7:01. Getting faster and getting closer to the blond girl! I've passed a few other girls now. We are now on the Amphibious Naval Base. It's fun to get a behind-the-scenes look.
Mile 4 is 6:54. Wow, a sub-7! Thanks Jesus! Just when I thought I was done, I'm back in the game! The lead runners are heading back and I'm looking for Troy. Wow, these guys and gals are super fast! This race certainly attracts the career road racers!
There is Troy! He looks great and he's smiling big. We high 5. I hope he beats his best time today!
Mile 5 is 6:56. Alright! Another girl goes by but I don't panic. I'm still gaining on the blond and I've done a second sub-7 mile.
Mile 6 is 6:56. Lord, You have turned this whole race around. I could actually get a PR! I pass the girl that passed me and move within feet of the blond! I keep pushing and soon I'm passing her. I tell her good job and continue on.
Mile 7 is 6:55. I just need to continue this pace and not let up. I move up behind a guy and try to pass but he picks it up. This goes on three more times. I know that he's using more energy with these surges and I patiently wait for him to get tired. Soon I am able to pass and we both encourage each other.
Mile 8 is 6:57. The last few miles of any race just seem long. I remind myself that my Dad is up ahead along with the finish line. There are fewer runners around me then in the previous years. I don't see any women at all. A guy passes me at a fast tempo and I try to go with him. He pulls away but he does help me remain focused.
There is Dad! I wave and tell him we'll meet up soon.
Ugh, this is getting tough! I look at my watch and it looks like I could PR but only by seconds. A PR is a PR and I'll take it if it comes!
Mile 9 6:56. Go, go, go! I dig but there doesn't seem to be anymore, I'm maxed out. I make the turn to the finish and bring it home. I cross the line and stop my watch. No way, it's a PR by about 2 seconds. Thank you Lord!!