| | |
| --- | --- |
| Date/Location: | July 4, 2013 – Coronado, CA |
| Distances: | 15K |
| Time: | 1:00:18 (Previous Best – 1:00:30) |
| Place: | 7th/78 |
| Teammates: | Robin – 4th/77 – 1:06:28 |
We're on vacation in San Diego visiting Robin's parents and family. It's a great break from how busy we've been. Because of that, I haven't been training much for this 15k running race on Coronado Island that we do each year. I've had a goal of breaking 1 hr and came close last year with 1:00:34. But I'm not planning on attempting the goal this year. I tell Robin that with my tight hamstring and lack of training, it's unrealistic to think I can run 1hr.
Robin's Dad drops us off. While checking in, we meet a young gal in FCA Endurance. She's helping her friend run her 1st 5k race. We pray together for the race. Robin & I warm-up by finding Dad's car and now are ready to go. We also see another FCA Endurance runner, Dan Cadrell, from Arizona, who we first met at the ICTN Christian Tri Camp 5 years ago.
After the powerful National Anthem, we're ready to go along with 300 others. But the race is delayed 15 minutes. And then… Go!
Across the cross, onto the bike trail, we're cheered on by the many 4th of July families starting their festivities early at the park. Right off the bat, there is a crowd of runners far ahead. Always a very fast group. After .7mi I realize that all my excuses about not being able to run fast were silly. I'm feeling good now, the hamstrings don't hurt and I start calculating what it will take to run 1 hr.
Mile 1: 6:39. I'm glad to see Robin's Dad, Jerry, at 1mi, taking pictures. My pace is close to the 1hr pace I need. I fall in behind a very tall runner with a slow cadence but a fast pace. He takes 6 steps for my 8. The funny thing is that he periodically surges.. which is something I was thinking of doing just to mix things up. So I get my wish.
Mile 2: 6:26. It pushes me to stay with him. But some of the surges I start to feel my hamstrings. Gotta be careful. I also take note of a couple women running ahead, hoping to eventually catch them. They run with quick light steps and my pacer runs with long effortless steps.
Mile 3: 6:25. 5k done and it's going well. I estimate I'm around 20min and if I can do a 40min 10k, I'll come in at 1hr.
Mile 4: 6:16. There's a women ahead I've wanted to catch by the ½ way point and we're almost there. I push a little harder, make the turn and slowly move ahead. Now I'm really looking forward to seeing Robin. She was also feeling tired (she's been training a lot for IM Lake Tahoe). I hope she's finding her legs and doing well.
Mile 5: 6:18. I see Dan Caddrell and encourage him as I pass. There's Robin! I move to the outside and she moves in and we both high five each other with a smile!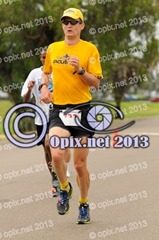 Mile 6: 6:22. Ok, now, to catch back up to my pacer and work towards home. At 10k I'm at 39:47 and thinking, no problem, I'll break 1hr, just don't go too fast and blow up.
Mile 7: 6:28. A couple young guys go by and I try to stay with them, drafting behind them. It's working. It pretty warm so I'm drinking and splashing myself at each aid station. Coming into the neighborhood now. 2 mi to go. Quick calculations indicate I'll be right at 1hr with this pace. I'll know for sure when I see Robin's Dad at 1 mi to go.
Mile 8: 6:29. I feel like I'm doing well, but the 1 mi to go is still a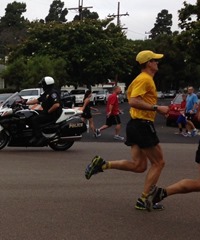 ways off. I start running as fast as I can. At 8.3 miles I'm at 53:19, but I'm still not to the 1mi to go sign! There he is! Maybe the distance is off. Go, go, go!
The adrenaline is going and I'm racing for all I'm worth. Just gotta keep up hope that I can make it even though the time says I can't.
Mile 9: 6:14. Fastest mile yet. I pass some guys, sprint under the freeway and onto the path. I can barely see my watch at this speed.. it says 20 secs left.. I bolt for the grass and charge across to the finish… just catching the 1:00:18 as I finally finish.
So close. I thought I had it but a miscalculation must have been made or the distance was slightly off. I was 7th plc. in my age. I know now not to make excuses beforehand because I could of gotten it today. Thanks God for letting me run fast without hamstring issues! Now to cheer for Robin coming in and see if she can break her PR…