Date/Location:

February 9, 2014 – Davis, Ca

Distance:

Anna – 5K
Ariel – 1/2 Mile (.4mile actual)

Time:

Anna 30:59 PR!
Ariel 4:28

Place:

Anna 4th (F1-9)
Ariel N/A

Other Teammates:

Grammie, Mommy, Daddy
Ariel's 1/2 mile Race.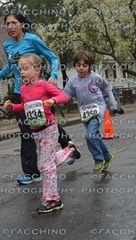 I ate breakfast. Had to hurry to the starting line. I'm happy and not scared. We started. Anna is running with me. Daddy, too. I feel like I'm running fast. I'm smiling. Daddy says I'm doing good. It's raining just a little and I like the wetness on me when I feel hot. It's getting tiring now. Here comes the finish line. Yay! They give me a ribbon for finishing. I'm glad to back with my parents and Grammie &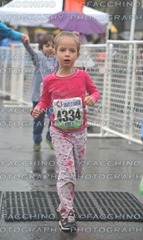 Papa. I'm glad they were watching me run.
Anna's 5k Race.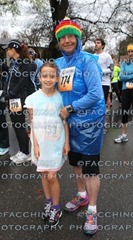 My Mom & Dad put a trashbag over me to keep me dry from the rain. Luckily it's not raining right now. I pray with my family. I have a lot of energy right now. I do a little stretching. The race director says, "10, 9, 8, 7, … 1.. Go!" I start running. I run with Grammie until we cross the starting line then I run ahead by myself.
1mi: My legs are starting to really hurt now.
1.5mi: I come to an aid station and give them my trash bag and drink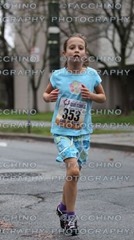 a cup of water.
2mi: I see the finish line, but the cones make us turn another way and continue running. I'm getting very tired. I'm glad I didn't get cramps this time, but my legs did hurt the whole time.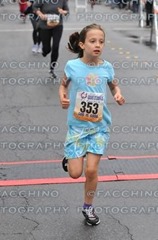 3mi: I turn and see the finish line up ahead. I'm running as fast as I can to get there! I was really happy that I finished. I wait for Grammie to also finish. I wait about 6 min and then I see her. I give her a hug when she finishes. We both did good. I was 4th and Grammie was 2nd.
| | | | | |
| --- | --- | --- | --- | --- |
| Name | Race | Age Group | Place | Time |
| Jan Heidt | 5K | F75-79 | 2nd | 42:30 |
| Troy Soares | 1/2 Mara | M45-49 | 3rd | 1:28:14 |
| Anna Soares | 5K | F1-9 | 4th | 30:59 |
| Robin Soares | 1/2 Mara | F40-44 | 4th | 1:38:29 |
| Ariel Soares | 1/2mi (.4m) | N/A | N/A | 4:28 |