| | |
| --- | --- |
| Date/Location: | April 12th, 2014 – Lake Berryessa, Napa, CA |
| Distances: | Swim 1.2m – Bike 56m – Run 1/2 Mara |
| Time: | 4:56:10 (32:13-2:08-2:43:05-1:41–1:37:01) |
| Place: | 1st/18 M45-49; 9th OA |
| Teammates: | 1/2IM Aqua Bike: Ryan Moll |
It's the first time at this race. The HITS (Horse Shows In The Sun) organization started creating lower priced triathlons that offered every distance.. even Ironman.. at each venue. Usually when you offer more for less, the result is not very impressive. However, getting our first look at the race site, we were impressed. Professional signage, organized layout, and even mini-chairs at each athlete's transition area! I signed in, met the CEO of the race organization, and reviewed the course. Berryessa is beautiful and has a lot of water, compared to other reservoirs during this drought. The run is straight-forward on a rolling, rural road along the lake. The bike is also along the lake and through Pope Valley. Robin & I have done the ride before. We love it but it's narrow and cars can be a problem. We learn that it is open to traffic during the race. This is the one concern.
I've tried to get extra sleep this week. I don't feel energized and wonder how I'll race fast for 5 hrs tomorrow. We set up camp, the girls meet some other kids and play, and then we go to sleep early.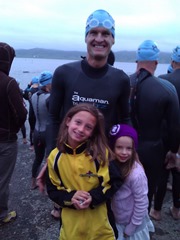 In the dark morning I eat and make final preparations. It's cold but will get hotter this afternoon. I ride a couple miles on the bike. Set up my transition. Run a 1/2 mile. And then figure out how to get my Tri-Tats race numbers on me. Actually very easy and very professional looking.
The transition director is reminding us that transition is closing. I go as fast as I can but still am 2 minutes late in leaving. Down at the water I warm up a little and then join the group to listen to the race director. Robin, Anna & Ariel are here! It's great to get hugs and a picture. The race director says there are 30 doing the full ironman distance! The rest (220) are doing the Half.
SWIM: Go! We jump in and many pull way out in front. I can't see the buoys but the lead kayaker is a big help. It seems like we keep turning to the left even though it's a straight shot to the far buoy. I can't get a draft all the way to the first turn. Finally I find some feet on the 2nd leg of the triangle. Now I'm feeling better and thanking God for a good draft. 1/2 way across the 2nd leg, I feel my chip strap coming loose and stop to check it. I loose my draft but make a huge effort and actually catch back up. Yes! But then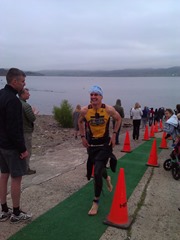 someone takes it from me and now I battle for other drafts. On the last leg to the finish I'm feeling strong, thanks to the drafts, and decide to go on my own for a more direct route. I push hard but, almost to the finish, I realize I haven't gained ground and should have stayed in the draft. Even though the swim seemed to take forever, I feel good about it and hope I come in near my 30min goal. I exit, the cheering is great, the ramp is carpeted. 1/2 way up I shed my wetsuit where Robin & the girls are. I finish 19th, 32:14.
T1: I transition, grab my bike and decide against my light jacket since I feel comfortable. I run out on the gravel in my socks, jump on an go. 2:09.
BIKE: I head out and start the climb up towards Pope Valley. I'm breathing hard still from the swim and even slightly dizzy. Otherwise my legs feel good and I'm optimistic. It's overcast so no sun yet. After 5 mi I realize that I'm slowly getting cold and should've taken my jacket. My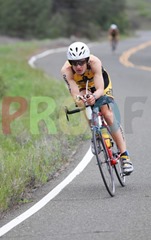 pace is still good, though, and I'm praying for sun. At 10mi a guy is drafting me. He comes alongside sometimes and then goes back. I tell him to "pass or stay back". He says, "I'm trying to but you're too fast" and then he proceeds to take off, easily pulling far ahead. I see the leader coming back and take a time check at the "hub-caps house". At the turn-around I'm really uncomfortable. Goose bumps and muscles getting stiff from the cold. The suns pokes out 2 times which feels good but doesn't stay. I'm 12th place and 12min behind the leader. I'm getting passed more now. The road is great and scenic vineyards are all around. I look forward to climbing back up to the lake to generate some heat. Over the top then high speed down to the lake road, I see Robin and the girls cheering and taking pictures. That makes me smile and motivates me.
This 1/2 of the ride is rollers along the Lake. The hills are never that long. It works good for me. I'm feeling more comfortable and loosing up. I pass the guy who earlier was drafting me. After getting quite a ways ahead I hear his tire pop and look back as he stops to change it. I'm really feeling the groove now in the aero-position. I'm thanking God for making me comfortable. I maintain a flat, thigh-pushing effort into the roller and over 1/2 way up the climb, come out of the bars to sit-up for the last bit. Each hill goes by fast and I'm passing people. At the 2nd turn-around I'm 9th place! I had taken another time-check of the leader and now am 19min behind. But ahead of my own goal of a 2:50 bike split. I'm getting excited at the though of coming in early and push even harder. I catch a guy in white and we go back-n-forth on the last rollers. I try to drink as much of my Sustained Energy before coming into the park. Wow, that was a great ride (despite being cold part of it). I finish 8th with a 2:43 bike split (7th split).
T2: I forgot to stretch on the bike so my calves are tight. I stretch just a second but gotta get to work. Shoes on, grab Garmin, Hammer gels and hat. Onto the run. 1:42
RUN: Feels good. Watch says I'm right on schedule. If I can run a 1:40 as planned I'll finish in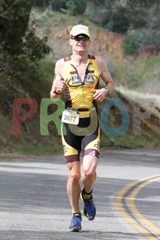 5 hr flat. I'm so glad to see Robin and the girls in front of the camping area along the road. High fives. They say I'm in 7th (turns out to be 8th) and ahead of schedule which is really motivating. I can see the guy in white up ahead. He stays on the right side of the road (must've been a rule I missed) I finally catch him and want to run with him since there's no one else out here except the great volunteers at the 1 mile aid stations. I learn his name is Andrew. He tells me the run has really tough rollers. I feel pretty confident and may pull ahead of him.
At 2mi my feet have finally thawed out from the bike. Before that, it felt like my shoes were too tight or socks were bunched up. Now they feel good. Suddenly a tall guy goes by pretty fast. Andrew takes off to try to stay with him. Too fast for me but I pick it up some and hope I can out-last them. The balls of my feet are feeling hot, especially on the uphills. I try to make up for it on the "downs".
The green hillsides and beautiful blue lake views are really pleasant. Temperature is perfect. I'm running well, hamstring is holding up, but each mile Andrew pulls farther ahead and the tall guy even farther. 1/2 way to the out-n-back, the leader is coming back. I count each runner and tell them their place. I just want to get to the turn-around and feel like every step is getting me closer to home and being done. This is tough work. But God is making go better than expected. I'm trying to give Him my best effort. Running the tangents (but staying on the right side of the road) and using good form (running from the core).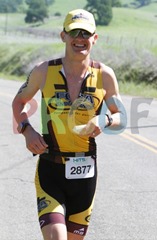 Finally I see tall-guy and Andrew coming back. Turn-around is at the top of a hill. At each station I drink water or Heed and pour water on my head. 1/2 way. It's a lot of downhill now! I'm in 9th place. If I maintain pace I'll break 5hrs. It's a beautiful view coming down. Feet feeling better. I calculate I'll need to be at 4:37 at 10mi in order to break 5 hrs. I focus on running each climb well and counting down the miles to the 10mi sign. I cheer for each person running the other way. I see some people I met beforehand and I see our friend Richard Kane. It's tough out here by yourself but it is a beautiful run. There's 10mi. And I'm way ahead! Terrific. I also remember Andrew telling me it's all downhill with 1-1/2 to go. I'm really looking forward to being done. At 11mi I'm surprised to see 4:44 which means it's going to be close! I pick it up but then with 1.1 mi to go I've got 12min left. The markers may be off. But I'm going to break 5! Yay! Thanks, God, I finish so happy to be under the goal and feel like I was relying on Christ the whole way.
I finish 9th with a 1:37 run split (16th split) and 4:56:10 total (1st 45-49). I'm exhausted. I do a little jog with Andrew to cool down and then collapse on the ground with my great girls feeding me and being great support. Thanks, God, for keeping my hamstrings working and giving me a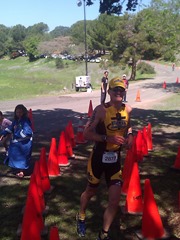 good feeling on the bike.
But the thought of the 30 doing the Full haunts me. I see a couple head out on the run after I've been lying down resting for an hour. We pack up our camp go to the awards and see a couple more head out on the run. It's 75 deg now and many people are leaving. I feel compelled to help these runners out.. so we drive the run course and cheer for the Ironmen starting and the 1/2 Ironmen finishing. It's great to see their smiles after encouraging them. It's hard to imagine just starting the hardest part of the race when I feel exhausted and ready to go home. I hope they make it. It's nice to have a lot of cheering, but sometimes in life we have to endure on our own. It's nice to know that with Christ we are never actually alone.