| | |
| --- | --- |
| Date/Location: | March 11, 2017 – Auburn, CA |
| Distances: | 31K |
| Time: | 3:11:10 |
| Place: | 1st, F40-45 (Out of 20) |
I get dropped off by my wonderful fam at the Overlook. Anna and Ariel are off to do their Happy Kids Duathlon at Granite Beach. I'll be running towards them as they start but will miss all the action…but I'll get filled in for sure.
It's been an emotionally hard week in caring for Troy's dad who was recently diagnosed with dementia. It's hard to think much about anything else including this race. This scripture comes to mind and it encourages me to hold onto the Lord…
We are hard pressed on every side, but not crushed; perplexed, but not in despair; persecuted, but not abandoned; struck down, but not destroyed. (2 Corinthians 4:8-9)
I also haven't done the necessary long runs recently because of some toe pain. Fortunately switching shoes/brands has made a difference! So thankful for the trail runs my friend Elise Winter let me tag along on! Hope that's enough to redeem myself today. Last year, the race was longer then expected so it was mentally challenging and I also fell and jammed my finger. Today, I know what to expect and I'm more prepared to take on the technical parts of the course. Troy helped me recently practice jumping off rocks and hopping around rocks…should help!
We all walk to the start a half mile away. It's an absolutely perfect day! I actually have on shorts! I have a water bottle with a Hammer Fizz and 2 packs of Clif Bloks. Bill Driskill, one of TBF's owners, is racing too today! He's preparing for a 40 mile race in the fall. Cool! Ready, set, go! Mark Shaw, the other owner, sends us off and leads us out on his mtn bike.
I feel good as I head out but try to hold back and not go crazy. This is the only spot we run on the roads and the rest is trails. A handful of guys take off. A girl who reminds me of my friend Ellie Verdi runs by with her friend. I overhear her say "we got to get past these guys" and she takes off. I am able to pass her friend and tell her good job.
A mile and a half in, we hit the trails…first "Stu's Trail" which is a short little path around an old workyard. Then down Cardiac Bypass…my first test. There are some nice round boulders coverng the whole trail. Don't be afraid of falling! I make it through pretty good. I didn't slow down much which is an improvement!
We continue down to the river and start heading down to Rattlesnake Bar. I cross over a washed out section of trail…surely will see more of this because of all the rain. Fortunately it has been dry for a bit now so at least the trails won't be sloppy!
At 3 miles I'm averaging just under 8 min…cool! I do know there are hills and obstacles to come to slow me down. My goal is just to stay under 10 min per mile. I'm running pretty comfortably behind two guys. I take 2 Clif Bloks. I decide to take 2 every 3 miles. With 2 packs, that should get me to mile 18.
Around 5 miles, I'm averaging 8:43. I pass that girl that took off earlier. I tell her good job. I also get past those 2 guys… The trails are beautiful and mostly obstacle free so I feel like I can move along well. We come across a few downed trees that are pretty easy to go around especially since the rangers have been cutting through them and clearing them some. On one of them, a guy ahead of me starts to go right through and I start to follow. At the last second, I see a trail going up the hill to the right. I jump on it and get around. The guy in front of me sees me go and follows me.
Around 7 miles, I'm averaging 8:50. This must be faster than last year already! Thank you Lord. I feel good…better than I remember! We head past the PG&E plant. The trail is nice and wide here. One of the guys behind me passes. The trail narrows again as we approach Rattlesnake bar.
Around 9 miles, I'm averaging 8:53…creeping up but slowly! At Rattlsnake Bar and close to halfway…11 more miles sounds far!
Around 11 miles, I'm averaging 9:01. My last mile was 9:51…getting hillier and more technical…which means I'm hitting what's known as the "meat grinder" zone. That guy is still ahead. I see him come up to a downed tree and just crawl through. I look all around for another way but this time there is not! I creep and crawl through 6 feet of debris!
Around 13 miles, I'm averaging 9:10. My last mile was 10:02. Really putting my skills to the test as I climb up rocks and try to jump down rocks. I make it to the aid station and they fill up my water bottle and I pop in a new Fizz tab. I'm all alone now. The guys behind me have dropped off and the guy head of me is gone.
Around 15 miles, I'm averaging 9:28. My last mile was 12:06. Feeling TIRED! I take a Rhodiola root pill as an experiment to see if it helps my adrenal system as someone recommended trying (totally legal). Wonder if I'll feel anything! Still alone.
Around 17 miles, I'm averaging 9:37. The challenging part of the race is done and I'm already picking up the pace. I even feel pretty good too! Last year at this point my brain was fried and I knew the end was not near. My brain is good and I remind myself to keep picking up my feet! Still alone.
Soon we are in Granite Beach park and they have us run down the road instead of the trail. I see another runner ahead of me and I pass him. The forefoot on booth feet feel like they are burning! I just try to ignore it. At least my toe feels fine! A half mile down I turn back on the trail. This is where I ran into a lot of mtn bikers last year. Wonder if it will be like that again.
At Mile 18, I'm still averaging 9:37. It's really quiet and I only come across 1 mtn biker! I'm getting close! I hope to see Troy soon!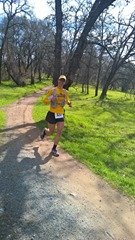 At Mile 19, there is Troy! I proudly tell him I didn't fall. I am pretty shocked how strong I feel. Thank you Lord! Maybe the root made a difference a bit but overall I just feel God's pleasure as I run…last year I felt discouragement because honestly I had a bad attitude because I was frustrated with the extra miles.
One last stretch of trail and the finish line is there. I pass one more guy. He's wearing pants and long sleeve and it's all black. It probably is for protection from the poison oak but it sure looks hot!
I can finally see the finish line through the trees. I realize that Anna and Ariel ran this part of the trail for their race too this morning. I come around the last corner and there is Anna and Ariel waiting for me! I grab their little hands and we run to the finish. I look up to God and thank Him for this amazing day! Such a sweet surprise and great to finish it with my girls! Praise the Lord! My watch says 9:34 average! Under 10 min per mile!