| | |
| --- | --- |
| Date/Location: | 5/23/2020 Granite Beach, CA |
| Distance: | 10K Run – 40K Bike |
| Time: | 2:28:28 (51:55-1:36:33) |
| Place: | 9th/28 |
| Teammates: | Oly Du: Anna Soares, Troy Soares; Sprint Du: Caryn Galeckas, Suzanne Hartley; Super Sprint: Ariel Soares |
This is my first virtual race. I'm excited to support a wonderful local race company Total Body Fitness (TBF). They have given so much to our community and to our family personally and we wanted to show support! This race is a Duathlon (Run-Bike-Run) but without the Run at the end. It's different finishing with the bike instead of trying to run with heavy legs after.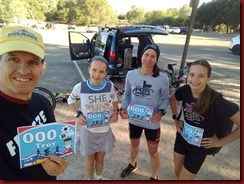 Anna and I will be starting our Olympic distance duathlon with our friends Caryn Galekas and Suzanne Hartley who are doing the Sprint Du (shorter course). Troy will start the Oly Du after Anna and I leave on bike. Ariel will start the Super Sprint Du at the same time and hopes to finish around the time Caryn and Suzanne finish. Praying it all works out!
I hope to go the same pace as my previous effort in a practice Olympic distance tri I did 2 weeks ago on the same course. So going for around 8:30 pace. Anna will get a good distance on me and I'll have to catch her on the bike. I am concerned about her out on the roads without me. She seems to understand the route of the course well but as a Mom I am still concerned.
THE RUN
We are off! This is a 2 loop course on areas of the park that mtn. bikes don't venture. It also has a nice amount of shade!
I feel a bit tired from not enough sleep but am able to do under 8:30.
I run over to the boat parking lot. I can see Anna in the distance. Next it's across the main road to a wonderful and shady little trail that is closed to bikes.
Mile 1 is 8:13. My quads are cramping and really sore. I've noticed this happening in recent weeks when I'm pushing hard. I have only been running for the past month so it's not surprising. No Anna in sight.
It's really pleasant with just a few walkers/runners. Suddenly I come around a corner and almost run into some mtn. bikers. I feel my flesh reacting and I try to tell them they shouldn't be there. I realize there are calmer ways of letting them know.. sorry Lord for getting upset!
I make it to the horse staging area. Mile 2 is 8:27. Back across the main road to another trail that heads toward the back of the park. This is an area that Anna and Ariel have a lot for the kids 1miR-3miB-1miR duathlons put on by TBF. It's the same course they do.


As I head back to the start for the 2nd loop, I can see Anna again in the distance. It looks like she took a wrong turn. When I get near the same spot I realize that it was correct, phew!
Ariel and Troy are waiting and cheering.
I head out for the 2nd loop. Mile 3 is 8:07. Great!
Once at the parking lot I don't see Anna this time. She's motoring! Mile 4 is 8:27. The discomfort in my quads has calmed down some but they are still sore. I am noticing that the legs are a bit wobbly. I am also feeling more tired.
Mile 5 is 8:46. Ugh, let's try to finish strong!
I run past the horse staging area and back to the kids mile course. I am able to pick it up. I can see Anna in the far distance. I'm not as far back as I thought but she's still got a good lead on me! I want to catch her as soon as possible on the bike so I know that's she's ok.
As I run back to the finish/T2, Anna is biking off. I have to run past my bike to get complete the 6.2 to be official. I take over a minute to switch to a bike jersey and get the rest of my gear on. Got to have my blinking lights and bright gear since the roads will surely be full of cars in certain areas.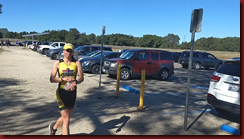 THE BIKE
Besides the beginning few miles and ending few miles, the course is 2 loops. My legs immediately feel really sore and wiped out. The run took a lot out of my legs. If it wasn't for my "mom fearing for her child" mindset, I would have less motivation to push hard. Ok, here we go! Out of the park and up Auburn Folsom to my favorite Joe Rodgers Rd.
By Mile 6, I can see Anna in the distance. Thank you Lord for protecting her! Approaching the turn for Dick Cook, I see some riders ahead and wonder if that is Caryn and Suzanne. But then I see 3 riders and figure it's not them (but later find out it was them and they missed the turn). I turn on Dick Cook and finally catch Anna. I tell her good job and glad she was able to remember the course. I ride ahead but make sure she makes the turn back on Auburn Folsom.
It is a blast flying down Auburn Folsom! I keep looking back to make sure Anna is still there.
Back to Joe Rodgers and through the loop again. On Dick Cook I wait a bit to make sure Anna is still back there and she is.
On the way back it's a left on Twin Rocks. It's a tricky and busy spot. I have to stop for a moment for the traffic to get through. I am praying Anna makes it safely.
Heading up Twin Rocks I look back an see Anna! Oh my, she's really turning it on! Thank you Lord for getting her through the course!
I get to the park and have to do some gravel riding. I'm a little nervous about the terrain but it's not too bad! I get on the road and turn left. Got to do a quick out and back and then to the finish. Anna catches up to me! On the way back to the finish, I try to surge by using my aerobars. I am able to hold her off but she surges again as we turn into the parking lot to the finish. She races past me and gets me at the line! Wow, that was exciting! (Later found out that the transistion time was removed from the results which made my overall time a bit faster than Anna so my placing was higher. She had me fair and square though). Ariel, Caryn and Suzanne are waiting for us. We catch and hear that Caryn and Suzanne missed Dick Cook because there wasn't a street sign but they got the distances they needed to complete the sprint. Ariel did great on her du! Thank you Lord!