| | |
| --- | --- |
| Date/Location: | 6/6/2020 Granite Bay, CA |
| Distance: | 1.2M Swim – 57M Bike – 13.1M Run |
| Time: | 6:26:17 (36:36-5:04-3:36:03-5:30-2:03:04) |
| Place: | NA (= |
| Teammates: | Julie Linn Visger, Karen Bonnett Natraj, Troy Outman |
Today is going to be a good test of fitness doing a half iron distance for practice. I'm excited that some of my swim buddies are joining me for the whole event: Julie Visgar and Karen Bonnet. Our friend Troy Outman will do the swim and bike.
We are swimming at my frequent and favorite swim spot, Rattlesnake Bar. This park has been closed but just opened up yesterday. We can actually park by the water now instead of biking in. The boat traffic on the water here should be minimal (compared to bigger areas like Granite Bay). It's cooled off quite a bit which is nice! It's overcast for now.
My Troy prays for all of us and then we get in the water. At 7am we start...3, 2, 1, go! I feel great right out of the gate. Troy O. leads going out and I'm close behind. As I leave the inlet, I look at my watch and see I'm under 1:40 per 100 yard pace. Wow!
I start to catch up to Troy O because he's having to stop to fix his goggles. I pass the trees and get close to the turnaround point. I'm still under 1:40 pace! My watch says it's time to turn now but I'm not sure if I've reached the correct rock landmark that my Troy mentioned. I go a few yards more and then head back. Troy O. is not far behind and he appears to continue up river. I'm going with my watch's distance and not letting that concern me.
I feel just as strong coming back which has not been the norm for me here at Rattlesnake Bar. I see Julie and then Karen. They are swimming steady and strong. I get back to the inlet and glance at my watch. Still under 1:40. Thank you Lord!
I get to the dock and take off my wetsuit and run up to my bike. I take a bit long getting ready since I'm changing into a bike jersey and putting on a jacket (due to cooler temps). I send Anna off to start the bike and I go to the restrooms. As I hop back on my bike and start I hear a bunch of air leave my front tire. Uh-oh! I ride back to the car and Troy pulls off the tire and we debate whether to change wheels or repair. First we try to repair it but realize we don't have long stemmed tubes that will work with the race wheels. So we opt to switch wheels and readjust the brakes. In the meantime, Troy O. has finished his swim and has headed off on the bike. I tell him to let Anna know I'm coming. Julie and Karen are getting ready to roll. While waiting I switch my jacket to arm warmers. Feels better now.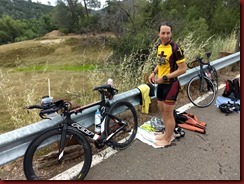 This is a good heart test. I have found myself easily irritated and frustrated lately and I know it's bad. I feel God saying He's checking my attitude and that this is my chance to turn things around. It takes a lot to focus on Him but I know it's important especially to those watching…like my kids and friends. Finally Troy gets my bike dialed in and I head out. I appreciate his help so much because you cannot get this kind of support in a real race.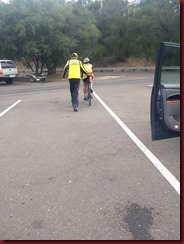 It feels good to be on the road even with the tough climb out of Rattlesnake Bar. I wonder where Anna is and pray that the Lord is keeping her safe. I see Troy, and Ariel tells me that Anna is just ahead, and that Troy O is 3 minutes ahead. About 13 miles I see Anna just after I turn on Laird. She looks strong and is doing great on her "new" tri bike. This is first real ride on her new steed. So far, so good! Thank you Lord!!
This is a two loop course with some pretty good hills. I know it won't feel too bad this first loop but will feel much harder the second time. I stop at Loomis Basin Park for a quick pit stop and then hit the road and head up Swetzer toward Penryn. Halfway there the climbing starts. I climb up to Taylor Road for a quick and steep downhill on Rock Springs. They just chip-n-sealed this road last week and I'm relieved to see only little gravel. I hit the "big" climb and I feel strong.
Finally back to Auburn Folsom and the start of the 2nd loop…ahhhh, love the downhill!! I see a work crew here and am concerned that there will be some obstacles when I get back here.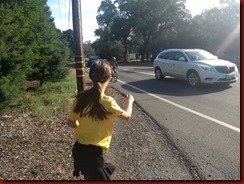 I start to notice the wind is picking up now and I am feeling some pretty good gusts. This is the downside to the cooler weather. I'm still wearing my arm warmers and totally comfortable.
I stop at Loomis Park again and head out. The 2nd time on the climbs is really tough and I am yearning for the downhill. I know Karen is not a fan of the Rock Springs and will be "enjoying" the climb as little as I am…ha, ha! I haven't seen Troy O and I figure that he is already done riding the 2 loops and on his way home.
I finally get to Auburn Folsom and it's super windy! The side wind gusts are so strong that I cannot even get in my aerobars. I feel like I'm holding on for dear life. At least this is the end of my ride. Seven miles to go! I start thinking that this is about the time that the Coffee Republic group should be coming by. I look back and see a blob. I wait a moment and look again and the riders are right there! I hold on as they scream by. Unfortunately I don't have enough time to get my momentum up when the rear goes by and I am left in the dust. Wow, that is humbling!
I get to Twin Rocks Road and make the turn towards the park. So close! I get to the dirt trail entrance and bike in. I remember sprinting this section in fear last time because Anna was on my tail. Today there is a group of guys on one-wheel motorized boards coming right at me. I try not to panic and trust they will get around me fine.
I make it to transition yay! I'm glad to get off this bike. The wind has made the last bit unpleasant. I pray for Karen and Julie who are still out there. I spend a lot of time in transition changing into my run gear. I'm really surprised how many people are out here enjoying the lake. Anna patiently waits to start the first of three 4.27 mile loops. Troy warns me that he marked a steep short section on accident but that it still gets me to the right trail.
Finally we are off! I feel pretty stiff and sore but hope to loosen up. I can see that Troy and Ariel have marked the course out here pretty well though there are a few spots that could use a little more clarity. Anna does a great job encouraging me and keeping me occupied.
We run through the boat dock parking lot and it's super busy. There seems to be people everywhere!
Mile 1 is 9:10. I get the pleasure of running up the steep accidental trail. Good times!
Mile 2 is 9:12. Anna and I make it to the shady trail where bikes are not allowed. It's much quieter over here!
Mile 3 is 9:04. We are just beyond the horse staging area. The trail is still quiet here but there's less shade. We see Troy ahead taking pics and cheering us on.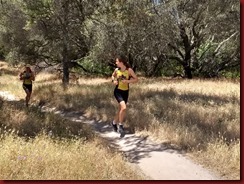 Mile 4 is 9:01. Anna is leading me back to the start. She's a great pacer! We decide to grab a water bottle with flour to mark up the course on the second loop as we run. I get back to the car and Karen is there ready to start her first loop. I grab the bottle of flour and go. Karen starts right behind and Anna stops to use the restroom.
Mile 5 is 10:23. I'm marking the course as I go. I just don't want my friends to get lost. I'll give the job to Anna when she catches up. I hit the accidental trail and man it's tougher this time. I'm barely able to maintain a run up it. Pace has slowed this mile.
Anna catches me. She lets me know she's going another mile for a total of six.
Mile 6 is 9:41. Anna brings me through and then turns off the trail. I thank her for the help. I soon run into Troy who tells me that Karen is now ahead by a mile by accident because she took a wrong turn. I tell him Anna headed back to the car.
Mile 7 is 9:20.
Mile 8 is 9:27. I haven't seen Karen yet. In the distance I see Anna on the trail. She waves the flour filled water bottle at me. I take that to mean she's continuing to mark the course. She's too sweet!
Mile 9 is 9:26. It's hotter now and I'm definitely more tired. Glad that my pace is just under 9:30.
Mile 10 is 9:54. I get to the accidental trail and this time I'm walking. I am wiped out but manage to get running again after the top.
Mile 11 is 9:21. I am on the quiet trail when Troy shows up to run with me! Soon we see Karen in the distance. She's got a strong pace and it takes me a while to catch up. I tell her great job.
Mile 12 is 9:26. Home stretch now, but I do know I have a big extra even when I get to the car to make 13.1.
Mile 13 is 8:46. I'm like a horse itching to get home. I am surprised I'm able to pick up the pace for the last .1. Yay! Thank you Lord!! So good to be done and have that under my belt!