| | |
| --- | --- |
| Date/Location: | July 9, 2011 – Treasure Island, CA |
| Distances: | Swim 1.5km – Bike 40km – Run 10km |
| Time: | 2:28:08 (28:12 - 3:06 - 1:13:29 - :53 - 42:28) |
| Place: | 3rd |
| Teammates: | CJ Halsey, Christy Floyd, Cory Floyd, Dale Jackson, Dan Perkins |
This is a great destination race for us. We have a hotel we like in Emeryville, the views from Treasure Island are spectacular, and the kids enjoy biking around the expo area and swimming in the pool.
Before the race Saturday morning, I'm asked to give the morning prayer to the athletes. I ask God to help me know what He wants the athletes to hear. As I look around at the many types of athletes - the beginners, the challenged (handicapped), the seasoned vets, and those with look of concern due to not being prepared due to injury, emotions, or just a crazy life right now. I feel like His desire is for them to know that He cares about each one, wants to give them accomplishment and joy, but, most of all, wants them to look to Him for a moment so He can talk to them, inspire them, and comfort them, about the race today and about the bigger things He wants them to succeed at in their lives. I can't get that all in there but I pray thanks for the opportunity we have, for a moment of reflection on Who makes it possible and for help from the Lord for comfort, strength, and accomplishment.
Some athletes also gather quickly for the FCA Endurance pre-race prayer near water's edge. Our good friend, Pastor Dan, is here; our TeamMates Clyde, Denise, Cory, Christy and Jeff Cooley; and first-timers and veteran racers for today and tomorrow's race.
Dan and I, and my good friend, Dale Jackson, are all in the same wave together. We span 10 yrs so seldom get to race side-by-side. Dan & I get in with 4 minutes to the start. Some quick sprints in the water and then I wait at the line, trying not to get chilled in the cold Bay water.
Go! Good start. I'm doing well at swimming straight. I try to draft but soon loose it. Nearing the first buoy, I notice how this Pirate's Cove really looks like it's name; with the lush vegetation dropping sharply to the shaded parts of the water and a large spooner-type sailboat looking deserted in the middle. Cool.
Heading towards the 2nd buoy I start to get cold. I work harder to try getting warmer. After turning and heading back to the start area, I'm wishing it was only 1 lap because I can't go any faster to get warmer. But I know I'll be able to do it. Just keep working and soon it'll be done.
I think of the new triathletes that came to our FCA-Endurance pre-race prayer. I know I'll see some of them afterwards and how it's always great hearing their feedback. I usually hear that, after the prayers, the swim wasn't as hard and the whole race was a good time. Their smiles and appreciation are reminders to me and others how good it can be, putting yourself in an uncomfortable situation, having to rely on God, having to be desperate for His help, and seeing Him come through.
Sure enough I make it around loop #2. Arms pretty tired now. Closing my eyes to focus more on the final push to shore. Breathing hard and wobbly, drag myself out onto the stairs and begin my jog to the transition. It's good to be done with the swim. Dale finished 2min ahead. Dan finishes 30 secs behind me and in transition I can see him also changing from swim to bike. Wow, I hope I can get out at the same time. What a boost to ride with Dan. But I'm struggling a bit to get my jacket on and Dan runs out with his bike. Finally, I'm running out, too, 30 secs behind him.
Mounting my bike, I'm wobbly. Taking the first turns takes a lot of focus. Riding through the cold air I'm so glad to have my special jacket Robin got for me this year. But I've been noticing in races that the first 20min on the bike I'm somewhat gasping for air and struggling to ride a good line. My head feels cloudy and my vision seems narrowed. It's probably just the recovery period from the really hard effort in the swim. If I trained more in the pool, it probably would be better.
The course is 6 laps of continuous 90 degree turns, covering the island. The West wind makes it challenging. I can't seem to go faster than 20mph. After 2 laps I see Dan Perkins 1-1/2 minutes ahead of me as we pass on one of the out-and-backs. Desperately trying to keep the gap and decrease it. But each lap he pulls farther ahead.
I'm not feeling comfortable in the saddle. I had made some adjustments for racing in the hills at the Auburn Triathlon, but now on the flats, I feel like I'm sliding forward and not settled into a power-stroke. I bear it and just try to push harder. Starting the last lap, I'm over 4mins back and now just focusing on the run. I'm looking forward to it. One thing about the bike leg not feeling comfortable, it makes the run leg so appealing. I can't wait to fly!
I come into transition 5min behind Dan, 6.5min behind Dale. I make a good flying dismount.. which hurts the cold feet hitting the ground. I make a good transition, thinking the whole time that Dan is out there getting farther ahead. I take off and immediately see Anna running over to pace me on my way out. She's getting to be a fast runner and her excitement just makes me more eager to put down some fast miles.
We run along the water's edge. It's cool and sunny. Perfect conditions. At almost 1mi, I see Dale and then Dan coming back. I cheer for both of them, but also check my watch to record how far behind Dan I am. I get back to the spot and see I'm just over 4min back. This is going to be tough but I'm going to keep cutting it down.
My calf starts hurting. So early this time, compared to the past couple races. I just look to God and realize these races are never my own.. He's in charge.. if I feel confident, it may be His will I slow down.. if I feel terrible, it may be His will that I race faster than ever. Remembering He's in charge comforts me and I'm not daunted by the faltering calf. After while it's gets better and I start running faster. I finish lap 1 of 3 and Robin & Anna yell that I'm 4 min behind Dan.
The next time I pass Dan and Dale on the backside, Dan has caught Dale, but both of them are running well and remain quite a ways ahead. At the landmark I check again and see I'm 3 min back. Only a couple miles to go. Always hopeful because "you never know what might happen". Finishing lap 2 of 3, race announcer, Julie Moss, asks, "There's Troy Soares. Is this your last lap?" I motion yes and she continues, "it's always a great feeling when you know there's only 1 to go". With another high five from Anna and the family I'm off to knock out this lap.
I get farther down the backside before seeing Dan, but he's still over 3 min ahead. I've also been seeing many of the challenged (disabled) athletes. Running on prosthetics. Amazing. One in particular has a smile on his face the whole time. Inspiring. I make the turn and head for home. I won't catch my 50-yr-old rivals, but I want the fastest time possible. Anna jumps out to run with me and we both fly down the finish chute. I point to God because it's really his race and He's #1… the best I can ever do is #2.
I was happy to finish within 3 min of Dan and 2 min of Dale. I'm impressed and happy for Dale who is racing fast. He had a very bad calf problem for a number of years but he never gave up. We were roommates for years and enjoyed training/racing together. Now we can race head-to-head again and he's proving to be a challenge to catch.
I talked to Jeff, the smiling challenged athlete, afterwards. I showed him the FCA tent and we talked about God. He professed to be an atheist but thinks believing in God might be good for some. I just tried to convey how it's not a "belief" or "fad" to me but a real active guidance in my life. Jesus really helps and is consistently "right". Something that "mankind" tries to do but is forever lacking.
"Thanks, God, for giving Dale and I the ability to run again after many told us it was over. Thank you that athletes without legs can run again. Thank for always being right so we don't have to guess."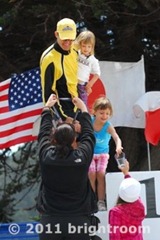 Go CJ, Dale & Dan!
Go Team Floyd: Cory & Christy!
| | | | | | | |
| --- | --- | --- | --- | --- | --- | --- |
| Name | Age Group | Place | Swim | Bike | Run | Time |
| CJ Halsey | M20-24 | 2 | 28:04 | 01:04:29 | 38:41 | 02:13:09 |
| Dan Perkins | M50-54 | 2 | 28:48 | 01:09:01 | 44:10 | 02:25:00 |
| Dale Jackon | M50-54 | 3 | 26:04 | 01:10:29 | 47:12 | 02:26:15 |
| Troy Soares | M40-44 | 3 | 28:12 | 01:13:29 | 42:28 | 02:28:08 |
| Cory Floyd | M25-29 | 13 | 32:32 | 01:18:18 | 52:10 | 02:47:42 |
| Christy Floyd | F25-29 | 14 | 38:10 | 01:35:23 | 01:09:08 | 03:29:28 |