| | |
| --- | --- |
| Date/Location: | July 9, 2011 – Treasure Island, CA |
| Distances: | 750m Swim- 20k Bike- 5k Run |
| Time: | 1:07:04 (9:15-1:53-33:42-1:14-21:00) |
| Place: | 1st |
It's always nice to be here on Treasure Island despite the cold air and water. What's even better is serving at the FCA Endurance booth with Troy and others while my beautiful girls play around us!
I don my wetsuit, pray with my family and head down to the start. I wait until the 5 min warning and then I jump into the cold water with the 30-39 year old women. It's cold but bearable. I seem to be having great swims this year despite my lack of swim training. I thank the Lord for that and for the great coaches at RAM (Rocklin Masters) He's put in my life. It seems like my form is much more efficient...pushing the water through and keeping my head down. I'm excited to see what I can do!
Ready, set, go!! I get a good start with the chase pack while two girls have taken off. I just focus on form and a strong kick. I reach the buoy ahead of the pack and pass one of the two girls as I make the turn. I can see the 1st girl out front and make the effort to catch her. I keep my head down with only minimal glances ahead. It's a bit risky but I feel like I'm keeping a good line today. By the last buoy, I've closed the gap. I kick more and continue to focus on form. I get to the stairs in 2nd and am helped out by some great volunteers.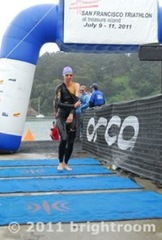 I kick of my wetsuit off right at the swim exit and sprint to my bike. As I get there, I see the first girl struggling to get out of her wetsuit. I ask her if she needs help and she declines. I put on my FCA jacket. It's not very aerodynamic but I'd rather be warm! I yell to Troy as I pass the FCA booth. He waves and says "go"!
As I run and start to mount my bike, I notice that one of the rubber bands holding my water bottle on my aerobars is on the ground. I stop and put it back on as fast as I can. A girl from my age group passes me. I am able to slip my feet into my shoes which are already on the bike. Okay, here I go! Within meters of starting, I realize that I never filled up my aero-bottle...rookie move! I grab my back water bottle and squirt as much Hammer Heed into it as I can. Now, let's roll...finally! I've got 3 laps to do. Around mile 2 a girl in my age group goes screaming by me. I increase the tempo to try to keep her near. Within a few more miles she's a dot on the horizon. I don't let it faze me and continue to keep pushing. It's a little hard today without my bike Garmin to give me feed back but at least I have my run Garmin giving me mile splits. I seem to be holding around 3 min per mile which is about 20mph...cool!
There are a few young kids (7 to 8 yrs old) out here and I'm amazed! They are happily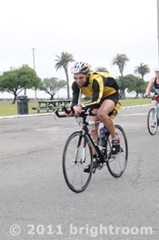 biking away out here! It would be hard to let my girls swim in the bay at that age. Wow!
On the 2nd lap, another girl goes by in the 30-34 age group. Again, I try to match her cadence but see her pedal away too. I'm hoping on the run that I'll be able to catch some of these girls. I can feel that the wind has picked up and is blowing North-East. It's hard to push South and West but everyone has the same problem.
On the 3rd lap, I can see that the course is going to be short the 12.4 miles. I start to wonder if I have another lap to do. After some thinking (which is hard for me to do when pushing hard), I realize, that this is definitely the last lap. It's just going to be a couple miles short. Another girl in my age group goes by but this time, I'm able to keep her in my sights.
I finally pull into T2. I'm actually able to pull my feet out of my shoes and jump off...yes! I run to my row of bikes but I don't see my red towel. Oh dear. I stop and take a good look. I see it...barely! My wetsuit was covering it. A rookie move once again! I get my shoes on and go! As I pass the FCA tent from afar, I try yell to Troy. He doesn't hear me as he's chatting with some folks. It's so easy to get distracted. I missed Troy coming out of the water yesterday!
I feel good running! I see the girl I was keeping near on the bike (Santa Cruz Tri Club) and push to catch her. Surprisingly, I first pass another girl in my age group. I don't remember seeing her on the bike. Maybe there was another swimmer out there I missed, huh?! I see a girl coming back towards me looking strong. That must be the girl that passed me early on. I hope I can catch her! I've got 2 laps to do it.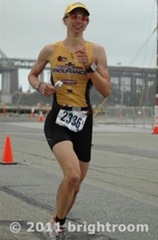 Mile 1 is 6:37. I see the speedy cyclist coming back. She's running strong and it's going to be hard to catch her. I make the first turn-around and head back. I catch the Santa Cruz girl and tell her good job.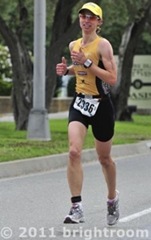 As I complete the first loop, I see Troy and the girls. I give them all high-5s and tell Ariel I'll see her soon...she's finishing with me today. Her first lone finish!
Mile 2 is 6:31. I am so thankful that I can run fast pain-free! It was only a few weeks ago that my back and tail bone were hurting from a fall over a month ago. I cheer on the young kids who are running now. They are just continuing to plug away. The speedy girl is heading back and still has a good distance on me even though I have closed the gap. Well, 2nd place is just fine. As I make the turn around, I notice another girl in my age group coming up. I've got to get some distance on her so that Ariel and I can have a cushion at the finish line.
Mile 3 is 6:32. I can see Ariel ahead getting ready for me. I push hard to get to her. She starts to run and stops to grab my hand. I look back and it's all clear! Her little legs go as fast as they can. We cross the finish line and she proudly gets my medal. What a day! Thanks Jesus!! Then it turned out the girl in front was in a different (30-34) age group. Surprisingly I finished 1st in my age group.