| | |
| --- | --- |
| Date/Location: | April 11, 2015– Napa, CA |
| Distances: | 2.4m Swim – 112m Bike |
| Time: | 7:53:41 (1:10:19 – 4:07 – 6:39:14) |
| Place: | 1st/1 |
This is an extreme way to start the season and test my fitness in part of the Ironman. It has been fun camping with the family and catching up with the Beare family from last year. The morning is cool and breezy. I wake up early to make oatmeal and coffee. Then I head to the van and spend time reading my Bible. I love this new routine of putting the Lord before my racing.
I head to the start and get my stuff laid out before transition closes…helmet, glasses, jacket, gloves and beanie. My biggest concern is being cold so I hope this is enough…it's definitely not as cold as IM Tahoe.
I leave transition and find a table to put my wetsuit on. I pick the same table as Christian Beare. Cool! We get the chance to catch up a bit. Soon Troy and the girls find me. Team Soares prays together and then I head down to hear race director, Mark Wilson, give us instructions. I love how he keeps the crowds quiet and engaged. "If you see that red buoy right there in front, say AY!" The crowd answers back an enthusiastic "AY!" Cool! At the end he invites folks for prayer…even cooler!
Time to go! I haven't warmed up or even tried to feel the water. My swim stroke has been off at the pool so I'm not sure how it will go.
THE SWIM
It's a mass start! Ready, set, go! Whoa, it's a shock starting. I have to force my face in the water. It's packed going out to the first buoy. At times I find myself having to veer off to the right to go around a swimmer going off course. I don't get bumped or hit so it's fine. On the first loop, I feel like my form is coming together nicely and I don't feel cold.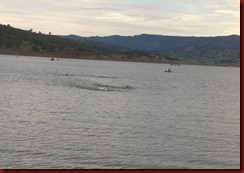 I make it back to shore and run along the green carpet and back to the water (VIDEO). There are only about 20 of us doing the Full course so I am relieved to see a guy that jumped into the water before me. I push to catch up and get the draft…nice!
I draft off this guy for half of the next loop. I'm feeling cold now but form still feels solid. I try to pick up the pace and attempt to drop my draft. I end up giving him a nice draft all the way to the finish. We'll just call it even (=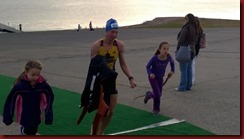 T1
As usual, I take my wetsuit off right at the water's edge. I'm getting very cold! I take off running and Anna and Ariel follow along. Their smiling faces are always a highlight!
At my bike, I struggle to put on all the gear. The gloves are the hardest and I ask Troy if I should skip them. He tells me to put them on little by little.
THE BIKE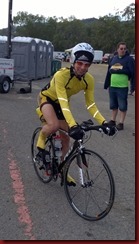 I finally make it out of T1. I am soooo cooooold! I cannot feel my feet at all which means sliding my feet into my shoes on the bike is not going to happen. I pull over and detach my shoes from the bike and put them on.
Even the hill a mile out does little to warm me up. I'm moaning because it's so uncomfortable and so hard to focus. God please help me through this! After 5 miles I start to seriously consider quitting. But, I know that is not an option. There are so many people that I try to encourage to keep persevering in their own lives/racing. Quitting would be such a let down to all those people!
Pretty soon, I see the first half distance riders coming back. A gal I just met, Sena, is looking strong leading the women!
Mile 15 – At the turn around of the first out and back, I'm feeling more focused but still a bit cold. Thank you Lord for making it get better. I'm starting to catch some half riders. I've been passed by 3 Full men. My average mph is around 14. Ugh!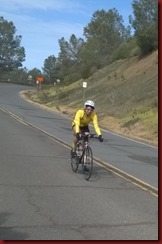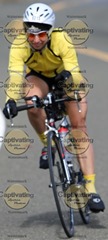 Mile 25 – See a half rider fall over going up a short hill in the distance. She gets up and moves off to the side by the time I get there. She says she's okay. Poor dear!
Mile 30 – I'm flying down the first hill I climbed. I see Ariel running in a nearby parking lot. Troy and the girls cheer me on as I head out for the next out and back. Nice to see them. I gesture to Troy that I'm doing so-so. I am feeling cold but the most comfortable so far. I'm getting my average mph up…in the high 15 range now!
Mile 43 – I make it to the next turn around. My average mph is just above 16.6. I finally feel comfortable and ready to shed the gloves and beanie. I really need to stop and use a restroom. There is one porta potty and a guy is getting into it right as I roll up. Oh well, there is a park bathroom right up the road…gotta make it there!
I stop and use the bathroom as fast as possible. I expect my average mph to take a big hit, but I get back on and it says 16.6! Wow, thank you Jesus! That is encouraging!
This part of the course is wearing on me. All the ups and downs make it hard to get into a good rhythm. I try to remember Troy's advice to use the speed from the downs to climb half way up.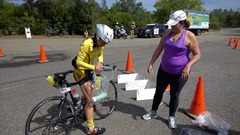 Mile 56 – I make it to the end of the first half of the ride! My special needs bag is waiting and so is Troy! All the things I've been thinking about telling him I forget. I take off the jacket and grab some more bottles while telling him how cold it was. Time to go! One more round! I'm at 3:20.
I feel tired but much more focused. I want to bring my average up and finish under 6:40. Riding along I feel something hit my chest and sting me. A bee or wasp and it's stuck in my jogbra! I must look ridiculous trying to find it. Finally I do before any more stings occur. Ouch, that hurts!
The faster riders come along soon. We all acknowledge each other because we are among a few lonely riders!
Mile 71 – Back at the turnaround. The sting is starting to feel better. My average is creeping up close to 16.8.
Mile 86 – Making the turn to the last out and back! Yes, thank you Jesus! I now reward myself with a Caramel Macchiato gel. Yum! I'm feeling stronger and stronger as I go!
Soon a CHP comes along and asks how I'm doing. I smile and give him a thumbs up. He disappears around a corner. Soon I sense a car is coming in close. I look back and see a huge white truck coming by very close. As he passes, he guns the gas and gives me a black diesel gas cloud. What a jerk! Lately I react poorly in these situations but I do nothing. As I'm praying that he will be stopped before he does that to someone else, another CHP leading the lead rider comes along. I wave him down and tell him what happened. He says he's going to radio ahead…hope so!
A few miles later, there is my CHP friend on the side of the road with the white truck! Wow, I'm totally shocked. The truck's hood is up. I pull over and let him know that I was the one he bothered. The CHP tells me he's got it under control (gave the guy a fix it ticket Troy found out later). I thank him and continue on. I hope this guy doesn't come after me later!
Mile 99 – I'm turning around for the last time! Yeah!! My average is all the way up to 16.9!
On the way back, I feel great. Those rollers are not as bad!
Almost done! Breaking 6:40 is going to be tough. I'm going as fast as I can!
Finally back in the park. I'm flying down the road and I'm at 6:39! I hammer into T2. I did it! I hear a volunteer say, dismount. Oops! I put on the brakes but slide out on the gravel. I manage to fall gracefully…though it's still embarrassing!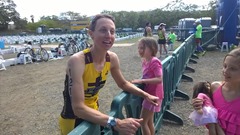 Thank you Lord! You sustained me yet again! Awesome to be reunited with family!