| | |
| --- | --- |
| Date/Location: | April 12, 2015– Napa, CA |
| Distances: | 1.5km Swim – 40km Bike - 10km Run |
| Time: | 2:24:16 (27:00 – 1:11:17 – 40:50) |
| Place: | 2nd |
Yesterday we watched Robin conquer the full Aqua-Bike race. It's beautiful here camping at Lake Berryessa, but the water is cold and the morning was in the low 40's. Robin did the normal procedure of stripping her wetsuit at the water's edge, but she was freezing on the first 25 mi of the bike. I should've had her run up the 400m boat ramp IN her suit to stay warm.
Today is my turn racing the Olympic distance. Learning from Robin's race, I'll stay in my wetsuit. My Teammates, Kris Kennedy and Flor Hodges, are also racing. As well as the phenomenal, Dave Campbell. He tells me he's taking a 5min handicap on me since he's 10 yrs older. He'll surely beat me in the swim and run, my only hope is the bike. The race director, Mark, holds a pre-race prayer for anyone interested. He always gets a big turn-out for it.
Kris and I warm up our arms but don't get in the water. It will make for a slow acclimation during the race but will save us from shivering at the end. It's 2 loops of 750m. Robin and the girls will be cheering for us. My training has been minimal but I'm still excited to see what I can do.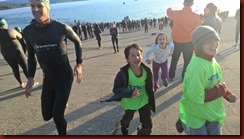 Swim
Go! It's a good course that doesn't go into the sun. The water is cold but not like the ocean. The swim isn't feeling comfortable yet. I'm only 1/2 aware of drafting opportunities. I try to imagine slicing through the water. It helps a little. After the 1st loop I do my best to scamper out and race across the carpet, high-five Anna & Ariel and dive back in. It goes well and helps my motivation for the 2nd loop.
Part way into the 2nd loop I feel good. I'm in the groove. I'm warm and energized. But after 200m it's gone. It was short-lived. Now I'm getting cold and tired. Oh well, no surprise, but I am almost done and it's been good swim for the little training.
I come out in 27min (57th overall), 2min behind Dave.
Up the ramp in my suit. At transition I put on my jacket, thick wool socks and gloves - which are the hardest part. Robin and the girls are such great supporters. Off onto the bike!
Bike
It's a simple out-n-back to the end of the Berryessa Lake Rd. I'm cold from the swim, heart rate is high, causing my vision to narrow, and my glasses are kind of smeared. This all makes it hard to see, despite beautiful bright sun. Across the bridge, up the hill, look out for the camera man in the middle of the road! I'm doing my best just to keep riding straight and not hit anything. I also want to be able to see friends racing in order to cheer for them. As the heart rate comes down I can focus better.
Last year the rolling hills didn't bother me at all. But this time I'm noticing they're pretty tough. About 4 miles in I pass Dave and say Hi. I don't think he's going to give me much so I better push it. I feel pretty good on the bike, trying to re-create the comfortable speed I felt at Ironman Tahoe last year. I go back and forth with a couple of guys. One in red that I keep an eye on.
I make the turn-around and look for Dave. The sun in my eyes with smeared glasses makes it hard. I see Flor not far behind me! I may beat her in the swim, but she's as fast as me on the bike. Pretty awesome. There's Dave! Not far behind. I better pick it up more on the way back.
I'm getting tire and hoping for the bike finish.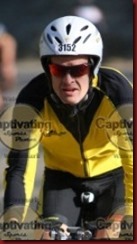 The guy in red pulls ahead and another guy also gets away from me but I push really hard on the descents to keep him close. Finally back across the bridge and into the park. I stretch my calves on the way in. And now it's time to transition… (1:11:17, 33rd overall)
T2
The coordinator says, "I bet you're warm now" as I run my bike by. I am, the jacket worked perfectly. Now I strip it off, along with the socks, gloves, glasses. I put shoes on and grab my hat and Hammer gels.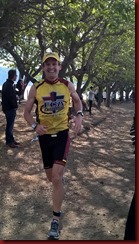 Run
Off on the run. I'm motivated because I know Dave Campbell can catch me. I've get to get as far ahead as possible to fend off the attack. Robin and the girls give me a great send-off with High-fives as I run by the spectating area. I haven't run a fast 10k in a long time but so far it's starting off good. I hope to stay under 7min pace.
Mile 1: 6:48. A mile in I catch the guy in red. He's bigger and struggles on the first big climb. I encourage him and mention the long downhill to come. At the top, though, I realize it's not for anther mile. This is a tough course. I'm staying below 7min pace. I'm trying to pick up my heals behind me, breathe deeps and keep up the pace. I wonder when I'll hear Dave's voice.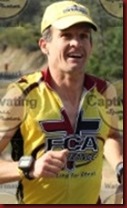 Mile 2: 7:42. With only 2 aid stations I make sure to drink a full cup. We climb the big hill at mile 2 and now it's all down-hill to the turn-around. It's great! A tall guy passes me with even better descending skills. I have to keep pushing because Dave is fast descending as well.
Mile 3: 6:21. I make the turn and hear Jamie Whitmore cheering for me! She's on her bike with a couple other Gutzy-Tri athletes supporting the many competitors she's trained for this race.
I push hard as I start the LONG climb back, hoping to catch up to Jamie. But she effortlessing climb ahead on the bike. I'm surprised not to see Dave for a 1/2 mile on the way back. When I see him he says he had a poor bike. I tell him he'll make up for it on the run. But he's about 8min back so I think I can keep the 5min gap I need to win. The climb isn't as hard as I anticipated. Reprieves here and there help.
Mile 4. 7:19. Great time for a hill! I make it to the top, with a big push, as another big athlete passes me. I get into his draft and try to stay with him. I'm tired but remind myself it's pretty much down-hill to the end.
Mile 5. 6:36. I see Kris climbing on his way out, looking comfortable. I tell him "less than an hour and your first Olympic distance will be under your belt!" Hitting the bridge, in the last mile, I give it my best, I pass a guy and stay close to the big guy. I make an inside move and get into the park ahead of him.
Mile 6. 6:00. No looking back now, just go! Near the finish, enjoying the cheers and reflecting on my great appreciation to the Lord for granting me a great race, some people yell, "you gotta go, he's right behind you!" I push with all I've got, without looking back and sail through the finish, where Anna is volunteering and making sure she's the one to put my medal on. Wow,a great day. (40:50, 25th overall) (2:24:16, 22nd overall, 2nd age).
| | | |
| --- | --- | --- |
| Athlete | Time | Place |
| Troy Soares | 2:24:16 | 2nd |
| Kris Kennedy | 3:03:48 | 18th |
| Dave Campbell | 2:32:02 | 2nd |
| Flor (Maria) Hodges | 2:28:18 | 1st overall |