| | |
| --- | --- |
| Date/Location: | 4/12/15, Lake Berryessa, Napa, Ca |
| Distances: | 100m Swim - 3mi Bike - 1mi Run |
| Time: | 18:19 |
| Place: | 3rd girl overall |
I've been a little nervous about this race. Swimming out around a buoy is scary but will be ok as long as there are other people.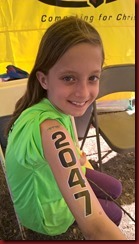 I have my tatoo race number on, I'm wearing a swimsuit and bike shorts and my transition is ready. Dad is trying to fix the shifting on my bike. Looks like he's having trouble.
At the water start I see the buoy. It's so close! No problem! The race director talks to us a long time and says they wanted this race to not be scary, so that anyone could say, "I can do that!" He tells us to line up with the men first, then the women and then the kids.
I meet another girl named Anna. She has a full wetsuit. Mine is working but it's so tight because I used it when I was 6 yrs old. I put my face in the water, it feels so cold!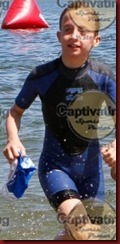 Swim
Go! I'm swimming with good strokes. I'm not getting bumped much. Then I switch to breast-stroke because I like that. After getting around the buoy I continue breast-stroke for a while. Now that I can breathe good, I go back to freestyle all the way to the ramp.
I run up while Dad pulls my zipper down. My friend, Leo, is running with me, even helping me by pushing me up the hill. But Dad tells him not to.
At transition it's hard to get my tight wetsuit off. But once I do, I put my race number on, my helmet, and can get on my bike quickly.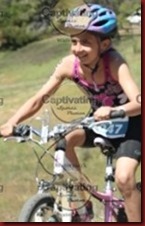 Bike
I think the ride will be so long. I see some of the other kids I saw at the start. It starts off with a hill and then, leaving the park, it's flat. I keep biking to the turn-around. I'm surprised that we turn so soon. This seems so short! I get to the hill I climbed up and go shooting down! I see Mom and Ariel cheering for me and I hear Dad cheering.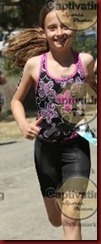 Run
I jump off my bike, put it back, take off my helmet and start running. After going around the whole transition area and then going by Dad and Mom on the way out, I already have a side cramp. Ow! Dad says to try and ignore it. I'll do the best I can.
I don't know where the turn-around is.. but, again, I'm surprised to see it's only at the top of the hill! This is really short! I'm going to be done soon. Running back, all I have to do is go up a little hill to the finish. Yay, I'm done! And my sister, Ariel, is there volunteering to give me my medal.
It was neat having the race be shorter than I thought.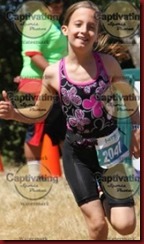 I can't wait to tell my friends at school that they can do it, too! The swim is only 100 meters, the bike is 3miles (which seems short) and the run is 1mile (which doesn't seem like 1 mile).