| | |
| --- | --- |
| Date/Location: | 1/1/16 – Auburn, Overlook Park |
| Distance: | 25 Mile Bike - 10 Mile Run |
| Time: | 22:17 (age-graded hill-climb combined) - 1:16:34 run |
| Place: | 2nd combined individual (2nd 40-49 in run) |
| Teammates: | Robin, Trixie, Charity, Anna, Ariel, Suzanne |
| Other Teammates: | Farah, Richard, Bryan & Mo, Christine & Cal, Chris, Lupita, Gary, Roni, Manouch, John & Rachel, Scott E, Debbie & Leah |
It's a clear day. Slightly chilly. Glad to see
Farah Avasarala and
Richard Kane ready to start out at the Overlook. We start the Challenge - Bike Hillclimbs followed by the Resolution Run. We pick up Robin as she drops our kids off at Karen's house. We pray for our ride and we're off.

Richard and I take the men's route around Newcastle while Robin and the women take the Power House Rd loop. We hit the "practice climb" on Glenview Rd and I push it. Feels great the first 1/2 but this rode always get surprisingly difficult. I see Robin & Farah up ahead already finished with the climb.

Richard and I cruise through Auburn and down to the Confluence, enjoying the awesome views along hwy 49 on this crisp beautiful day. Surprised to not catch up to Robin and Farah. We meet up at the bottom and Trixie Bradley and
Charity Marshall join us there.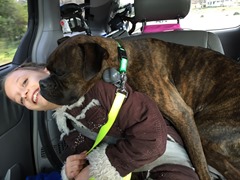 Karen & our girls are also there in the van and Anna is babysitting a dog from Karen's neighbors. They take our jackets and gloves and Karen sends us off on 1 minute intervals for the 3 mile climb.
Go! Trixie, Farah, Robin, Richard and then me. As I round the first corner, the steepest grade, I'm reminded that this is not going to feel good. Racing up a hill seldom does. Rounding the next corner I can see the road far ahead and the riders ahead spread along it. It's motivating trying to catch your friends.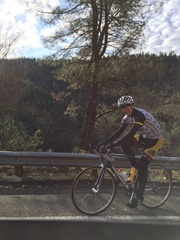 I go by Charity who is always smiling, even on a steep hill. Then Farah, who is also a cheerful athlete. I catch Richard who raced with me at Ironman Tahoe last year. Standing up to make a push to the flatter section, I pass Robin. We always support each other. I can't help but push harder whenever she encourages me. And finally I catch Trixie on the flat section. Trixie is also a cheerful appreciative rider. And always pushing hard. She jumps on my wheel and picks it up quite a bit.
Getting near the end I want to break 16 min. Finally, the last 200 yds, it's a steeper section and always harder than I think. 16:39. Finally finish with Karen timing and my girls cheering for me. Awesome. Lungs hurting, breathing hard, but feels so good to be done.
We group up for the mellow ride down to the Foresthill Bridge. Karen is there to send us off for the 2nd hill climb. We get in order of fastest up the first climb. This puts us in a paceline across the bridge. I'm leading.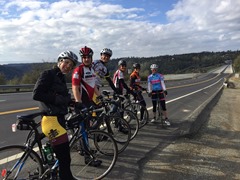 Go! It's really cool riding across the tallest bridge in California. We're in a good line. Richard's right behind me. When we hit the beginning of "Raley Hill", Richard goes by and starts pushing hard. I don't have much but push steady. It's only a 5min climb but it's tough. Soon our speeds are matched. I think I'll be able to catch him. About 500 yds from the top I stand up and really push. I pass Richard and see Karen at the top as I finish. 5:52. This one hurt pretty good, too, but after a couple minutes I'm ok and able to cheer the others to the top.
The hill climb challenge incorporates age/sex grading. After calculations, I'm 5th. Robin won with 20 min total time age-graded. Then Trixie, Charity, Farah, myself, and Richard. But now it's on to the Resolution Run where I have a chance to move up..
Resolution Run 10 Miler (Troy)
I'm excited about Anna and Ariel's 5k Runs. I set their Garmins to their previous 5k PR before they broke it easily at the Turkey Trot 6 weeks ago. They think they can beat it again even on this hilly course. We're all warming up and stretching, Anna & Ariel are copying me, and this prompts the Auburn Journal reporter to take pictures and notes (but we didn't make the paper).
Suzanne Hartley has nicely volunteered to run with Ariel. And Anna will run on her own, chasing her friend, Leah.
Robin and I line up with many friends from the track and surrounding Auburn. Weather is great, not too cold, and the trails are a little muddy.
Go! Along the street and then down the gradual road towards Oregon Bar. I'm running with Richard. The leaders are way out there. I count about 10 ahead of me and hope to move up to about 5. I see our friend Brian Hacker and a young guy in red that I raced against at the Rebel Rebellion XC Race.
I can't seem to gain on them on the way down but I hope to make a move going up the Cardiac Bypass trail. We hit the trail, I shake out my arms and get to work. Trying to be light on my feet as I negotiate the rocks. I pull ahead of Richard and 1/2 way up pass 4 other racers. Brian and the guy in Red are still together farther ahead.
Mile 3: 20:55. About 7min pace. Good. Along the road I think of how much better I feel than 2 years ago when I started bonking here. Again I did a good job of fueling before todays race. I take water at the aid station and then head down the steep road. I see Dan Tebbs and his 4 boys cheering at the turn! Down the hill and I see the guy in Red hitting the trails with Bryan farther ahead. I hit the trail and work hard on the steep climb to the fire road. I get water again at the next aid station and start pushing to catch the guy in red.
Mile 6: 43:14. Over 7min pace now. But I catch the kid in red. We talk a bit. He also remembers me from the XC race. Lots of mud in the shady spots but I find ways around it. Now just have to get to the green gate and it will be easier coming back and I'll get to see Robin behind me. I pray for her hamstrings to be feeling well.
I make it to the green gate and think I'm in 5th place! Bryan is still far ahead so doubt I can catch him. Right after the turn, a rock flips into my shoe. I'm doing well and don't want to stop to get it out. It's small and I hope it'll work it's way out or somewhere in my shoe that doesn't bother me.
I try to run without landing on it… I feel it working it's way down the side of my foot, into my arch, and now towards my big toe. There's Robin! We're so glad to see each other. She says her hamstring is doing well and asks about my Achilles which is also doing well. Thank you, Lord, for allowing us to push our bodies without injuries to hold us back. Even if only for today, it's a great gift.
Mile 8: 58:00. About 7:15 pace. Time to climb up Western States to Robie Point. Really muddy, careful not to pull a hamstring. I pass another guy. Really out of breath at the top but no time to recover, gotta stay alert for this steep descent! It goes well and I'm back on the trails. I grab 1 last water and then hit the mile climb to the finish. Whew! This is tough.
I come around the corner and exit the trail system. I can see walkers up ahead from the 5k. And there's Ariel and Suzanne! How exciting to be finishing the same time as Ariel. I get enough air to yell to Ariel, "Hi Ariel, I'm going to catch you!" I see her look back and smile and immediately go from a walk to a run. I push hard and catch up to her with 200 yds to go. "Do you want to hold hands?" We hold hands and finish together. Me 10miles and her 3.1miles. Thanks God for such a cool finish.
I finished 1:16:34, a little faster than last year. 7:32 pace, and 2nd in my age division. Richard Kane was just 2 behind me. And Leah, Anna, and Ariel finished 1-2-3 in the 5K kids division.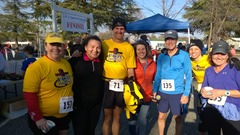 A great way to start the New Year.