| | |
| --- | --- |
| Date/Location: | 1/1/16 – Auburn, Overlook Park |
| Distance: | 5k Run |
| Time: | 31:35 |
| Place: | 2nd (under 10 girls) |
| Teammates: | Robin, Troy, Ariel, Leah |
Helped Mom and Dad in the bike challenge while babysitting a cute dog…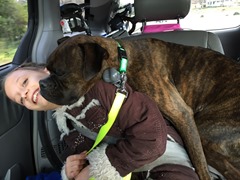 Start of the race…..
I and my dad and sister were stretching for the race. Some from girl came over and said ''I work at the Auburn Journal, can I take your picture?'' We said yes. She asked us are names and we told her. I was so existed because I could be in the paper. I told no one except my mom who had just missed the chance of being in the paper.
My mom and dad started their race for the ten miles. Ariel and I were left behind with Suzanne who was running with Ariel in the race. I do not need to run with any one because I am grown up. We were wanting for the 10k race to go so the 5k race can go. I saw my friend Leah who was walking to race. She is doing the 5k race to. She is so fast that I cannot bet her. Leah also wanted to be in the paper because last year we both got in the paper because we were in the front of the starting line first when Auburn Journal person asked us are names and so we got in the paper. Ok back to the race Leah gets here and she tells me that she does not see any one from the Auburn Journal. Ariel told Leah that she had saw the Auburn Journal.
The 10ks went and it was almost time to start the 5k race. When it was about 15 minutes to start I took off my jacket and started walking to the starting line which is the finish line too. When I was walking over the people who talked on the microphone said ''start heeding over to the starting line. So I started to jog because I wanted to be in the front. When we were at the starting line they gave out instructions which I do not need.
Then they said ''10……..5, 4,3,2,1, GO! I take off but try not to go to fast. We kept running up hill downhill. When we are coming down the steep hill my foot starts to hurt. When we get the trail my foot still hurts. We start climbing. When I thought it was over, the hill kept going. I got to the aid station there was water but they were not handing it out. I did not get water I was fine.
I kept running then my knee cramped up and it was hard to move it. I stopped and prayed. I started to run and I needed to push thou it. I started run and it went away but my foot still hurt. I kept running and running. I ran up the hill into the sunlight. I got onto the concrete and kept running a girl said ''don't let boys behind you bet you.'' I tried to bet them but I could not. But I finished. I saw Ariel, my dad and my mom finish. I got 2nd place!
End of race…