| | |
| --- | --- |
| Date/Location: | March 12, 2016 – Auburn, CA |
| Distances: | 30K (20 miles actually instead of 18.6) |
| Time: | 3:23:41 |
| Place: | 2nd, F40-45 (Out of 8) |
| Teammates: | Nicolette Del Sarto, Ronnie Nauert, Stephanie Artis |
Troy and the girls drop me off at the Overlook/start line. Anna has her 3rd Duathlon this morning starting a half hour after my start. I'll finish at her finish line hours from now at Granite Beach. I have something to look forward to when the miles get tough! I'm excited to experience the trail from Rattlesnake Bar to Granite Beach...especially the part known as the Meat Grinder!
There are a few familiar faces out here like Stephanie Artis (friend, Freeplay Magazine founder/editor), Ronnie Nauert (Skyridge School Parent and Mr. Pickle runner for the Jog-A-Thon), Nicolette Del Sarto (Tuesday Track, Spartan competitor). The morning is perfect! No rain as of yet! Race director Mark Shaw takes our picture and walks us down to the start line.
Ready, set, go! We head down old Pleasant Ave towards Cardiac Bypass. Before we hit Cardiac Bypass, we jump on Stu's Trail (named after Brad Kearn's dog). Stephanie is ahead of me. I opt not to go with her because her pace is too quick for me.
The sun comes out and it feels warm! I actually need to take off my gloves and beanie! Ronnie passes me on the way down to the river trail to Rattlesnake. I'm slower on trail descents because of my fear of falling...which explains my reluctance to mtn bike downhill. Soon, I'm running along the river alone.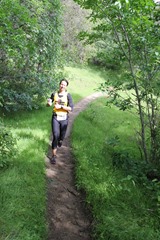 It's so beautiful here and there is a lot of water after the big storm. Fortunately the trail is not muddy but just wet thanks to the DG type of dirt. I'm able to pick up the pace in many spots that are relatively flat and rock free. I go through the Newcastle Powerhouse and onto Avery's pond which means I'm very close to Rattlesnake Bar. My average pace to here, mile 9, is 9:14. The pace is increasing but glad to be under 10min per mile. The sun is going away and I'm getting cold. I try putting the beanie back on but that's too warm still.
I cross Rattlesnake Road and soon find myself in unchartered territory. I'm very thankful for the pink ribbons on the course now to guide me. There are little trails heading off in different directions along the way. Now I can see how Troy got lost around here years back! I'm all alone still and wondering how Stephanie is doing. Wonder if Ronnie is close by.
It's more windy here so my pace is slowing down. I am focusing on my footing yet I find myself tripping often but not falling thankfully. Where is this Meat Grinder thing? I see a few trail runners heading towards me. I say hi and ask them where it is. "In a few miles. You'll know it when you see it!". Hum, must be really steep. I'll keep looking!
I'm still running solo down-river but there are lots of trail runners and hikers coming up. They are all very courteous and encouraging. Nice to have company!
Mile 13, I'm under 10min pace but it's creeping up. Soon, I'm in a very rocky and winding area. It's not hard in effort but hard to navigate. Maybe this is it. Troy and others said there were big granite rocks along the trail and that is what I see. If I wasn't so cautious I could go way faster here!
Mile 16: The sun is out again. I'm over 10 min pace. I try to be positive and thank God for this beautiful day and chance to run this trail. It's quiet on the trail again.
I know that I'm near the Granite Beach area when I reach the far back parking lot where the TBF Tri bike turn around is. There is an aid station here and people! I get distracted and totally ignore the cones telling me where to go. The aid station workers shout out to me "wrong way". I get back on track for a moment then get confused again. The helpers shout "left". I can see the signs and markers clearly now. So weird it just didn't make sense for a moment!
Mile 17: I look at my Garmin and see I'm past 17 miles. The race is supposed to be 18.6 but it looks like it's going to be longer based on my experience doing the triathlon. At least my pace is getting quicker here since the trail is smoother here.
Pretty soon, there are a bunch of mtn bikes sprinting towards me. It startles me. I try to move out of the way quickly but it's hard to make quick movements with these sore legs...that's when I realize that my legs are feeling trashed. I'm surprised they didn't slow down when they saw me.
Within the next 1.5 miles I'm seeing a lot of mtn bikes. The majority are courteous which is great. I just cannot seem to focus well on running straight and I have to make sudden movements that are painful. I finally get a quiet moment and feel myself falling to the ground. Oh no...I brace for the fall. I land hard on my right hand and my middle finger gets hyperextended. I get up and look around and there is nobody. I wipe myself off and continue on. I feel like I want to cry and the tears start to fall. Come on, almost there...let's get this done.
I know I'm close when I see Troy on the road up ahead. It looks like he's heading out for his bike ride already. I get sad and give him a weak smile. As I cross over to the trail, I can see that he's watching me from the road and following me back. Oh good, I want to hug him!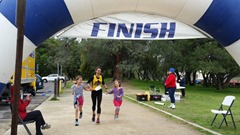 I'm almost at 20 miles. I guess the good news is I got in a 20 miler?! I make the final turn and Anna and Ariel are waiting for me. They grab my hands and we finish together. Aw, thank you Jesus I'm done! That turned out to be way harder than expected!