| | |
| --- | --- |
| Date/Location: | 3/6/16, Calistoga, Ca |
| Distance: | 26.2mi R |
| Time: | 3:17:00 |
| Place: | 10th AG / 105th OA |
| Teammates: | Troy Outman, Karen Nickel, Clyde Floyd, Cory Floyd, Carrie Chavez, Elizabeth Katsura, Scott Ekhardt, Autumn Yoder |
Rained hard all night but quiet this morning. I woke in the middle of the night and my rt. achilles was sore walking. From that decided to wear my Superfeet for the race. Got good sleep the last 2 nights so energy shouldn't be a problem. Quiet time with God – something Robin started doing many races ago and has become and important part of starting a race.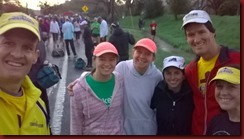 Our friend, Karen Nickel, and I jog/walk a mile to the start. Storm clouds to the North, blue sky to the south - the direction of the race. Terrific, no trash bag, so soggy feet! Going to be a great day. We quickly find Troy Outman, Autumn, Clyde, Cory, Elizabeth, and her daughter Mari.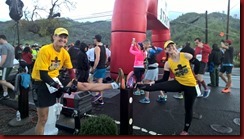 Stretch. Get a few strides in. 2 years ago I got to run here with Robin and 20 of our friends for her "40 at 40" event. Back then my hamstrings were the problem but today they are fine. My concern is my achilles. When it flares up, I have to slow or stop and walk a bit. I'm not too worried. Whatever happens, God will get me through. I also know I have friends praying for me so more reason not to worry.
A group of us pray together. Then the race has their "invocation" - not a real prayer, more like self-focused meditation. We really want the opposite, to be focused on God and encouraging of others. Now the wonderful National Anthem. Now check the laces, stretch a little more, say a quick hi to Carrie Chavez, and time to go..
Start
We're off. I quickly find Troy Outman and we run side-by-side. Weather is perfect. I have 2 shirts, arm warmers and gloves, but soon I'll be shedding some of it. I set my virtual partner for 7:30 pace.
Mile 2: 14:39. I push the pace on a descent and my rt. achilles flares up near the bottom! This is surprising; not only early in the race but on a descent rather then climb. I ease off and shift weight to my left leg. Troy and I enjoy some chatting and appreciating the sun and weather. He pulls ahead on uphills and I catch up on the downs.
Mile 4: 14:24. The miles are going by quickly. I know it won't feel that way at the end but it's nice thinking they will. I try to run the tangents when there's not other runners in the way. Otherwise I think the extra distance in the turns is why my our Garmins beep before the Mile Markers. Troy & I are drinking every (2-mile) aid station. Now we both pull off for a porta-potty. Fortunately 2 are open. We go in and come out at the same time. Only 15 secs lost.
Mile 6: 15:10. About 45 secs ahead of pace. But I know I'll have to be at least 1 min ahead of pace in order to compensate for the extra distance / long mile markers.
Mile 8: 14:46. We match pace with 2 young girls from UC Davis doing their 1st marathon. Their goal: 3:35 (8:10 pace). What are they doing at 3:16 pace? They ask us questions about the race. We give tips, but I don't want to say, "you should be 4 min back". I just hope they don't blow up. Eventually we pull ahead which is good so they might run easier.
Mile 10: 15:17. I have to use the porta-potty again. I tell Troy I'll try to catch up. This was an important stop, but I make a good transition so not too bad. But I do miss the water hand-off. Fluids are important to prevent cramps and tight legs. Troy is 40 secs ahead. This is good motivation to slowly catch up to him.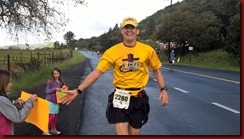 Mile 12: 14:44. I see Robin & the girls! They have inspirational signs. They are the best support. I'm glad to tell Robin the shoes and Achilles are working good. She's really happy to hear that. About 20 secs behind Troy now at the 13.1 mi mark. 1:37:41 (1:38:20 official time). This is the same time I did 2 weeks ago at the Davis Stampede 1/2 marathon after being sick. I feel better today! I take a Hammer Gel. Umm good. At the 13.8mi aid station I make sure to get Cliff Blocks for later in the race. Troy gets farther ahead.
Mile 14: 15:07. Downhill. Making up time. I'm getting sore all over (knees, legs in general) and starting to slow. I decide to try to push for a while and see what happens. I'm breathing harder, pushing the steady climb up to mile 16. I'm not concerned with energy as long as I keep eating and drinking. I take a Cliff Block. I'm gaining on my pace.
Mile 16: 15:08. I'm within earshot of Troy and tell him "Good job!" from behind. I finally catch up and am reunited. I'm breathing pretty hard for this early but at least the achilles and left calf (starting to tighten from the compensating) is holding up.
Mile 18: 14:42. I take my 2nd Hammer Gel. The final Cliff Blocks aid station is near. Need to make sure to get a bunch and keep eating during the last miles. I'm drinking 1 to 2 cups of water each station. No Gatorade (makes me nauseous). Even without I sometimes feel a little nauseous. I grab Blocks, get 2 waters, and this puts me behind Troy again. But I know it's about time for him to pull ahead anyway as he is better trained. Still I make the most of the final descent before the "Wall". I've been looking forward to it. I actually like this climb. And I like the gradual descent on the other side. I'm so motivated I really push. I'm thanking God for getting me to this point and giving me energy. I'm hardly losing any time on this hill. Then I push a little too hard and the achilles starts to hurt. Ease off.
Mile 20: 14:48. wow, at the top! And didn't lose time. Thank you, Lord! Troy's really strong on the hills and is 20 secs ahead. Everything is sore and I don't want to pound this descent but I've got to to stay on pace. At the bottom the real hard part starts. No more ups or downs to change things up. Just flat tough miles. This is where I just want to zone out. I want to slow because of the painful knees, thighs, calves. I recite Ps 23, "The Lord is my shepherd, I shall not want…" I let go of wanting any placing, any accolades, or possibly catching Troy. I just want to give the Lord my best with a smile. I tell myself the pain I feel isn't real. If I covered it up with something, I would run just fine. So I ignore it and start running stronger. Only a 5k and I'll see my family at the 24mi mark!
Mile 22: 15:10. Really want to slow down. I drop to almost 8 min pace. This road goes forever. But I can see police cars far ahead where the road turns. I can't wait to make the turn for a change in scenery and a straight shot to see my family. As I make the turn, I'm pushing harder. Over the small bridge, through the shade, glad to see Mile 23. But now it's a tree-lined straight-away and the urge to slow down hits hard again. The left calf is tight. The knees, quads and hips are sore. "The Lord is My Shepherd.." Ignore the pain and push. Pace getting back to normal. Pushing harder takes more energy but hurts less. There's no slowing now. If I slow, the miles only become longer. I round the turn where I thought Robin would be. Must be farther down. Push, push. I'm ignoring the pain but the legs are getting fragile, wobbly. Just looking around is hard to do. I keep drinking and eating and breathing hard and pumping my arms. I'm 30 secs ahead. I see Troy getting a lot closer. I encourge him and tell him to keep pushing, it's almost over, the pain will stop soon.
Mile 24. 15:34. As I go by Troy, trying to keep the hammering going, I realize his pace is much slower, maybe 9 min. I hope he can pick it up. I see Robin and the girls ahead! I want to swerve over to them but just thinking about it makes my calf start to tighten up. Anna tells me every step gets me closer! Robin is cheering and excited to see me still on pace. Ariel cheers with that great smile.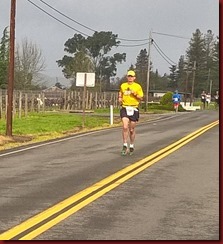 Mile 25. 7:25. 1 more mile! I'm surprised I'm still hammering. I feel like I'm sprinting a mile at 6:00 pace but I'm just maintaining my 7:30 goal pace. Briefly some cold rain comes, despite the sun. I don't care, only 1/2 mile to go. I pass a few more people. Many are really slowing down. I've been there. But I'm so happy to be keeping pace this time. Maybe the best last miles I've ever had. I even pick it up in the last 400 m and now am almost 1 min ahead… perfect.. I might get 3:17..
Mile 26. 7:23. Coming into the school, people cheering, the thought of being done soon, so thankful to God for not having this be a suffer-fest, but letting me be able to keep hammering so the miles go by faster. I see the clock just turns 3:17… and I'm done! 3:17 exactly.
My legs are thrashed and painful but couldn't be happier. Troy finishes right behind me. Later we all are reunited in the gym. Great to hear that Karen's race went well despite months of injuries. Even saw the 2 girls from UC Davis – they got their goals. And the rain starts pouring, just after most finished the race. What a day.
| | | |
| --- | --- | --- |
| Name | Time | Place |
| Carrie Chavez | 3:12:01 | 2 |
| Troy Soares | 3:17:00 | 10 |
| Troy Outman | 3:20:56 | 21 |
| Scott Eckardt | 3:46:20 | 49 |
| Karen Nickel | 3:46:40 | 17 |
| Autumn Yoder | 4:08:34 | 22 |
| Clyde Floyd | 4:21:07 | 30 |
| Cory Floyd | 4:21:07 | 71 |
| Mari Katsura | 5:09:51 | 105 |
| Elizabeth Katsura | 5:09:52 | 50 |