Date/Location:

November 19, 2016 – Davis, CA

Distances:

5km Run

Time:

21:27

Place:

1st out of 53 F40-44, 7th overall woman

Teammates:

5K: Ariel Soares, Robin Soares
10K: Anna Soares, Caryn Galekas, Suzanne Hartley,Troy Soares
I'm looking forward to the family racing together and having a yummy breakfast after! It looks like rain but hard to tell at this race. Ariel and I are doing the 5K and Troy and Anna the 10K. This is Anna's first 10K! Ariel will run on her own and I'll finish with her once I cross the line. She was running so fast yesterday when we did a family mile run. She wants to run 30 minutes.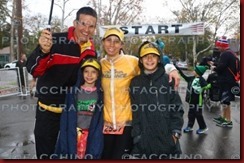 I ran 21:24 last year and I'm not expecting to match that. I have been feeling a bit discouraged by my fitness…but it's my own fault because I'm not putting in the miles. I am very encouraged by my spiritual fitness. I feel a closeness with the Lord and a desire to be an ambassador for Him!
We find our FCA teammates Caryn Galeckas and Suzanne Hartley. We all pray together. Nice! Ariel and I line up. Troy gets her in a good, safe spot closer to the back. The 5Kers are starting with the half marathoners.
Ready, set, go! We are off. I take off with the 1:30 half marathon pace group. I hope to go under 7 min pace so this is a good place to be! Haven't been running this kind of pace for more than a mile at the FCA track workouts so it's risky. I actually feel strong so maybe it will be okay.
Mile 1 is 6:41. Nice! Feeling good!
I pass the 1:30 group because their pace has dropped off a bit. I run under the ped overpass. No runners there yet so I must be doing okay. I'll look for Ariel down below once I get up the there.
The 1:30 group is with me again but we soon split off. I tell them great job and keep it up! We jump onto a greenbelt and wind our way back to the ped overpass. I look for Ariel's pink shirt but don't see her. I call out her name in case she can hear me.
Mile 2 is 6:50. Good! Still feeling strong! Thank you Lord! What a gift to be able to push so hard!
I run through a park and pass 2 girls. I tell them good job. Soon, I'm back on the street and heading back to the finish. I look at my watch and wonder if I can actually go under 21 min. That would cool!
I can see the finish way off. Dig deep! Those other girls are probably not far behind!
Mile 3 is 6:37. Pushing hard, smiling and thanking Jesus!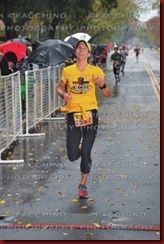 I cross the finish in 21:27. Wow, so close to last year! I'm happy with that!
I hug Troy and Anna at the finish and run back for Ariel. Troy and Anna are now off to the start of their race. I find Ariel running really strong. I tell her right when she hits a certain landmark to sprint like she did on her run yesterday. Right on cue, she goes for it! She finishes under 30 minutes! Yeah! Thank You God!