5/21/17 – Auburn, CA

1.2m S – 56m B – 13.1m R

5:41:49 (38:49 - 1:24 - 3:12:24 - 1:12 - 1:48:02)

2nd Place, 45-49; 6th Overall

Teammates:

Long –Jesse Moore

Int'l - Dave Campbell, Flor Hodges, Leila Sermek, Robin Soares

Mini – Anna Soares, Farah Avasarala, Mike Bradley, Sydney Lewis
I wake up early to spend time with God. Thoughts of my injured ankle and missed workouts traverse my mind, but I manage to purge it all to focus for a moment. I never know how, but God makes it work out, and that reminds me how much He is deserving of my attention.
I love this part where we all gear up in the garage and ride our bikes 6 miles to the start of the race at Rattlesnake Bar on Folsom Lake. Besides Robin, myself, and our friend, Dave Fraser, it's exciting to have Anna too. She's doing her first Auburn Triathlon! She's been volunteering for years and they decided to give her an entry. She's been training so hard for it and I'm proud of how brave she is.
The temperature is perfect on the dawn of this day. It is the Lord's day and we all want to do His will and appreciate this opportunity we're given. I reflect on yesterday's FCA pasta feed and Iron Prayer. God extended the food and helped the speaker, Joey Montoya. It was great!
As I near transition on the steep descent I see the WeTri youth team recovering from a mishap. They say they're Ok but I later learn their star athlete crashed & broke his bike. Sad because they are such a talented, mature team of kids. We train with some of them during the FCA Auburn Tuesday Track workouts.
A rack full of FCA! Flor, Troy O., Katie, Krista, Dave F., Mike B., Robin, Anna and myself. We get a group photo and catch up. I try to run a little and my left foot is sore. I have to rely on God! Robin is helping Anna. I wish I could but my wave starts soon. I pray with Troy & Mike before making the long swim to the start line. The water is perfect.
SWIM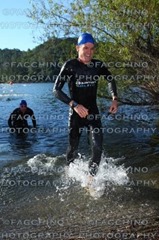 Go! I feel a little more confident after the Folsom International last week. I find some feet to follow. I look forward to the swim back because I know Robin, and then Anna, will also be swimming the same course. The staggered start and shorter distances could allow for us all to finish together! Around the first buoy and things get hard. We're swimming directly into the sun! I loose my draft and the constant feeling of not knowing where I'm going is sucking energy out of me. I keep thinking the next buoy will change course out of the sun, but it doesn't. I can only see the fiery ball and a few splashes from swimmers way ahead. Finally we turn towards shore and out of the sun. I'm able to turn it up a notch and finish strong. 38:49. Slow but good effort. Coming out up the ramp there is a good cheering crowd and the announcer is terrific as usual, knowing my name and talking about FCA. Very encouraging.
BIKE
After a good transition (it's great not having to put on a jacket!) and great send off from Francie Campbell (transition volunteer extraordinaire), I'm off for the climb up to Auburn. Starting off well and thankful for great weather. I see Flor's family at the "Y" and figure I must be ahead of the Olympic distance racers. My plan is to conserve more and fuel more to help my tight Achilles and hamstrings for the run.
I'm glad to finish the tough Shirland Tract Rd and cruise through Auburn. It's my 12th year doing the race so the route and the wonderful volunteers through town are a welcoming sight. The lady monitoring traffic near the KFC looks familiar. I ask, "You were here last year?". "Yep!". "Thank you!"
At the top of Bowman Rd I look forward to seeing my HS friend, Doug Olson, but he's not there this year. At the Placer Hills Rd intersection I see the men volunteering but they're not saying anything. I mention, "You need to tell them to go right" but he doesn't seem engaged.
I continue climbing, through Weimar, and Applegate. I keep expecting to see someone ahead or get passed, but there's no one around me. On a long gradual descent from Applegate, I push it and feel like I'm flying. Just when I think, "surely no one will catch me at this speed", I look way back and see a biker coming. That's weird. Still cruising fast and thinking it'll be a long time before he catches me, he goes by me. Wow! It's Jesse Moore, Robin's running friend from college and a top triathlete now. He tells me that he was directed the wrong way at Placer Hills Rd and went pretty far off course.
Soon another guy passes me and says the same. He's a young guy from Davis. Him and I go back and forth to the top in Colfax. It's really warm and I've been focusing on drinking a lot of water. A bottle at each aid station. The young guy looks dehydrated. I tell him to make sure he drinks enough.
On the drop to Bear River, I pass him and gain some good ground on the hair-raising descent. I pass another guy on the climb and figure I'm about 5th place. Normally I'd be about 12th but I guess the top guys went the wrong way. I climb well but the young guy passes me again. I'm glad to start making the descent from Colfax to Auburn and I pass him back and stay ahead. I'm still drinking a lot.
At the Placer Hills intersection I again see they aren't telling us which way to go. I tell them again, "You need to tell the riders to turn right". As I turn, I see a racer stopped, reviewing a map with the Highway Patrol. Something is really wrong here.
This out-n-back is always hard but I stay focused and try to give God my best effort despite the bumpy grind. I see Jesse and others coming back and see I'm in 6th place. After I make the turn, I don't see the young guy behind me. He must have skipped this section trying to make up for the extra he did going off course! Sounds like a case of "2 wrongs to make a right". It's a bummer to go extra, but it's still cheating to cut the course. I imagine what Jesse will think when he's sees someone ahead of him… again. On the last 10 miles I focus on finishing my fluids and stretching.. Preparing for the run. I finish in 3:12:24.
RUN
As I head out of transition I'm thankful to see Anna cheering. I'd been thinking about her Sprint race the whole time hoping her first big tri went well. "How did it go?!" "It went good, I went off track but got back quickly". Thank you, Lord, for keeping her safe. I hope Robin had a good race, too.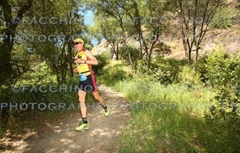 Running down the narrow single-track, it is completely beautiful. Everything is deep green and cool despite the hot sun. I'm taking it easy to see how the Achilles goes. But I'm quickly noticing how good my body feels. Like it's really hydrated and the muscles are more fluid. Thank you, Lord, for again surprising me. I was only concerned with my ankle and didn't think about how much better running could be when the whole body feels good. I continue drinking, 2 cups at each aid station, as much as I can get down. Extra fluids are working well this race.
It's still hard work so I look forward to seeing my friends and teammates at the Murphy's Gate aid station at mile 3. It'll be such a boost. Now I see the leader running back... It's the young guy that cut the course. Jesse is near behind him. It looks like I'm still about 6th place. Now I see little Othniel Marshall. He's running with me to the aid station where his mom, Charity, our teammate, is working. Yay! It's a great welcome. They give me sunscreen, cold water, and a lot of encouragement.
I head back with new motivation. But whenever I think I can push the pace, I start to feel my ankle and I sense God telling me to just be content and trust Him. It feels like it is on the verge of failing but yet isn't. I start complaining why my ankle can't just be better. I feel God saying that it is there to remind me to trust Him. It finally sinks in and I decide to focus on God every time I feel it. I recite Ps 23, "The Lord is my shepherd, I shall not be in want..".
At the bottom of the course, I psych up for the killer hill. Fortunately there is an aid station where I fuel up. I push the hill until it's too steep and walk. I didn't want to walk but it is God's plan. I actually make good time. Usually it is hard to start running again but by walking as fast as I can, it actually is a relief to run again at the top.
Thank you, Lord, I'm feeling great! Instead of melting in the heat, I feel optimistic. I see 5th place coming back and set to try catching him in the next 5 miles. The greatest thing I get to look towards now is the FCA Endurance aid station at the top of the hill! My church and family will be there and it'll be a huge help! I see them way up ahead and they start cheering. It makes the hill go by quickly. I'm so glad to see Robin for the first time since the race start.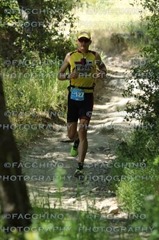 On the canal trail, I'm able to pick up the pace. It is such a great feeling to be able to increase, instead of decrease, the effort towards the end of a race. I may be able to catch him. Even right at the end. It could be for 1st place in my age. All I know is to give it my best.
I see our friends and neighbor's, Kayden and Mason out biking. I also see other runners we work out with. Hometown races are great! Through the finish line transition area, my friend Troy O. sprints over to high-5 me and encourage me for my final lap.
I push the trails as fast as my ankle will allow and keep looking ahead for the runner in gray I saw miles ago. Down to the bottom and now I look up the long hill to my favorite aid station. I push it faster than ever, still not seeing the runner but thinking he must be close. My family and church cheer me on and I feel great. This has been such a surprising race, thanks to the Lord. I imagined a lot of walking and pain but instead I'm on the hunt, giving God my best effort.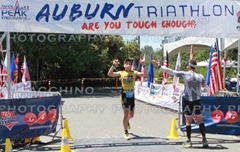 I never do see the guy in gray but I finish with nothing left and couldn't be happier! I hydrated well and my head feels clear. The ankle did make me rely on God and that led to a lot of joy. 1:48:02 for the run. 5:41:49 total. 2nd place in my age.
Other details: Amazingly, Jesse not only passed the young guy, but apparently lapped him on his way to victory, even after being lost in the Meadow Vista area. And the young guy didn't purposely cut out the out-n-back, but was directed the wrong way. The Placer Hills intersection directed a lot of athletes in both races the wrong way. That was all very unfortunate because we love this race and it's future depends on athletes having a great race and coming back. We pray that they do.