5/21/17 – Auburn, CA

1.5km S – 40km B – 10km R

2:58:05 (28:51 – 1:49 - 1:14:38 – 1:40 - 46:39)

1st Place, 40-44 (10th Female OA)

Teammates:

Int'l – Clyde Floyd (FCA), Dave Campbell, Dave Leroy, Steve Chavez

Sprint – Anna Soares, Elizabeth Katsura
Anna and I get up early and head out to Shadow Cliffs Park in Pleasanton. My college roomie Liesbeth and her husband Kevin hosted us the night before. They live just 10 miles away. Troy and Ariel have stayed home this trip to volunteer at our local downtown bike race in Auburn. It's hard not having their support. I am praying for everything to go smoothly…and, more importantly, to trust the Lord and not stress out.
There is a long line of cars already waiting when we arrive. After 20 minutes and almost to the gate, I send Anna on foot to pick up our registration packets.
We still have over an hour until the race start… but it seems like time flies getting us both ready. On our way to transition, Anna's chain falls off into the wheel. We get it back on and I tell her to keep the back gear away from the wheel.
We find familiar faces racing: Clyde Floyd (FCA Teammate), Denise (his wife, support crew), Dave Campbell, Dave Leroy and Elizabeth Katsura (Tuesday Track friend). Dave Faser (FCA teammate) and Francie Campbell are volunteering. Anna & I will also volunteer after our races.
Anna's wetsuit was difficult to get off at the Auburn Tri so we spend a good 20 min lubing up her legs and arms in hopes that she can get it off quickly and easily this time.
Anna's race starts first. We get to the beach and find out they are delaying the race by 10 minutes to help those who were stuck in traffic. We take the time to pray for each other. So great to be sharing all this with her!
Finally, it's time and I tell Anna to line up in the water with the other orange caps. The Challenged Athletes go first so I figure Anna has more time. I turn around and look back and see her wave take off! I hope she got herself in a good spot! I pray for her.
I don't have much time but I want to read my Bible. I could have woken up earlier but opted to try to squeeze it in…wish I hadn't! Anna got up and read her Bible while I got ready to go…so great to see her pursuing the Lord on her own! We also listened to worship music on the way to the park but I want to let God know He's most important. I read Romans 1. Romans 1:16 jumps out at me…
"For I am not ashamed of the gospel, because it is the power of God that brings salvation to everyone who believes: first to the Jew, then to the Gentile."
It gives me the confidence to stand tall in my FCA jersey and race for HIm. It doesn't matter what others think, it only matters what He thinks!
I see Clyde and we pray. Clyde has been having some vertigo type issues so we pray that it doesn't creep in today and sideline him! I pray for Anna and peace for her being out there alone.
Time to get in the water! The men and women in various age ranges are starting together. Makes me nervous swimming with guys in tight quarters like this because it increases the chances of getting hit and swam over. I don't have much time to figure out the best position so I just try to be near the front left in hopes I'll have a draft.
SWIM
Ready, set, go! The washing machine starts and I am immediately regretting my position. Someone's going to swim over me any second! The water is also very warm. It makes me feel constricted in my wetsuit. I feel myself panic so I pray. Lord, just help me be calm and get through this! My prayer is answered quickly and the waters ahead open up and I can actually swim without looking up often. Thank you Lord!
I make it to the first buoy with no problem. Feeling hot! I grab on the collar of my wetsuit to let some cool water in. I feel strong and my mind is clear this time around. Thank you Lord! I see a couple of orange caps go by from the waves behind. It motivates me to push harder!
I get around the last buoy and head for shore. Another orange cap goes by and it looks like Dave Campbell. I jump on the feet and hang on for a few minutes. It's just enough to propel me to the end!
I exit the water, pull off to the side and rip off my wetsuit. It peels off easily…hopefully also the case for Anna!
BIKE
My transition is quite slow. I take time to put on socks and bike shoes. I didn't spend much time planning out my race, but it was very good sacrfice for Anna! It's a bit crazy heading out. Bikes are coming in and going out from the same spot.
I'm out on the road and into a nice groove! It's a bit chilly but the sun is shining. I have no idea where the course goes (more poor planning.. and risky). I hope it's not the big loop I did years ago because that felt really long. To my delight I can see we are heading in an entirely different direction…yeah!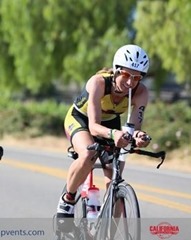 We turn on another street and cross Hwy 580. The course heads up what seems to be a farm road that cuts through the hills. I'm liking this! The top guys are flying back so it's an out and back…yes…it's like a Christmas surprise! I see several girls flying back too. This course isn't punishing me which is nice. It's a gradual climb and I can still move fast and stay aero!
I see a familiar jersey fly by. It's Dana Ginsburg from Reno. She's 52, 9 yrs older, and fast! I don't know her but I do remember her creaming me at the Auburn Tri this year and in years past. Wow, gives me hope for my future in the sport…it's definently not over at 50!
I make the turn and head back. Now I get to fly!
I get back to the first turn off and continue back on the remainder of the sprint course. I'm passing a guy and, just as I get ahead of him, he picks it up and stays even with my back wheel. He is now drafting me and blocking me from moving over which is breaking the rules. "One of us has to back off… I will if you don't" and I start to slow down. He says "no, go!". So he backs down. I pick it up more to avoid any more contact.
There is a short hill which is quick. I'm flying down once I get to the other side….weeee!
It's not long before I'm heading back towards transition. I can see lots of runners heading out on the first mile of the run. As I turn in, I am able to pull my feet out of the shoes and leave them on the pedals. Thank you Lord that I didn't loose one!
RUN
As I rack my bike I hear "hey mom!". I look up and it's Anna smiling at me on the other side of the fence. I feel joy and relief seeing her. Thank you Jesus! I smile and say "great to see you!". I get my bike gear off and run gear on.
I run out and get to ask Anna how her race went. She says Jesus helped her and she'll tell me more later. She's smiling so I'm sure it's nothing too scary…phew! I see Carrie Chavez and her daughter Madison cheering. I also see Denise Floyd. Great way to start things out especially since I'm not feeling pumped up to run hard. Just need to get through this first mile! I hit the trail. A guy in a Wadi Ink jersey passes me. He's running a good pace so I try to stay near him. We run through a cool pump track for bikes… nobody riding at the moment. I grab water at the aid station. I'm going to drink water at every oportunity…it's the Soares new MO. As I exit the gate I try to run past a guy and find a place to drop my cup. A girl is coming up fast and I try to hustle but I'm in her way. "watch out!" …oops! She's flying!
MIle 1 is 7:38. Okay, good start! Feeling better and more motivated. This is a two loop course so I hope it goes by fast!
I run up a short, steep hill (ouch, that hurts) before a short flat trail to a turn-around. I can see Dana heading back and the flying girl as I crest the top of the hill. They look strong!
Mile 2 is 7:22. Better! At the aid station I grab more water. A guy flys by. This must be one of the top guys finishing. Wow, he's 3 mile ahead of me!
Another guy finishing up his second loop goes by. A dog off lease chases after him. I joke to him "you have a pacer". It's funny for a moment.. until the dog jumps on him as he's going sub 6 min pace! I yell "go home!" and the dog doesn't even flinch. The dog stops and looks at me now…"go home!", I shout again and he doesn't care. I hope the owner gets this under control for the sake of the other athletes!
Mile 3 is 7:14. Great! I run past the finish chute…torture! I'm feeling pretty good overall so I ignore my mind's plea to stop.
Mile 4 is 7:21. Still hanging in! I make it to the bike park.
Up the big hill once again. As I crest it, I see I'm very close to Dana now. I think I can catch her. It's just the motivation I need to move!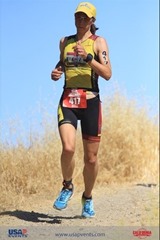 Mile 5 is 7:28. I fly down the hill and pass Dana on the way. I tell her good job. I've got to make the pass count so I push harder.
I pass the same spot with the dog and he's still off lease and chasing some of the runners…Oh brother!
So close now! I see a girl with a 42 on her leg. I dig deeper and pass her.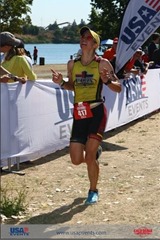 Mile 6 is 7:12. Almost to the chute. I see another gal with a 40 on her leg. I push and am able pass her too. Through the chute I go! I look up to God and point to him as I cross. Whew! Thank you Lord!
As I grab my medal and a water I hear "and in first place Anna Soares"! Wow, awesome! I see her on the podium and I race over to give her a smile and a hug once she steps down. I hope someone got her picture. Sure enough, Elizabeth's husband Randy has taken care of it. He also snaps a picture of the two of us.
Thank you Lord for answering so many prayers!!