| | |
| --- | --- |
| | 6/11/17 – Boulder, CO |
| | 2.4m S – 112m B – 26.2m R |
| | 12:21:00 (1:09:39 – 8:11 – 5:59:40 – 7:02 – 4:56:28) |
| | 24th/116 (45-49 age group) |
| Teammates: | FCA – Jason ?, Chris Faulkner, Frank Cherne, Keith ?, Noah Barajas, Rich Kiser |
It is slightly terrifying coming into this race. Instead of redeaming my poor run from last Ironman Tahoe by being well trained, I'm actually less trained. And I have a left foot / achilles injury as well. It's been a busy year with my Dad needing a lot of help but I've been glad to do it. So I know this is going to hurt, but my goal is to trust the Lord completely this time. At Tahoe, when things got bad, I didn't trust God that they could get better. Instead giving in to the thought of not finishing. But the Lord did show me how amazing He is and turned things around bringing me back to a good finish. So this time, if everything is falling apart, I must remember His faithfulness and know "It can get better, He can get me to the finish".
It's the pain and steady discomfort of the run that scares me. But the bright side is that is what makes me rely on the Lord.
We're in Boulder and very familiar with the plan from last year's experience with Robin's race. Robin & I both dehydrated in our last Ironmans so we are both determined not to let that happen again.
I swim and bike and they feel fine. But everytime I run my foot hurts. One of our prayers asked the Lord to give me something that would give me comfort going into the race. On Friday, the family took me out to the hottest, most difficult part of the run. The girls biked and Robin ran with me. If I can have a good run in the worst section, it will encourage me during the race. 3/4 of a mile and the foot still hurts. I stop and pray and head back. It feels great! I'm listening to "Lord, I need you now" on my iPod and feeling wonderful finally striding out for the first time in weeks. This new peace about the race is an answer to prayers. Thank you, Lord.
Iron Prayer
Race leadership was very helpful promoting our FCA Endurance prayer time. It was really special hearing from Matt Smith and Pastor John.. our identify is in Christ. Met some great people. Even some volunteers came over and joined us.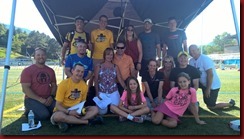 Night Before
I prepare my fluids and nutrition and we all go to bed. Robin and the girls have a secret place to park tomorrow which will give them maximum viewing of my race for much of the day. Ready to go!
Race Morning
I catch the shuttle in the dark and start listening to the 4 worship songs I picked out on my phone. I mention it to the guy sittng with me but he doesn't seem interested so I keep it quiet. Every since hearing Joey Montoya's Iron Prayer testimony about the Lord putting worship songs in his ears during his ultra-running, I want to have some songs in my head. I've written some words to these songs so I can remember them during the run: Lord, I Need You (Matt Maher), Your Love Never Fails (Jesus Culture), It's Not Over Yet (King & Country), Hard Love (NeedToBreathe), and The Cure (Unspoken). They have some great lyrics to keep an ironman going!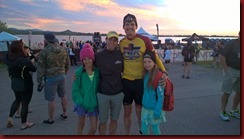 It's beautiful at the lake. Although it's been about 90 deg all week, it has now cooled off and I'm actually cold without my sweat pants. I finish preparing my bags, bike bottles and try to run a little to warm up. The foot still hurts. I'm still optimistic thanks to that short run of peace on Friday! Robin and the girls show up and give me a towel to stay warm and provide lots of support. I stand in the chute near them during the national anthem, we pray and then I also get to pray with some FCA Endurance teammates that happen to be near me. Jason, Noah, and Rich! Thanks, Lord.
Swim
69 deg water is so welcoming, I can't wait to start swimming. I want to remember to be mindful of others out there. It's the start of everyone's biggest day! The water is perfect, the course is easy to follow, but finding a draft is not working well. I'm about 10 min back from the lead and mixed in with all abilities. I remain calm, conserve energy by not using my legs much and try to imagine myself moving fast through the water. At the first turn, the buoy is orange so I think maybe this is 1/2 way, but it's only been 23min, so I realize it's a long way to go. Finally the yellow buoys change completely to orange and I'm at 34 min! That's better than the 1:15 pace I was expecting. My fingers are starting to get numb, not from cold, but just a lot of use I guess. I start clocking the big buoys, they're exactly 2min apart for me. I think there's 10 more so 20 min.. I can do that!
I'm so glad to see the finish line. I try to push a little but also want to conserve. I come out in 1:09, a little dizzy, and very happy.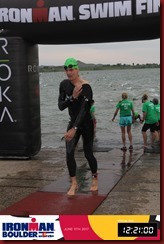 T1
Wetsuit strippers get my suit off. I take my bag to changing tent and the volunteer is really helpful. I'm almost dressed when I realize I left my swim Speedo on under my bike shorts. What's a couple more minutes. Finally out, suncscreen applied, and to the racks. I put my socks on after I get to my bike. Everything is going great. My arm warmers will be just enough warmth until the sun gets hotter.
Bike
On Friday this bike section felt so easy. Today the rollers feel harder. I start drinking right from the beginning. 3 weeks ago, at the Auburn Triathlon, I drank a lot more on the bike and it really made a difference for the run. Another confidence builder for this race. At least a large bottle each hour. The course seems all flat and should be easy but I'm only going 12-14 mph. It's a serious "false-flat" oh, well, it should get easier.
Mile 10. My stomach is feeling nauseous. I pray about it and try to remain very relaxed. I also try to stretch my hamstrings on some descents. Hitting 38mph and feeling like the wind, I'm suddenly surprised to see a guy go by like I'm standing still. It's Pro Tim O'Donnel, #2, and he's already lapped me on a 35 mi loop! Impressive.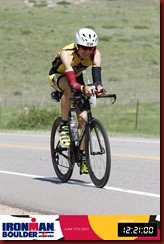 My first look at the Nelson Rd climb. I settle in calmly and am surprised how soon the top is. The problem is that it's not the top. It looks flat but it keeps climbing a little until the highway. My stomach feels fine now. Thank you, Lord. I've already peed twice and still putting the food and drinks down.
Now on the dangerous highway. It's narrow and I remember about the woman last year that moved to far into traffic and was hit by a truck, and killed. It was so sad. Hopefully everyone is aware of that and being careful. Back into the countryside with a tailwind and nothing could be better! Sailing along, it's so wonderful. But eventually I'm back to just barely getting along and eating a Lara Bar.
My friend and TeamMate, Rich Kiser, comes by and asks me if I'm alright. "Yes! Great to see you." I just want to keep about 19.5 mph pace, but it's nice to see Rich in the distance and have something to go after if I get the chance. On my handlebars I have James 1:2-3 "Consider it pure joy.." and James 1:17 "Every good and perfect gift.." I want to remember that the pain & discomfort can be used to build my faith and maturity.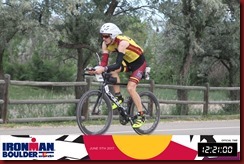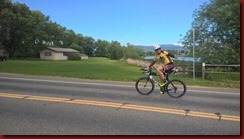 Mile 32. Ah, the best part, seeing my family! Ariel yells to me to sing, "I Need You Lord" and Anna has a great poster to encourage me and Robin asks how I'm doing. "Stomach feels better!"
I come through the "hot corner" at the resevoir and Mike Riley is annoucing and there's a lot of spectators. This is a great course change they made. The rollers starting out the 2nd loop feel even harder and I really have to push. Back to the long false flat of the highway. But I know the descents are awesome. I'm still drinking, and as a result peeing every 15mi. It's a little difficult finding the right place but it always goes well and I don't really lose time. Other pros go flying by and it's great watching their ability. My hamstrings are really getting sore and this can spell disaster for the run.
Mile 47. I see Robin and the girls. I ask for prayer for my left hamstring. I don't want to but I take time to stretch on some descents. I try to use the point of my saddle as a trigger ball into my glute and hamstring attachment. Back up Nelson grade. This time I know what to expect. Onto the highway and again down into the countryside.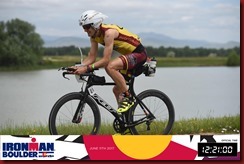 I discover now an old bike position I had used.. way up on the nose of saddle. I can really keep up the cadence and it doesn't hurt the hamstrings at all. It's not a comfortable perch but "trials of every kind" can help develop my faith and maturity. I keep it up and soon pass Rich, and we exchange encouragements.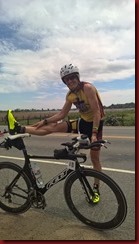 Mile 67. I stop at Robin and the girls to really stretch my hamstrings and lube up. Anna tells everyone, "Don't touch him" so there's no charge of penalties. It's great being near them. We all cheer Rich as he goes by. And I take off soon after him. I pick up my needs bag, load up on bottles and go.
Coming through the hot corner is great again, but those rollers, man, they're getting hard. I'm in the small chainring! Up the long highway.. but now I look forward to using my new position on the descents. 18.6 mph, I need to get back up to 19+. I fly down and stay perched forward. Hamstrings doing well and making good time.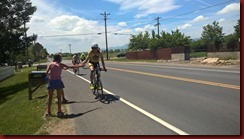 Mile 83. Another big cheer to my family. They remind me about more worship songs. My last time up Nelson Grade. It's getting tough, I'm going slow. But I look forward to that tailwind.
Mile 92. Ah! the long downhill with a tailwind and my last lap! I just keep motoring. I pass Rich again and my speed is slowly going up.
Mile 103. Robin and the girls are along a lake. They take pictures. And now it won't be long till I'm done.. but I've got to take care of the hamstrings. Through the hot corner, the announcers are gone and many of the people because the pros are already on the marathon. Along the bike path and towards town. I'm moving really good. But 112 goes by and not there yet! I guess people were right saying the course was long. At 113.3, I'm done! Very happy with the ride. 5:58.
T2
I hobble along for the long transition path. It's getting hot, especially on the black running track. Again the volunteer in the tent is so helpful. I get everything on, loaded up with nutrition and fluids this time. And I grab 2 cups at the start. Sunscreen, porta potty, and now the run..
Run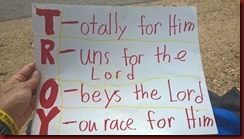 I'm really slow from the start. Hamstrings are tight. Crowds are great, yelling my name every time they see my bib. I set my watch for 9min pace but quickly realize I'm no where near that. I set it for 10min which is better, but each mile I need to stretch for about 30secs. I drink 2 cups, plus my Sustained Energy. I finish my Heed and then use the bottle to collect more water at the aid stations. I've peed about 11 times today and even though I don't like drinking at times, I keep making myself do it.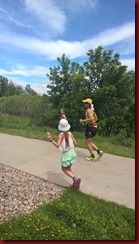 Mile 5. My family! They have lots of encouragements. I'm already singing "Lord, I need you now" sometimes. I can't remember the others and I keep waiting for more strength in order to pull out my card with lyrics.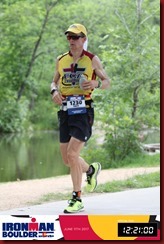 For now I just want to get to the next aid station. Running out to the hottest section I'm so glad I had that wonderful experience 2 days ago! I'm singing the same song in my head that I heard at that moment. I see a hundred signs made by spectators and I look for Anna and Ariels but can't find them this time. After the turn-around, I'm really struggling and wondering how I'm going to keep this up for 3 more hours.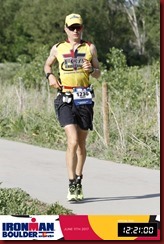 I see Rich Kiser coming from behind looking strong. "Good Job, Rich". I also see another teammate Keith farther back. I keep doing the math in my head, if I can average 10 min pace I can break 12 hrs with time to spare. But each mile that "time to spare" diminshes.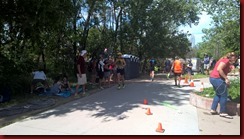 Mile 8.4. I see Kat D'Angelo and Dan Miller cheering for me. I'm glad to be in the shade of the creek trail. So many spectators cheering greatly. But the climb is adding to my pace. I pass the High School onto uncharted territory, the steep climb. It's tough. The achilles is threatening to go. It reminds me to rely on the Lord. I'm glad that this time I've been saying things like, "I've gone this far, I can keep going" and "I think I feel better than when I started". I'm staying optimistic and not about to give up although I'd love to stop.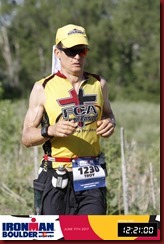 Mile 12. At the top! I stop and bent-leg stretch the hamstrings (something I learned on a training run). Rich is very close behind me. But I can say ahead on the downhill I'm sure. I grab more sustained energy at my needs bag.. but it doesn't taste good. I keep forcing it down but the sports drink has turned! Yuck. Soon I toss it. I make it all the way to the "Y" and use the porta potty again.
Mile 15. I stop by Robin and the girls and stretch. They say, "Here comes your Teammate, stay with him" I think it's Rich but it's Keith. Rich must've passed me during my break. I don't want to but I know this will help, I team up with Keith. He says he's stopping to walk soon (which sounds so good) but I encouarge him and soon we're pushing each other. I pray that the Lord will make the turn-around come sooner. And sure enough, after a while, I'm shocked that we're already there. Thank you, Lord.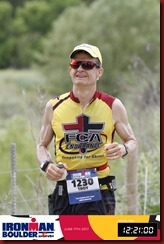 Mile 16.5. I'm planning to lay down at 17 or 18 when I see Robin so she can pray for me like Caryn Galekas did at Tahoe before my legs started feeling better. I'm feeling an aductor strain coming on like a cramp. Keith tells me to use the BASE Salt on the course. I guy at Iron Prayer Friday told me how to use it.
Mile 18. Now I see my family and tell Keith to continue on. I lay down and try to shake my legs out. Thank you, Robin, for praying for me. Prayer is "allowed assistance"

I continue on. No BASE salt, just pretzels so I suck on those for a couple miles. I get the BASE Salt. "Take a lick every mile" I'm glad they were here.
Mile 20. Robin and the girls are here, too! They say I'm catching Keith, go get him! I try to pick it up. This is it, one long climb and then downhill to the finish. I'm singing "Oh, how I need you, Lord. My one defense, my righteouse, oh how I need you now" He's really answering prayers. I'm still going strong. I catch Keith. We run together. We do better together. I tell him it's only a 24mi race because the last part is downhill.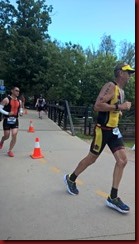 Mile 23.5. Near the High School I see another FCA Endurance Teammate, Jason, making the final turn for the finish line. Keith now pulls ahead. It's getting steep and my foot is barely holding together. But I can catch him on the downhill. However, the hill is slowing him down, too, and I pass him before the top. I encourage Rich as he goes flying back. I make the turn, cheer on Keith and then turn it on. My foot holds up. I'm flying. Feeling like that Friday in the hot section! Thank you, Lord. I'm going to be done. I'm gong to make it. I never quit running like last time. It's been a great success. I missed 12 hrs but that was just an estimate.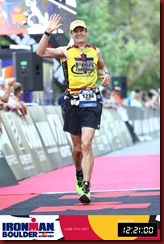 Now I'm finishing and it is a wonderful feeling. The Lord is faithful!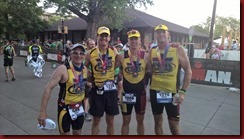 Jason, Rich, myself, and then Keith are all here. We get some pictures and then I get to do what I've been longing for most of the day.. "Lie down in green pastures" Robn and the girls take care of me and I smile as I stare up into the green trees, completely at peace.