| | |
| --- | --- |
| Date/Location: | July 4, 2017 – Coronado, Ca |
| Distances: | 12km |
| Time: | 53:37 PR for 12K Course (2016, 53:55) |
| Place: | 3rd (55 o/a) |
| Others: | Troy Soares (FCA), Anna Soares (FCA), Ariel Soares (FCA), Detrik, Anika, Jan Heidt, Dan Cadriel |
Love this tradition of coming to this race every year…though it's hard to wake up super early and battle traffic. God blessed this morning by providing a parking spot close to the start! Unbelievable!We meet up with Grammie, Anika, Detrik and Matt. After a warm-up and stretch, Troy and I head over to the start of the 12K. It's already a full corral so we have to weave our way from the back all the way to the start. The race director does his traditional cheesy "speech" from the movie Independence Day…love it!
(SPEECH)
Troy and I pray and it's time to go!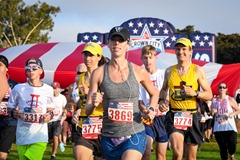 Ok, time to go! Ready, set go! As we cross the line, we all run under a huge American flag. I feel pretty good as I start out. Troy looks good, too, as I watch him pull away. This run used to be a 15K and I'm kind of relieved it's not as long. It's also nice it's flat. But, the downside is that the scenery, thougth pretty, gets mundane after a while. Mile 1 is 7:05. Happy with that! I see a few girls ahead of me and I try to keep them close. I feel suprisingly good but when I see the 5K turn around, I long to be able to turn there. It's so nice here along the golf course! Mile 2 is 7:05. Suprised that I continue to feel strong. I've caught one of the girls. Mile 3 is 7:12. Still feel good. I've caught another girl but two fast girls that look like college standouts just float by…talking like it's nothing. I see the top runners coming back. The top girl looks older than myself. I'm so impressed! I should see Troy soon!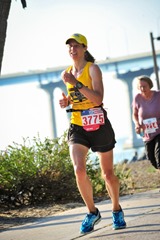 Just before I head over to a dirt trail and off the bike path, I see Troy. I am able to give him a high 5. That's a boost!Soon I'm turning back on the bike path and heading back to the start! Yeah!Mile 4 is 6:58. Sweet! Starting to feel the fatigue set in. I tell myself to hang in there.Mile 5 is 7:14. Ouch. Gotta keep my brain in the game!Mile 6 is 7:04. So close now! I'm looking for Grammie, Ariel and Anika finishing up the 5K….they must be done already! I feel my energy holding…thank You Lord! We can do this!Mile 7 is 7:09. I pass a girl as I head for the bridge! Just a little farther!I run under the bridge and can hear the announcer at the finish! Soon I see Grammie! Yeah! I pass her and tell her good job! As I hit the finish chute, I can hear the whole family cheering! What a blast! I tell them Grammie is coming.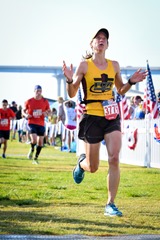 I'm done! Thank you Lord for making it go so well. I actually ran a few seconds faster than last year! Sweet! Now it's time for family and fireworks!