Date/Location:

July 4, 2017 – Coronado, Ca

Distances:

5km

Time:

Anna 24:29 PR! (2016 -26:00)

Ariel 30:18 PR! (2016 -33:45)

Place:

Anna 4th (56 Total), 1- 14 Girls

Ariel 14th (56 Total), 1- 14 Girls

Others:

Robin Soares (FCA), Troy Soares (FCA); Detrik, Anika, Jan Heidt, Dan Cadriel
Anna's Story – Crown City
321 Go! Me and Detrick ran through the start line and ran under a big flag. I touch the flag all the way through. We ran together and Detrik ran ahead then I caught him then he did it again. After the first mile, he stopped doing it. We ran through an aid station and got water. Detrik got Gatorade as well. We kept running and we started to see runners running back. We turned around and started running back. I started to say good job to everyone we went by. Detrik says I'll lose my breath if I keep doing that, but I continue anyways. Detrik sees Anika and Ariel up ahead running together on the other side. I see my Grammie also a little bit behind them. There is a little girl running next to me. She is running fast so I pick it up and run with her. But then I slow down so I can run with Detrik. We run and I keep telling him that we are almost there. We run through the finish line together. It was fun!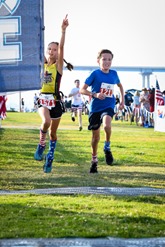 Ariel's Story – Crown City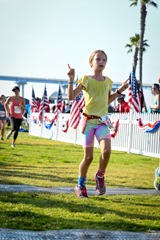 10, 9, 8,…,3, 2, 1, go! Anika and I run across the starting and under a huge American flag. We get on the path. I tell Anika we are in front of the 30 min pacer guy. It's not long until we get to the first mile marker. There is an aid station. We keep running and looking for the turn around. We see Detrik and Anna. We say good and job. I tell Anika we must be close to the turn around. We turn a corner and it's not there! We go around another corner and Anika says "there it is!".
We turn around and the 30 minute pacer passes us. As we get back to the path, I can hardly see him. Anika says she's not feeling well and that I should go ahead. I start trying to pick it up to catch him. I am getting closer to the finish. I see the pacer finish but I'm close. I finish 15 sec back. This is a new record for me. Thanking God!