Date/Location:
July 4, 2018 – Coronado, Ca
Distances:
12km
Time:
53:17 PR for 12K Course (2017, 53:37)
Place:
3rd/54
Others:
5K: Anna & Ariel Soares; Cousins; Jan Heidt;
12K: Dan Cadriel, Troy Soares, Sierra Snyder
Keeping the tradition alive, we are back at the 4th of July races on Coronado! We've been coming here since 2011!
We get to the start and actually find a parking spot up close! We pick up our packets and get warmed up. It's humid!
We have some FCA teammates racing today: Sierra Snyder and Dan Cadriel. Great to see them again!
Heading over to the start and wondering where our cousins are at. They're racing the 5K with Anna, Ariel and Grammie. Fortunately the 5K doesn't start for another 10 minutes. We pray with Anna, Ariel and Grammie and then head off.
As Troy and I are about to start the 12K, we see the cousins! Just in time!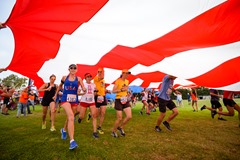 Ready, set go! We take off under the American flag. I have to duck a bit as I run under…volunteers are holding it tight so it's pushing down. I hope to run the same pace as last year about 7:11 pace. It's a bit of a long shot since I haven't been training as hard this summer. Last year I was getting ready to do the last Ironman Coeur d'Alene.
Dan, Sierra and Troy pull away. I'm feeling good so far. I forgot to bring Clif Bloks for energy so hoping just a lot of water will be enough.
Mile 1 is 7:19. I can see a young girl around Anna's age ahead of me. I'm surprised and impressed! There are some other ladies ahead of me that I'll try to pass later on.
Mile 2 is a 7:11 average. Wow, I'm surprised that I'm at pace. I still feel good. Thanks God!
Heading out to "the Strand". Here a bunch of families are setting up to watch the fire works. They get here early to get the best spots. I'm catching up to that young girl and some other gals. I grab some water and try to drink the whole cup.
Mile 3 is a 7:14 average. A bit slower but still close!
I start to see the top runners coming back. I wonder where Troy, Sierra and Dan are at. The first guys look so fast and strong. The first woman looks like a pro and she's way ahead of the next girls. Soon I see Sierra. She's way up there too! I tell her good job! A few minutes later there's Troy! I give him a high five and tell him good job. Close behind is Dan. I cheer him on too.
I make it to the turn around finally and head back.
Mile 4 is a 7:12! Yeah!
I pass that young girl and tell her good job. I also manage to pass a few more ladies. I'm tired but not loosing energy. Thank you Lord!
MIle 5 is a 7:13 average. I grab some water for the last time. Energy is good. Thank you Lord for sustaining me!
Mile 6 is a 7:13 again! Keep going! I can see the Coronado bridge so I know I'm close. I'm actually able to pick up the pace! I continue to have energy!
Mile 7 is a 7:11! Wow, thank you Jesus! This is a gift to keep this pace! Just less than a half mile to go! I pass my Mom doing the 5k and cheer her on!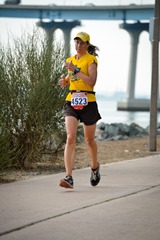 Almost to the finish! I round the corner and start heading in! Suddenly a woman sprints by. I try to pick it up but I'm maxed out. I push hard all the way through as I see my family cheering. Done! Thank you Lord!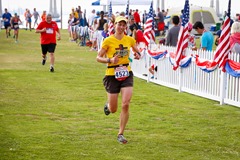 I shake the hand of the girl that passed me and tell her good job. I wait for my Mom and congratulate her as she crosses the line. Good day!