Date/Location:
July 4, 2018 – Coronado, Ca (Racing here since 2014)
Distances:
5km
Time:
24:18 PR! (2017- 24:29)
Place:
7th (72 Total), 1- 14 Girls
Others:
5K: Cousins & Jan Heidt;
12K: Dan Cadriel, Robin & Troy Soares, Sierra Snyder
3, 2, 1 and the announcer starts us off. My cousin Detrik and I start running. We run underneath an America Flag on the way out. We start off good but we slow down a bit because of all the people in front of us. On the way out, I run under a huge bridge that connects Coronado and San Diego. I start running around the golf course. Detrik and I are running strong. We pass runners and stay on a good pace. I enjoy the view around me and feel great running. I see an aid station up ahead and can't wait to get there. Once we get to the aid station I get water and drink half a cup. The other half I pour on my head. I can now see runners coming back. After the fast runners have passed, I see kids coming back. After watching the kids for a while, I hear Detrik yell hi to some friends. I then see the turnaround up ahead. As we reach it, I turn around and start looking for family members behind me. First, I see my crazy fast sister Ariel. I cheer her on. I than later see my other cousin, Anika, and cheer her and her cousin Layne on. I again see the aid station up ahead. I grab water like before. As I'm running, I can see the bridge in the distance. Then someone calls my name. I turn and see my Grammie. I cheer her on. I then tell Detrik that we should start to pick up the pace because the finish line is coming soon. We start to pick it up but have to slow down again. Once we reach the bridge, I am very excited.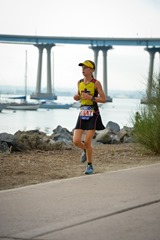 I want to speed up but more than that I want to finish with Detrik. I cheer on Detrik and get ready to sprint in because we're almost there. We turn the corner and sprint in. We finish together and barely beat our previous time.
Praise the Lord for He is good! His love endures forever!