Date/Location:
July 4, 2018 – Coronado, Ca (Racing here since 2015)
Distances:
5 km
Time:
29:09 PR! (2017 - 30:18)
Place:
18th (72 Total), 1- 14 Girls
Others:
5K: Cousins & Jan Heidt;
12K: Dan Cadriel, Robin & Troy Soares, Sierra Snyder
The Race director says 5, 4, 3, 2, and 1, Go!!! I run under the American Flag. I hit the sidewalk. Next to me is a stroller with a little girl inside. I hear her say "Go Daddy! Go Daddy!" We go under a bridge and then I can't catch up with them. They start to get farther and farther away. It's a very narrow path and there's a lot of people running or walking so it's hard to pass people.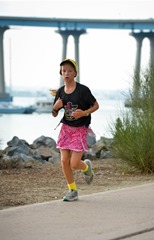 Finally, we get to the road. There's a boy behind me. He and his dad are trying to catch me. Oh good, there's an aid station. I get a drink of water and then off I go running again. There's the 1
st
mile sign. I see Anna and Detrik. I run fast so the boy won't catch me but he catches up to me and passes me. I stop to tie my shoe then start running again. I keep my eye out for Anika and her cousin. Then I see them. I yell to them but they can't hear me. I see the 2
nd
mile sign. I see Grammie. I wave and she waves back. I'm back to the aid station. Finally, I get back on to the very narrow path and there's some people. Back under the bridge. I pick it up and sprint into the finish line. Done!