| | |
| --- | --- |
| | 8/27/17 – Coeur d'Alene, Idaho |
| | 2.4m S – 112m B – 26.2m R |
| | 11:46:51 (1:08:38- 6:52 - 6:21:53 – 6:59 - 4:02:29) |
| | 6th/38 (40-44 age group) |
| Teammates: | FCA – Mike Plummer, Ryan Sousley; Faron Reed, Shelby Knutson |
This is our 5th trip to CDA for the Ironman. I did the race in 2004, 2007 and 2015. Troy did the race in 2005 when I was pregnant with Anna. It's a special race and place for us. Besides the race itself, special friends like Tod & Patty Hornby also make it great. They hosted us in 2005 and have supported the FCA Iron Prayer services. We got to have dinner with Tod a few nights ago. That was fun! This trip has been nice because Troy and I have had a lot of time alone. I miss the girls and they are seasoned Iron Spectators but it's nice to get around a bit quicker.
The race starts at 6am so Troy and I get up at 4am. I spend time in the Bible and read Romans 15-16. The title to Romans 15 is "Pleasing Others and Not Ourselves".
Troy has made me some sweet potatoes and has cut up some avocado. It's easy to eat and yummy too! I grab my special needs bags, one for the bike and one for the run. These are the items I need for mile 60 on the bike and mile 9 or 17 on the run. We head off to the start. I jog the mile there while Troy follows on his bike. I get there right at 5am.
I add water bottles and food to the bike. Then I add more stuff in my 2 gear bags. This is the gear I'll need for the bike and the run.
I run into Catherine from the Iron Prayer and I pray for her day. She hopes to make the cut offs (time limits) for the bike and run. I meet up with Troy and we run into Kym from the Hoka booth. We met her at Iron Prayer. We pray with her and her boyfriend Jeremy.
Troy and I find a quiet spot to put on the wetsuit and get lubed up. We have a moment to pray. Oh my, less than 10 min! I give him a hug and kiss. It takes longer than expected to get on the beach. I get there with 5 min to spare and just in time for the national anthem. I feel a tap on my shoulder and there's Faron Reed. He's an tri friend that goes way back. He's doing his 45th Ironman today!! He's one of the fastest in his age group. I will most likely see him on the podium!
SWIM
The cannon goes off and the 60-min-or-less swimmers funnel into the water. A few minutes later my group, 1-to-1:15, get in the water.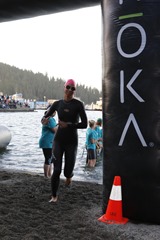 I get in and get going. The water feels comfortable and I don't feel too crowded. It takes a few minutes to get into a rhythm. Once I start getting relaxed, I get squeezed between a couple of guys. I try to move more right to get away from the buoys but I'm stuck swimming along the buoys for now.
The water is shallow for awhile but then it gets super deep. My mind starts to think "what happens if you get knocked out? Will anyone see you? Will anyone help me? You can sink to the bottom and no one would know it." I pray for the Lord to remove these thoughts and keep me pressing on.
Once I get past the two turn buoys of the rectangle course, I feel good and make good progress back to shore. Thank you, Lord! It's a two loop course so I have to run along the beach and jump back in. As I make my way out, Mike Reilly, the voice of Ironman, calls out my name. I wave hoping Troy and other friends might see me. I start to stumble as I reach the water so I turn it into a dive…that works!
I'm dreading the deep water again so I start thinking of worship songs and pray. I am aware that there are friends from afar lifting me up in their prayers and that encourages me. The crowds around me have tapered off. I make it out to the turn buoys. I start to notice a few guys swimming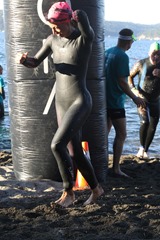 alongside me so I try to take advantage of a draft. I look ahead and see just a few pink swim caps (women). I focus on getting more distance per stroke.
The water gets shallow again. I pass those guys and jump on another guy's draft. I don't see any women. I finish strong and run up towards transition. The crowd is screaming. I cannot help but smile…plus I'm wearing the cross on my jersey…I should be joyful and shine for Him!
I run up to the wetsuit rippers and they yank off my wetsuit…they are good! I grab my bag and run into the women's changing tent. I look around to make sure there are no men in here and then change out of my swimsuit into my bike gear. It takes 5 minutes to get myself ready…slow poke!
BIKE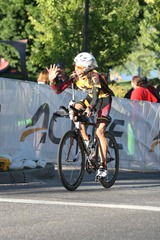 Out to my bike I go! I see Troy as I head up Sherman Ave. I'm glad I have my arm warmers. It's not cold but cool. My core temp decreases after a swim so I need an extra layer to feel comfortable. Too many times I've suffered being cold the first 20 miles of an Ironman bike - I've learned my lesson!
This course is made up of 2 loops with 2 out and backs.The first out and back is short but very scenic. I actually get to bike along the lake. We follow the road until it dead-ends. This is where the special needs for the bike will be – the items I've put together for retrieval later. Tod and Patty are volunteering here later so I hope to see them.
Heading back I notice a spectator riding a mtn bike with really fat tires. It's Derek Garcia! He's a pro triathlete based out of CDA. I wave to him and he waves back.
For the first 10 miles I'm averaging 17.1 miles. The goal is to go about 17.5 mph. Compared to past Ironmans, that pace is conservative. The goal is to hold back on the bike to save more for the run.
By the time I'm heading back into town, my average has gone up to 17.8. I hear something metal drop on the ground and look around to see what it was. A guy rides by and says "something that looks like a ring fell off your bike". I tell him thanks. My bike seems to be working just fine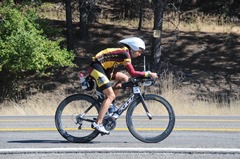 so I chalk it up to something insignificant. I see Troy and wave.
Now it's time to ride on Hwy 95. This out and back makes up the majority of the loop. I'm drinking a lot more water than ever in an Ironman. After finishing off my Perpetuem in my aero bottle (attached to my handlebars), I fill it up at every Aid Station with water. I know I'm extremely hydrated…every 10 miles there is proof.
The work begins as soon as I tackle the biggest climb on the course. By Mile 20 my aveage has dropped to 17.2. I'm feeling strong climbing and under control. Almost to the top!
I hit the top and use gravity and leg power to get moving. Got to take advantage of these moments…esp. with more hills to come! By Mile 25, I'm at 17.5.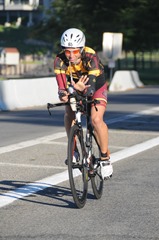 We hit another climb. Compared to the first it's not as steep. It feels fine going up it now but I know when I hit this part of the course again on the 2nd loop, I won't feel that way! At MIle 30, I've dropped back to 17.4.
I've been passed by a few 50+ gals. It's amazing and inspiring to watch them pedal away effortlessly – so it seems!
Another climb up to the turn around at Mile 35. Still averaging 17.4.
It's nice to finally turn back! Still feeling strong and comfortable. This will change as the miles and hills pile up.
I'm not focusing my mind on the Lord as much as I want to so I recite James 1:2-18. My buddy, Karen Nickel, and I have been working on this one. I planned on memorizing it months ago, but didn't. I promised God I would before race day…and praise Him, I did!
After all that climbing, it's nice to get a lot more downhill riding on the way back! By Mile 45, I'm at 17.8 again!
The last 10 miles click off fast even despite the climb on the back side of the "big hill". As I hit the no pass zone heading back to town at mile 55, I'm at 17.8 average.
Rolling into town, I don't see Troy. I'm sure I'll see him after this short out and back. I go out lakeside to the special needs area. As I pull up I see Tod holding my bag! Yeah! He helps me get all I need out of my bag. Then he prays for me. I tell him thanks and head out.
As I head back to town, my neck starts hurting. I'm only at mile 68 and it seems too early for this kind of discomfort! I am averaging 17.8 mph. I know this second round on Hwy 95 is going to be much harder!
I see Troy as I come back into town. It's so great to see him that I forget to tell him to pray for my neck. As I'm riding down the road, I point to my neck. I hope he saw that.
Heading back out and up the big hill at Mile 75. It's harder this time but not that bad. I only loose .1 mph (17.7). I know it's the following series of smaller hills that is really going to drain me.
I recite James 1 again. I am able to do it but it takes more work this time.
At MIle 80 it gets hard physically and mentally. This is "the wall" mentally for me on the bike, and literally as there is a hill, too.
At Mile 85 my average takes a noise dive from 17.7 to 17.5. Ugh! I feel God reminding me that the plan wasn't to push the bike hard. Stay patient, stay strong!
Mile 90! I'm now at 17.4 but I survived the hills to the turn around!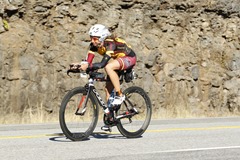 MIle 95 and I'm still at 17.4. Will I be able to pick it up before the finish? I just want to get off the bike but I'm not feeling too excited to run either. Even though I'm not yet feeling wasted on the bike, I am really unsure if I can run strong and run a 4 hour marathon.
Mile 100! OK, 12 more miles, that is do-able! I'm actually at 17.6! Nice! Thank you Lord!
Just before I climb the backside of the big hill, I can see LOTS of traffic ahead on the other side of the road. And then I notice the emergency vehicles at the next aid station. Uh-oh! It looks like an athlete might have been hit by a car. Such a hard thing to have to think about. I pray for that person…pray for life and for Christ to be in their life. The police are having us slow down to squeeze through the emergency crew on one side and the traffic on the other.
At Mile 106, I'm at the top and at 17.5! Yeah! Just got to maintain this to the end. I have fun flying down the big hill and back into town.
Still anxious about the run ahead! I almost forget to pull my feet out of my bike shoes before I have to dismount the bike. I am able to do it quickly.
As I jump on my feet, I am very stiff. This is normal but never a fun sensation.
I hand off my bike to another great voluunteer. I run to my gear bag and back into the women's tent. I again look around for men first and then change completely into another outfit for the run.
On the way out of the tent, I stop at the porta potty one last time. Ready to go now!
RUN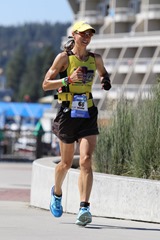 I finally get out of transition and get going. I re-start my watch now. I run out to the hotel and see Troy! I give him a high five and I tell him I was well hydrated on the bike. I'm feeling great which is typical at the beginning of the marathon. The question in my mind is when will the struggle begin…it's inevitable. Last time here it was at about mile 4. Since I didn't hammer on the bike, I hope to make it much farther! The goal is to run a 4 hour marathon.
By mile 2, my Garmin says I'm averageing 8:18. This is the most pleasant and most populated part of the course. It's in a cute neighborhood. It's warm and there are folks out with hoses spraying us, there are 2 great aid stations and lots of signs and cheering. I need to go to the bathroom but decide to put it off until I get out of the neighborhood. I make sure to get a cup of water at each aid station and drink it.
I still feel good as I head towards Mile 4 on Coeur d'Alene Lake Dr. This is mentally the hardest stretch of the course. An out-and-back on the bike path with little shade and fewer folks. The out part is downhill to a flat which means the back part is flat and uphill. I stop at the bathroom at the beginning of the first aid station along this part. I'm not as hydrated as I expected*. As I get out and continue on, I'm met with a lot of great volunteers.
I see Troy and Tod waiting for me. I smile and give high fives. I remember my plan of filling up one of my flasks with water at the aid stations. I make sure I drink up a flask of Vitargo to free one up. I also start working on another flask. I need to have only one of 3 flasks left at mile 9 where I'll pick up my special needs. I see Faron running strong!
I make it down to the last aid station just before the turn around. I see a teenage boy at the water table and ask him to fill up my flask. Like a pro he squeezes each cup in each hand and starts poring both at once. Nice! Within seconds, I'm on my way! I tell him thanks!
I make the turn and hit Mile 5. My Garmin says 8:42 pace. A guy in white goes by and I pick it up to stay with him. I ask him what lap he's on and he says his first.
The top girls go by us. They have bikers with them. I ask one of the bikers if they are on the last lap and he says lap 2.
I see Troy and he tells me my Garmin is wrong. He says I need to pick up the pace. He tells me "this is your stretch, you love hills, go for it. There is a girl in your age group in pink ahead. Go catch her!" I tell him "ok, I'll try". I feel pretty good still but I'm concerned the fatigue will catch up. Amazingly I am able to pick it up. Thank you Lord! And as I near the neighborhood, I see the girl! She's running slow and almost walking. I pass her and tell her good job. She's the first woman I've passed in my age group. Most of the women have been 35-39.
I see Troy again and he tells me, "You did it! You picked up the pace and caught her. You're now in 6th place!" I tell him that I'm not sure if I can hold this pace. He encourages me to keep hydrating.
I'm somewhat ignoring my Garmin now. I cannot trust the pace so I just try to feel the pace I need to go. I fill up my flask again at the first aid station.
I love these neighborhoods! I make sure to get sprayed or run through any spraying hoses. It's warm but it doesn't bug me. July and August were mostly 90 degree+ days in Auburn so this is normal now.
At the next aid station I ask to get my bottle filled up again. The volunteers struggle to do it so I have to stop and fill it up on my own.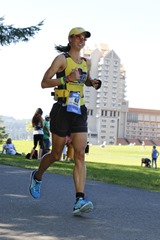 Instead of making us run back to T2 they have us run around McEuen Park. It's a beautiful and family-friendly…grass, shade, splash park, playground. That means lots of spectators. I hear a gal shout out my name. I look into the crowd and smile but not sure if it was someone I know or someone who read my hand written name on my bib. All the bibs were printed with our last names on accident.
I see tape that says for laps 2/3 and then for finish. Ah, cannot wait to hit the finish. It's mile 9 so only 17 more miles! Our friend, Eric Gilsenan, is announcing racers here. He says my name and cheers me on. I round the far side of the park and this is where I find my special needs. I take the last sips of the flask with water. I hoped to make this stop short but it takes longer than expected. I have the volunteers put 3 new flasks of Vitargo on my belt and I carry the extra one I have yet to drink. I ditch the other 2 empty flasks. I grab another set of Clif bloks and leave the Larabar and Kind bars behind. I grab a cup of water and drink it.
As I head back to the neighborhood I see a guy coming toward me fast. His wife/girlfriend is telling him all sorts of stats about his place and position. I'm impressed and reminded of Troy.
I make myself down the extra flask so I can fill it up with water at the next aid station. I get it filled up and continue on. I feel like I need to go to the bathroom once again, but again not #1. I feel like I'm drinking way more fluids and water than any other past race but I'm still not hydrating well!
I continue through the neighborhood again making sure to hit every water sprayer possible. I get myself to drink more Vitargo. And, at the last aid station, I grab water.
I make it back out to Coeur d'Alene Lake Dr. I stop at the same aid station for a bathroom break. Again, no sign of good hydration*. Troy will not be happy to hear this. I know I need to keep making myself drink. I catch up to Faron and give him a tap on the back as I go by. "Good job Faron! Keep it up!"
I find myself running with a guy. He's running the same pace and fun to talk to. His name is Kilian and he's from Germany but living in SF. The funny thing is that he tells me he's glad to be wearing his wife's jogbra. He needed a way to hold ice on his chest to keep his core temperature down and it's working well. I tell him he's got to watch the Seinfeld "Man Bra" episode later on.
I run down to the last aid station & see the same kid. He and another volunteer help fill me up.
Heading back, the top girls are heading towards us. They are just a few minutes apart. Exciting!
I see Troy and he tells me I've fallen behind pace again. He reminds me that I love this hill and to go for it. Kilian is a great distraction. We chat and motor along up the hill. The top girl passes us and I tell her to keep pushing.
I continue to pass women in the 35-39 age group. Where are the girls in my age group?
I see Troy in the neighborhood and he tells me I got back on pace again. "You always make it exciting" he says. Inside I'm wondering if I can keep pushing like this. I hope so!
Kilian has fallen off the pace as I continue through the neighborhood. I am so glad I had his help! I ask for water but the volunteers are empty handed. A guy says "I got it!" and in a moment he's running alongside me. I tell him "thank you so much!". I'm almost to the McEuen park and that top guy passes me. His wife is there again giving him all the data. I'm amazed what she's able to communicate in a few seconds. As I pass her, I tell her how impressed I am. She laughs and says it's a fun challenge.
Just before Mile 18 I hit the park and I feel like I'm starting to hit the wall. The same girl cheers for me. Eric Gilesen is not annoucing anymore but a gal jumps out and says "Robin?" I nod and she says "I'm Kristi Biddle, Jenn's mother-in-law". Jenn is a new neighbor to us in Auburn. Greg, Jenn and their 3 kids are a great addtion to our neighborhood. Kristi lives near the course and I'm honored she would come out and cheer on a stranger. I tell her thanks for coming and give her a big smile.
Kristi lifts me mentally and so does the fact that I'm starting my last lap! But my body starts to revolt and my mind doubts. I start to not care about getting the 4 hour goal. Lord, I need you! Please help me keep fighting. I get my water filled up at the special needs water table. Got to keep drinking. I take a Clif blok. I've been doing Clif bloks every few miles or so. Soon, I'll be down to just Coke! Cannot wait.
Once back in the neighborhood I see a sign that says "Triathlete, Someone who doesn't realize one sport is hard enough." Ha, that's a good one. I got to tell Troy that one so I don't forget.
I see Troy and he's got Grammie and the girls on Skype. I wave and smile to them and tell them the sign I saw.
Soon Troy catches back up and urges me to pick it up. He tells me I'm off pace quite a bit and that it's time to go. I want to shout "I can't!" but instead I say "I'll try." He also reminds me to keep hydrating. I make sure to grab water at the next station. I have 1.5 flasks of Vitargo left. I'm still not drinking enough but I'm sort of glad I don't need a bathroom break.
At Mile 20 I'm back on Coeur d'Alene Lake Dr. one last time! Once I get to the turn around, it's Coke baby! Troy tells me that it looks like I'm catching up to 5th place. He tells me he'll bike ahead and try to figure out my position better.
I make it down to the last aid station. I give my red volunteer appreciation wristband to the kid who poured my water. I tell him thanks and that he was a great help! I drink up my water and sip my last Vitargo flask. I go to the turnaround and grab Coke coming back.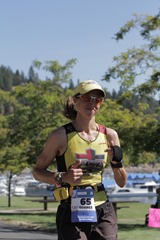 Troy tells me to push this hill one last time. I'm thinking there is no way but miraculously I can! Praise you Lord! I hear "Robin" I look up and see Shelby Knudson coming the other direction. I met her at IM Boulder. We were both spectating. We met up on FB and went for a training ride together. Just after that ride I found out that they were ending IMCDA and I signed up… and she did too! Fun to be doing this race with her!
I now feel excitment for the finish and the thought of maybe catching 5th place. Troy thinks I might be gaining on her but still doesn't know for sure.
As I climb I get faster and then as I run through the neighborhood even faster. God this is all you! I get Coke and water in the last aid stations. I skip the hoses and sprayers this time around.
I hit the park and finally get to head to the finish! As I turn off, I hear cheers. There is no one near me heading to the finish so the crowd is excited…and so am I. I round the corner to Sherman Ave, I see the finish! It seems to be glowing in the distance. I can see the red carpet! I want to do what Anna does and jump over the finish line and point to God! I can see it in my mind. I hear Mike Reilly calling out my name. It's all a blur as I run and jump across. Thank you Jesus! I'm so glad to be done. I see Troy and give him a big hug!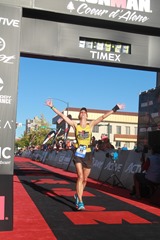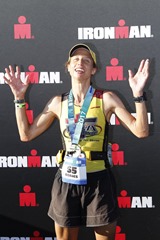 Other details:
food: Bike: 2-3 x larabar; 2-3 x kind bar; Run: Clif Bloks
bathroom: swim: 2; bike 15; run 2* (*both bathroom stops on run were #2, not #1, surprising since I drank so much on the bike)