Date/Location:

April 13th, 2019 – Lake Berryessa, CA

Distances:

Swim 1.2miles – Bike 56miles – Run 13.1miles

Time:

5:36:30 (31:32 – 7:10 – 3:05:19 – 2:00 – 1:50:27)

Place:

4th 50-54M (out of 8)

Teammates:

OLY – FCA: Robin Soares; Dave Campbell

SPRINT – FCA: Anna Soares, Caryn Galeckas, Chad Glass, Karen Nickel, Linny Gigoryey, Lori Bergenstock, Suzanne Galeckas; Hunter Glass

OPEN – FCA: Ariel Soares
Similar to other big races this season, I'm very concerned going into it.. It's a possible 6hr race and I haven't gotten much sleep this week due to tax preparation isseus. Thankfully taxes are done, but I'm really tired. A blessing however is that I have Anna with me for Friday night camping. It was just going to be me as Robin and the girls weren't going to come until tomorrow in order to take care of my Dad at home. But Anna volunteered to help, and what a help she was! She set up the tent, cooked food and supported me before my race.
The most important thing I can do to help my day is spend time with God and read the Bible. Thank you, Lord, for comforting me and removing anxiety!
Transition is ready. I meet up with triathlete friends, Becki and Andrew, that we met at Wildflower last year. She's also racing. We pray and head to the start.
The water is 57 deg. I have a rashguard, extra warm swim cap, and booties. I swim about 20 yds only and line up with 2 min to go.
SWIM.
Go! The water hurts the face but I know it will subside after a while. Everything is going well to the first buoy. I remember the peace of the Lord as I look down below the water where there is no thrashing arms and loud noise. If I could hold my breathe the entire way, it would be a very peaceful indeed.
I get a draft part of the way. Around the buoy I loose him for a while but periodically get on someone's feet.
1/2 way and the face is fine, the ears a little sore, but the core is getting colder and colder. I do not think I could do another lap (like the Full Distance has to do) at this rate. My swim doesn't feel that strong, but I continue to try to be efficient. Around the final buoy and I'm looking forward to finishing at the docks. I'm cold and tired. I don't care much about the time because it's really dependent on how the bike goes..
The last time I was here, I rode 56 miles in my wetsuit because it was so cold. Even with that I had to stop at a store to warm up my freezing feet. Today is much better but still cautious. If I'm comfortable, I'm faster.
T1.
I finished the swim (31:32) and Anna runs alongside video'ing and encouraging me. Strip off my suit, dry off, and put a dry jersey, sweater, and windbreaker on. wool socks and long finger gloves. No leg warmers. T1 is SLOW (7:10) but will be worth it.
BIKE.
The first climb is tough, but I feel perfect temperature-wize. Thanks, Lord. On the long descent, however, my fingers start freezing. I have to pull my wool sweater over my gloves. Should've had windproof gloves. There's a young lady in front of me that looks almost the size of Anna and is staying ahead of me. I manage to pass her and notice she has no warm clothes! No gloves, arm warmers, long socks, beanie.. just a tri suit. How does she do it?
At 10mi, the leader is going back already! He's 30min ahead of me! The gal passes me back multiple times. I'm surprised how hard is is to keep up with her. I'm counting the riders until the first turn-around. I hope I might be 10th. There a couple more women ahead.. and they started the swim 3 min behind me. At the turn I find I'm 29th! Oh, well, I just got to work my way up little by little.
I move to 28th quickly but then back to 29th, 28th, 29th, 30th, … 28th seems to be the best I can do.
Before the climb back up to Berryessa Lake, I take off my windbreaker. Perfect, the sweater allows air through to breathe but still keeps a good temp.
26mi. Onto the Berryessa lakeside road which I enjoy because the hills are never too long and you can coast up part of them.
30mi. The leader is coming back! He's 1 hr ahead now. Amazing. I'm still battling to keep 28th. More riders pass me as I pass others so 28th seems to be the position for me.
40mi. At the turn I take off the sweater while the aid station volunteer fills my aero bottle. I eat some blocks and feel much better now. My speed picks up and I hope I can make up some time coming back. My Garmin stopped early in the bike so I don't know my average speed. I'm hoping to break 3 hrs and think it's possible. Riders coming towards me seem to be staring at me… it may be the bulge of my sweater under my jersey. I'm just happy to be comfortable.
Finally, the last climb and then a long descent to the finish area. I'm hope I'm under 3hrs!
T2.
Finishing the bike (3:05:19). I see Anna waiting for me. She says, "Good to see you've gained some weight out there." Transition isn't too smooth as I forget to take stuff out of pockets but now I'm running… stiff-legged… but that will clear up.
RUN.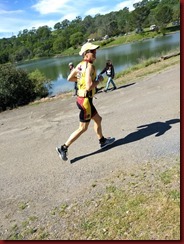 Anna is a huge support and I'm sure thankful. 13 miles feels like a long way, but at least I have a goal, to move higher than 28th place!
I start to loosen up a little. It's a beautiful day and turning out to be very warm. Over the bridge looking down to vast water. Pretty. Almost want to jump off the bridge into it.
1. 8:31. Up the hill I'm hoping to pass the guy ahead of me.. but he's stays steady. I get water at the 1.5mi aid station. I need to stay under 9min pace to be under 2hrs which I told Anna. Rolling hills. I see runners coming back.. I think the leader, however, has probably already finished!
2. 8:46. Good pace. All downhill hill, now. Looking for where the turn-around is..
3. 7:28. Cool, sub-8. A little climb to the turn-around, get my bracelet and now looking forward to getting back. There's quite a few runners right behind me. Can't let up, and must focus on the Lord. I need to the Lord to keep my legs working because cramps, tightness, or foot strain can do me in at any moment. Focusing on God keeps me smiling, too, and encouraging others. There's a lot of good athletes out here.
4. 8:27. It's a long climb now and I figure at 6mi I'll be at the top so I ask God to help me to 6 and I'll celebrate knowing it's downhill to lap #2.
5. 8:35. My foot hurts less climbing so actually ok with the hills. I learned that the "top" has a mild roller which doesn't intimidate me as much. I'm excited to get to mile 6 which I think is the top.. but just before it, I see the bridge.. cool, I already did the climb! Thanks, Lord, for making it seem easier than I anticipated.
6. 7:50. Nearing the park I see Robin, Ariel and Anna! It's such a boost to see my family! I was tired but pumped up now. I feel motivated for this next loop. But I'm getting hot now and really need water.
7. 8:16. Glad to get to the aid station and pour water on my head. I'm taking shots of Hammer Gel, too and plenty of water. Strange to go from toweling off after the swim, afraid of being wet and cold, to now wishing I was covered with cold water. It's about 75 degrees.
8. 9:19. Over 9min pace is a little concerning but that was the big hill. Gotta keep pushing.
9. 8:16. Finally the turn-around! Just a sprint back to the finish! My foot hurts a little so I look forward to the long cliimb which feels better on it. I pray that God will "transport" me farther ahead again so that I'll suddenly realize I'm almost done.
10. 8:48. I feel Him telling me to focus on Christ, not how to run faster. That was helpful at the Napa Marathon as well. It works, but sometimes I want to "take charge" again, but I keep going back to just looking upon Christ and trust He'll take care of the rest. I make it up the hill!
11. 9:19. Now over the top, over the mild rollers, and then all downhill! I take a Honey Stinger at the final aid station, water, and sponges… Ok.. bring it home! Thanks, Lord
12. 8;16. Robin is waiting to cheer for me at the end of the bridge. She's such a great encourager/supporter. And then I see Anna and Ariel.
13. 7:35. Ariel and Anna are running alongside (after seeing me at the park entrance) and cheering. Thank you, Lord, for getting me through this. Into the finish. Ah! So great to be done. 5:36:30. 4th a/g, 25th overall – I'm pleasantly surprised to see I did move up from 28th place somewhere in the run!
Everything hurts, but it could've been so much worse. A terrific day.. I'm so very thankful to get through a 1/2 Ironman distance today!