| | |
| --- | --- |
| Date/Location: | April 14th, 2017 – Lake Berryessa, CA |
| Distances: | 100 yd Swim – 3mi Bike – 1mi Run |
| Time: | 22:25 PR! (Previous 25:54) |
| Place: | 1st (11-12 Girls) |
Teammates:

LC – FCA: Troy Soares

OLY – Dave Campbell

SPRINT – FCA: Anna Soares, Caryn Galeckas, Chad Glass, Karen Nickel, Linny Gigoryey, Lori Bergenstock, Suzanne Galeckas; Hunter Glass

OPEN – Ashley Glass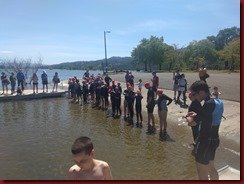 5, 4, 3, 2, 1, GO!! I start swimming. Kids and adults are pushing their way past. I'm getting stuck as everybody crowds around. I push through and get to the open but then I get pushed back in. Now I'm stuck again. I push through again as I swim around the buoy. I feel free now. No one is trying to push me back so they can get in front. I swim faster and faster. Now I'm close to the shore. I feel the ground. I run out of the water to transition. It's not very nice running on pavement with lose gravel.
I get to transition. My socks are hard to get on. Finally, I get them on. I put on my shorts and helmet. I put on my Garmen and I'm off.
Bike
I get on my bike hoping to pass people.
It is a little scary because its not very flat and there's a lot of gravel (which I don't like). I ride on my bike. I see the 1st person which is a girl. I ride faster and faster then I see the turn around. I look at my watch and see that it was almost 1 mile. I bike back and see Ashley. She is not far behind. I keep biking. I go around a turn and back to the gravel and non-flat road. I look at my Garmin and see that it's not that close to 2 miles. The paper said it was going to be three miles long. I bike into transition and take off my helmet.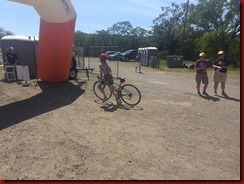 I run and start my Garmin.
Run
I run down the chute.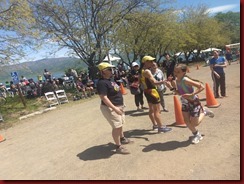 I see a boy ahead of me. I want to pass him. I see Ellie, Ben, and Anna. They say "pass that boy ahead of you!" I run faster. I'm feeling thirsty. I didn't drink water since the start of my race and I am so thirsty. I keep running. I see someone trying to pass me so I look for someone to pass. That way I would stay in the same place. I see someone else and do the same thing. I see a man behind me so I do the same thing but I try to keep the man behind me so that I can move up a place. I see the turn around hoping he is in a different race but he isn't. I turn around and finally let him pass. I come back the opposite way I came and see Ashley. She smiles and waves. I wave and smile back at her. I keep trying to pass that boy ahead of me but its really hard. I see the bridge and I know that I'm close. I turn and go down a hill and start sprinting down the finish line.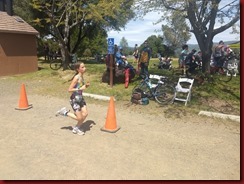 I finish.