Date/Location:

April 14th, 2019 – Lake Berryessa, CA

Distances:

Swim 1.5K – Bike 40K – Run 10K

Time:

2:43:15 (26:47 – 3:06 – 1:19:45 – 2:41 – 50:54)

Place:

2nd 45-49W (out of 3)

Teammates:

LC – FCA: Troy Soares

OLY – Dave Campbell

SPRINT – FCA: Anna Soares, Caryn Galeckas, Chad Glass, Karen Nickel, Linny Gigoryey, Lori Bergenstock, Suzanne Galeckas; Hunter Glass

OPEN – FCA: Ariel Soares; Ashley Glass

I get up later than usual for a morning triathlon. The race directors changed the start time of the race from 7:45am to 9:45am due to predicted low air temps. It's nice to sleep to 7am! We camped here as usual. Even though I'm not in my own bed, I appreciate the extra sleep. It's been a challenging week with not getting in enough rest, having no swims at the pool and just struggling with my purpose. I'm quesioning whether or not racing is God's will for me. I feel ready to support and cheer on my family in their racing endeavors but not sure if I should race myself.
Anna is racing the Sprint at 9am. She's racing her good friend and fellow 7th grader, Hunter. They both want to beat each other and even have a $1 bet. Hunter's dad, Chad, is also racing for the first time in many years. In addition, our FCA teammates and HITS campmates, Caryn Galeckas, Karen Nickel, Lori Bergenstock and Suzanne Hartley, are racing. We all meet up at the swim start and pray. We are joined by some other believers we met yesterday, Greg and his daughter LInny.
The water temp is about 57 degrees. I swam in it yesterday and even with booties on my feet, it was a shock. I did get used to it mostly but I am a bit nervous for Anna swimming in such conditions. I am glad I'll be able to see her get out of the water before my race.
After seeing Anna and the rest of our group out of the water, it's my turn. I put on an extra cap that has a bit more protection for my ears. We'll see if it works. We are swimming the sprint course twice. I am not feeling very excited or motivated to race. Hoping the adrenaline will kick in.
SWIM
Just before the women start, I look around and see just a few people also wearing booties. Ready, set, go! I jump in, force my face in the water and go. By the first buoy, I'm quite comfortable. I actually am enjoying myself and am doing well. I get into a great rhythm and feel like I'm glidding. I notice a swimmer ahead of me with green sleeves on their wetsuit. It's hard to miss and makes for a great target. When I turn at the last buoy, I cannot see any buoys or landmarks but I do see the sleeves. I follow the sleeve until I finally see a buoy.
The first loop goes by quick and as I head out for a second time, I notice a girl on my side. Our pace is identical. We swim side by side for most of the way out to the last buoy. I have to dodge some swimmers and sprint through some packs. Fortunately I don't run into anyone or get knocked around. I can still see the green sleeves. I've gotten a bit closer to them, but don't think I'll catch them. At the last buoy I make the turn and make a big push. Again, I cannot see anything and rely on my friend ahead. Soon I see the dock and head straight for it. I get out of the water and get my wetsuit off. It's not very smooth or fast but good enough for my first tri of the season.
I run to my bike. The air temp is not as cold as expected so I decide to go with a lighter jacket than planned. I takes me a minute to put it on and a few more minutes to get the rest of me ready.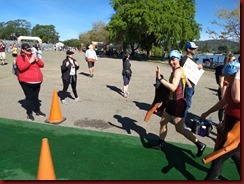 BIKE
I run out of transition with my bike shoes on, because I haven't practiced with my shoes on the bike. It's bumpy going out for the first mile. Finally, it's nice and smooth.
I'm not feeling totally motivated but I know I need to push. I committed to this race months ago so I need to stay focused. This course is full of rolling hills. I notice a girl ahead passing a guy on the right. It's very dangerous to do that and can easily cause an accident. As I pass her I nicely mention it just in case she didn't realize it's an important rule. She tells me he was in the way and had to. In my head I want to offer another option, slow down, but I opt not to. Hopefully she'll think twice. Further down the road I see another guy go over the double yellow line to pass some riders. Another case of simply applying brakes instead would work beautifully. I get the sense of urgency and it's really hard to make rational decisions when racing hard, but we all need to try to practice safety especially when the roads are not closed to cars.
A girl goes flying by. I feel a bit of competitiveness rise up in me and I try to keep her in my sights. Within a mile, she's gone but I'm still trying to push hard.
I realize that I haven't been thinking about Jesus at all and I reconnect with Him. I am sorry for getting so self focused…that is something I don't like about racing and struggle with. Lord please help me to stay connected with You!
By the time I get to the turn around, I'm ready to be done. I know I need to dig deep and keep pressing on. I am able to pass a few girls on the way back but I'm also passed by another fast gal.
I've warmed up nicely and have to unzip my jacket.
I really try to use Troy's technique of pushing the downhills to get good momentum coming up the uphills. It works well and I don't feel like I'm straining to get up.
Finally the last uphill! I enjoy the downhill on the other side and the trip across the bridge. It's a beautiful day! Thanking God for the warm sun.
It's tricky getting back to transition. The road is full of gravel, bumps and potholes. There are runners going out, spectators and racers heading home. Thankfully I make it back without any incidents.
RUN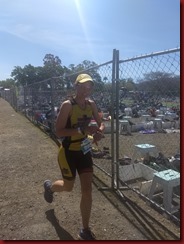 I make a quick transition but decide to hit the porta-potty. I know it will add time but it is necessary. I go the wrong way once I exit the porta-potty and have to back track a bit. Finally I'm out! I hit my Garmin a second time and it says "Triathlon Complete". Oops! I try to reset it quickly as I also try to smile at family and friends. Down the road a bit I get it started over. Ok, only 6 miles to go! I've got a goal of 8 min pace but hope to go faster.
The first mile is the flatest and most scenic. We run over another bridge that crosses an inlet of Lake Berryessa. Beautiful! Now the real work begins and I'm climbing to the first mile and first aid station
Mile 1 is 8:11. I am so glad to get some water because I'm thirsty! I grab two mini cups and make sure I drink all of it. I catch up to a guy and he picks up the pace to stay with me. He says "you're running a good pace, I'll stick with you". He has what sounds like a French accent and I find out he is from France but lives in Berkeley. We have a nice chat and then he tells me it's too hard to talk and run. I tell him no problem. I pull away a bit as the climb continues.
I pass some other guys and they joke with me that I'm going too fast and to wait for them.
At Mile 2 I'm averaging 8:15. After almost 2 miles of continuous climbing, it's not bad. Thank you Lord! I'm actually enjoying a nice downhill! I've been counting women and so far there have been 7. I'll be at the turn around soon and will know exactly where I am.
At Mile 3 my overall average is 8:00, yeah! Thank you Lord! What a difference some downhill running makes! At the bottom I can see the turnaround just briefly up another hill at an aid station. I get there and enjoy some more water…again making sure I drink all of it! I haven't seen anymore women so that makes me 8th.
I've got to climb a mile up and then I have a lot of downhill and flat! I see those funny guys again and tell them I saved some water for them at the aid station.
At Mile 4 I'm still climbing and my average is now 8:03. I'm hopeful I can bring it down to 8 min pace.
I see Anna at the top of the hill waiting for me. She cheers me on and tells me I look strong. What a sweet girl! She just finished her race and doesn't seem tired. I ask her if she beat Hunter and she says yes. She takes off down the hill.
At Mile 5, I'm enjoying the downhill and my average is now 8:04. I can see Anna waiting for me by the bridge. My average is slowing dropping now towards 8 min!
Once I get to Anna she gives me one last bit of encouragement and tells me she'll see me at the finish. I'm motivated to push it. I'm so close!
At Mile 6 I'm entering the park and average is 8 min! Thank you Lord! I see Troy cheering. All the way to the finish I'm pushing. There's Caryn, Suzanne and Dave Campbell. Go, go! All the way and I'm done!
After the race I'm still not sure what direction the Lord wants me to go. I feel relieved to be done. Ariel is racing in 30 min so it's a nice distraction for the moment. God has a plan and He'll let me know.
FOLLOW-UP
After the race, spent some of the next day in prayer and in the Word. I felt the Lord confirming my call to continue to race and showed me the negativity I was battling was really from the enemy. I thought it just ment I wasn't fulfilling my purpose. It was good timing because later that day Troy's dad had a minor stroke. Though it was frightening to see his face drooping, I was able to lean on Jesus and stay calm. Thanking God for His assurance!