| | |
| --- | --- |
| Date/Location: | April 21st, 2019 – Milton, CA |
| Distance: | 46mi |
| Place: | 2nd, Cat 4 |
| Teammates: | Anna Soares, Hunter Glass, Troy Soares |
It's been two years since I've raced here. Thanking God that the entire family can be here! Usually the girls are with family or friends. Anna is racing the 14 & Under Junior race with her friend Hunter Glass. Ariel gets to hang out with Hunter's sister Ashley and family. I just got a new road bike this past week. I gave Anna my road bike and was without a road bike for several months. I've been riding my triathlon bike so hoping I can adjust to all the changes today!
The time flies by and it seems like we all barely get warmed up. Even so, we stop and pray together with the Glass family. The Lord has to remain most important! We see Troy off. I find out that since there are very few women, they are starting us all together (Women 4, Women 5 & Masters 30+). This means I have some extra time to warm up and get ready. Thanks God!
There are 7 of us lined up. Ready, set, go! We roll out. One of the Masters riders from Thirsty Bear sets a quick pace. I'm in descent shape right now but this reveals that I have some work to do. The master's gal and another girl from my category (no team, purple jersey) pull away as the climb starts. I make a push to bridge the gap. I work with another master's from Peninsula Velo to catch the purple gal but the master's gal is gone! The Peninsula gal tells us that the Thirsty Bear gal is a National Champ and hard to beat. The three of us make it to the top of the climb. The remaining 3 riders are far behind.
The three of us ride together. There is little talk. I am feeling tired and know I need to conserve in hopes I can possibly pull ahead on the climb before the big descent. I am a wimp on descents and especially here because it's really torn up. I always hope to get ahead and started down the hill first. I let them do a lot of the pulling but make an effort to show I'm not slacking.
The final climb is coming up. As it approaches, I try to pull ahead. Right away, I can tell I don't have the energy to pull ahead. The girls are right with me. I am forced to stick with them. There is a brief descent towards the top and short climb to the main descent. The purple gal pulls ahead and I pull ahead of the Peninsula master's gal. I'm in 2nd hitting the descent. I forget how bumpy this is! I am afraid but try to avoid hitting the breaks. The Peninsula gal goes by but I am able to keep her in my sights. About 2/3 down I notice that one of my bike bottles is moving around. I quickly discover that the whole bottle cage is very loose and ready to fall off! I just put these cages on and failed to secure them well. I try to hold it as I finish the descent.
As the course flattens out, I put the water bottle in my pocket and try to tighten the cage bolt by hand as much as possible. The purple gal has pulled ahead quite a bit. I can see the Peninsula gal and work to catch her. The bottle cage is rattling a lot. I'm going to have to find someone with a wrench to tighten this down. It's not going to last another descent and the noise is distracting.
I pass the finish line and hear the Glass Family and Ariel cheering. I smile and wave. Got to keep a good attitude despite the challenges… for God's glory!
I decide to find some help at the aid station at the start of the next loop. I'm almost caught up with the Peninsula gal. I see a volunteer and stop and ask if he has a wrench I can use. He's super helpful and pulls out a whole kit. Unfortunately, it takes a few minutes to find the right wrench. I find myself getting anxious and I'm thinking now that this stop was a bad choice. He gets it tightened down and I thank him. I feel bad for not being patient. Sorry Lord, I can do better!
I'm off and alone. In a way I'm relieved that some pressure is off of me because I'm so far behind now but I know that I'm tempted to not try as hard. As Troy often reminds me, you never know what can happen. That makes me continue to try and hope I can catch up.
I make it to the top of the long climb pretty tired but I'm still trying. I can see a rider way off in the distance. It must be the Peninsula gal. Don't give up!
The backside of the course is rolling. I continue to look for my competition. Every so often I get a glimpse. It seems like I'm not gaining at all. It's a fight with my flesh to continue pushing.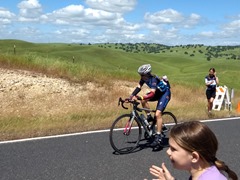 It's bumpy along the backside and it seems to be wearing me down more. It just takes more effort to main a good rhythm.
I make it to the last climb before the descent. I'm still alone and I'm still trying to move. I am tired! I want to get this done and see my family. I'm hoping the day went well for Troy and Anna!
At the top, relief. I just need to get down and finish. I'm a bit more cautious this time. The bottle cage should be good but that's in the back of my mind.
Finally, at the bottom! I push as hard as I can across the finish line. I'm alone but glad to be done and reunited with my wonderful family! Thank you Lord! I wasn't sure if I could even get a road bike in time for this race and did. I'm thankful it all worked out!